KProfiles New of the Week (3rd of January – 9th of January)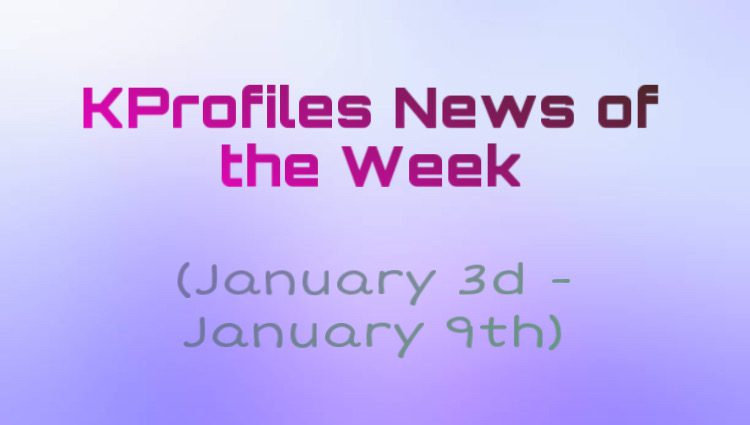 Everything you need to know about the Asian media space this week!
Releases(comebacks) *OST not included*: 
GOT the beat (Girls On Top) – Step Back (Jan. 3)
Kep1er *debut* – WA DA DA (Jan. 3)
UP10TION – Crazy About You (Jan. 3)
P1Harmony – Do It Like This (Jan. 3)
BLITZERS – BOBBIN (Jan 3.)
Woozi (Seventeen) – Ruby (Jan. 3)
LUNA (태인 Solo) – Love one day (Jan. 3)
JK Kim Dong Uk – FIGHT (Jan. 3)
Hyunjun Hur – Let Me Drown (Jan. 3)
PADO – Breakfree (Jan. 3)
TAEHWAN (VANNER) – FROZEN (Jan. 3)
Eunseol x Deulre – 바람과 함께 사라지다 (Jan. 3)
KOLAVO – On My Way Home (Jan. 3)
Verycovbunny – Lack of love (Jan. 3)
Llwyd – dryflower (Jan. 3)
2ndCake – HAPPY PUMKIN TREE (Jan. 3)
Woo!ah! – Catch the Stars (Jan. 4)
ONEWE – Universe_ (Jan. 4)
UheeSka – Prayer of Uheeska (Jan. 4)
M.PEROR – Merry Go Round (Jan. 4)
SoNye & Coral J – Peter Pan (Jan. 4)
Achtung – Rachel (Jan. 4)
HWAJA – Sunset (feat. Jung In) (Jan. 4)
Kwon Min Seo – where are we going? (Jan. 4)
Benny Char – End Of The World (Feat. Minsung) (Jan. 4)
OMEGA X – LOVE ME LIKE (Jan. 5)
WJSN CHOCOME – Super Yuppers! (Jan. 5)
H1-KEY *debut* – ATHLETIC GIRL (Jan. 5)
TRENDZ *debut* – TNT (Truth & Trust) (Jan. 5)
Son Chamchi – Hypnobatia (Jan. 5)
No Sleep Club (NSC) – SAMMY (Jan. 5)
Radio Paradise – Good Night (Jan. 5)
Woogotsa – All Those Diaries Just Become Letters (Jan. 5)
AleXa – TATTOO (Jan. 6)
JANG MIN HO – Right Answer (Jan. 6)
Kim Wan-sun – Feeling (Jan. 6)
LYRIK COETRY – 옥상에서 (On The Rooftop) (Jan. 6)
HWANG Gina – Short film (Jan. 6)
TRAVELOG – Constellation (Jan. 6)
Eric Nam – Lost On Me (Jan. 7)
Hitchhiker X 3RD – Alone (Jan. 7)
BZ-BOYS – Find you (Jan. 7)
(Special credits to https://kpopofficial.com/)
Birthdays
Who had a birthday this week?
January 3
January 4
January 5
January 6
January 7
January 8
January 9
K- Gossip/News:
Kep1er breaks the record for best selling girl group debut album in 24 hours
Jamie Park joins Dear U Bubble
aespa becomes the 3rd Kpop artist in history to receive an 'Artist of the Year' award as rookies

Golden Disc Awards to be held on January 8th 2022 (KST)

Girls Planet 999 debut group, Kep1er, makes their highly anticipated debut with title track 'Wa Da Da'
Kep1er reveals Official Fandom Name 'Kep1ian' also reveals Official Colors: Lavender & White, Lavender & Yellow

Dispatch reveals their 2022 New Year's couple

Former AOA member Shin Jimin releases new song

NCT's Mark makes his first Solo appearance on Genius Korea's K-HipHop chart with his concert track "Vibration"

4 Girls Planet 999 contestants to be debuting in new girl group 'ILY:1' sometime in March

EVERGOLW's Yiren sparks debate after she greeted fans Chinese Style while other members did Korean Style
MOMOLAND drops schedule for collaboration with Natti Natasha

A male version of 'Street Woman Fighter' to air this summer 2022

ATEEZ postpones 2022 European Tour
TXT's Yeonjun opens personal Instagram account
Jung Hoyeon becomes the first Ever Asian to be on the cover for the U.S. Vogue
EXO's Xiumin reveals he is working on a Solo album that will be released sometime this year
The Netizen who accused APRIL's Naeun for School Violence admits to being untruthful and apologizes; Naeun accepts their apology and withdraws from Legal Action
PSY's Gangnam Style MV surpasses 4.3 Billion views on YouTube
BTS cancels their trip to the U.S. due to the Grammy Awards being postponed 
VIXX's Ken Officially gets discharged from military

Snowdrop actress Kim Mi Soo passes away at the age of 30

4 Girls Planet 999 trainees announce their debut in the group ILY:1

SM Entertainment's rotational super-group Girl's On Top makes their debut
BTS' SUGA teases new mixtape
Former DAY6 Member Jae calls Jamie Park an impolite word; is now facing harsh criticism from fans

Dispatch announces online concert "DFESTA" in celebration of the anniversary of 10 years of tormenting K-celebs.
Profiles of the week:
This weeks top Profiles to check out!
⭐ Small Artist Of The Week ⭐
Skyle (nominated by Rey)
🌟 Small Soloist Of The Week 🌟
Leenzy (nominated by ANTIROMANTIC)
✨ Underrated Song Of The Week ✨
2 minus 1 by Seventeen (nominated by Iav )
---
Thank you for reading! If you have a suggestion for the small group/soloist/song of the week, please fill out this form: