Sei (Weki Meki) Profile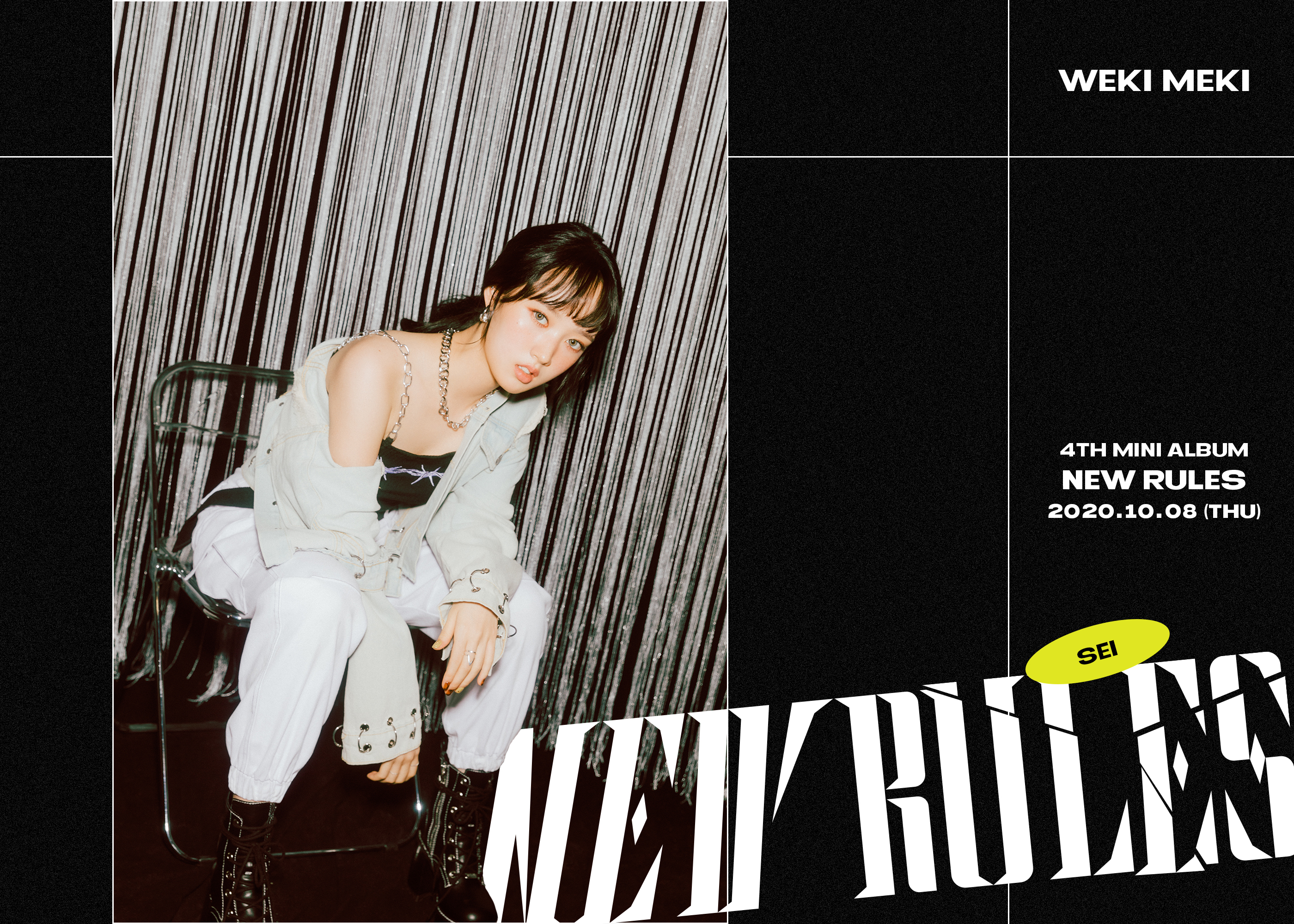 Sei is a member of the South Korean girl group Weki Meki under Fantagio Entertainment. She was a contestant in the survival show Produce 101.
Stage Name: Sei (세이)
Birth Name: Lee Seo Jeong (이서정)
English Name: Lucy Lee
Birthday: January 7, 2000
Zodiac Sign: Capricorn
Chinese Zodiac Sign: Rabbit
Height: 163 cm (5'4)
Weight: 49 kg (108 lbs)
Blood Type: B
MBTIType: INFJ
Representative Emoji: 🌱
Instagram: @seiric_o
Sei Facts:
– Birthplace: Ansan, Gyeonggi, South Korea.
– Siblings: older brother and youngher brother.
– Education: Theos Senior High School.
– Hobby: listening to music.
– Her training period is 1 year.
– Her favorite drink is tea.
– Her favorite animal is otters.
– Her favorite artist in Kuonechan (구원찬).
– Her favorite movie is "About Time".
– Her favorite subject at school was PE, whilst she thinks that Math was the hardest.
– She is the 2nd member to be introduced in Weki Meki.
– She was a contestant on Produce 101. She was eliminated on the episode 5 and ended up on the rank 85.
– Known for her great impression of the Minion voice.
– She can speak Mandarin.
– Sei can play guitar.
– She wants to learn how to play bass (Source: 88s Who Am I).
– Romantic-Comedy is her favorite movie genre.
– She is a former trainee under LOUDers Entertainment.
– She uses a electric pad to keep warm during winters.
– Her first official US purchase with her own credit card was a pack of Very Berry Trident gum and Cherry Limeade Sparkling ICE water.
– Received a shower robe from member Elly for her 21st birthday.
– She is friends with LOONA's Go Won.
– She enjoys sunlight.
– She is known to be a vegetarian and cares about environment.
– Has attempted to buy all the flavors of Oreos in a store once but was stopped by her manager.
– She recommends tacos for lunch.
– Sei's favorite ice cream flavor are mint chocolate and salted caramel. (Source: 88s Who Am I)
– She likes crunchies.
– She is not a big fan of macaroons.
– She prefers blueberry purple over any color of blush.
– Sei wants to achieve getting a trophy in 2020.
– She and Elly share the same bunk bed.
– According to Elly, Sei has a bad sleeping habit.
– Her first impression of the rest for the Weki Meki members was that they were pretty at first sight.
– She has a driver's license.
– She appeared in Astro's "Confession" MV.
– She starred in a web drama titled "The Tale of Chunhyang" as the main role (2021)
– She has a song with Ants, called "You and Me" (2018).
– She also has her own series on their YouTube channel, titled "Sei Hello To 🌍"
– Sei, Yoojung, and Doyeon, alongside several members from (G)-IDLE and IZ*ONE performed Into The New World by Girls' Generation during Storage M Stage (February 25th 2021).
Made by: ayeonese
Note: Please don't copy-paste the content of this page to other sites/places on the web. If you use info from our profile, please kindly put a link to this post. Thanks a lot! 🙂 – Kprofiles.com
Her recent fancam:
Do you like Sei? Do you know more facts about her? Feel free to comment below. 🙂