Yugyeom (GOT7) Profile and Facts: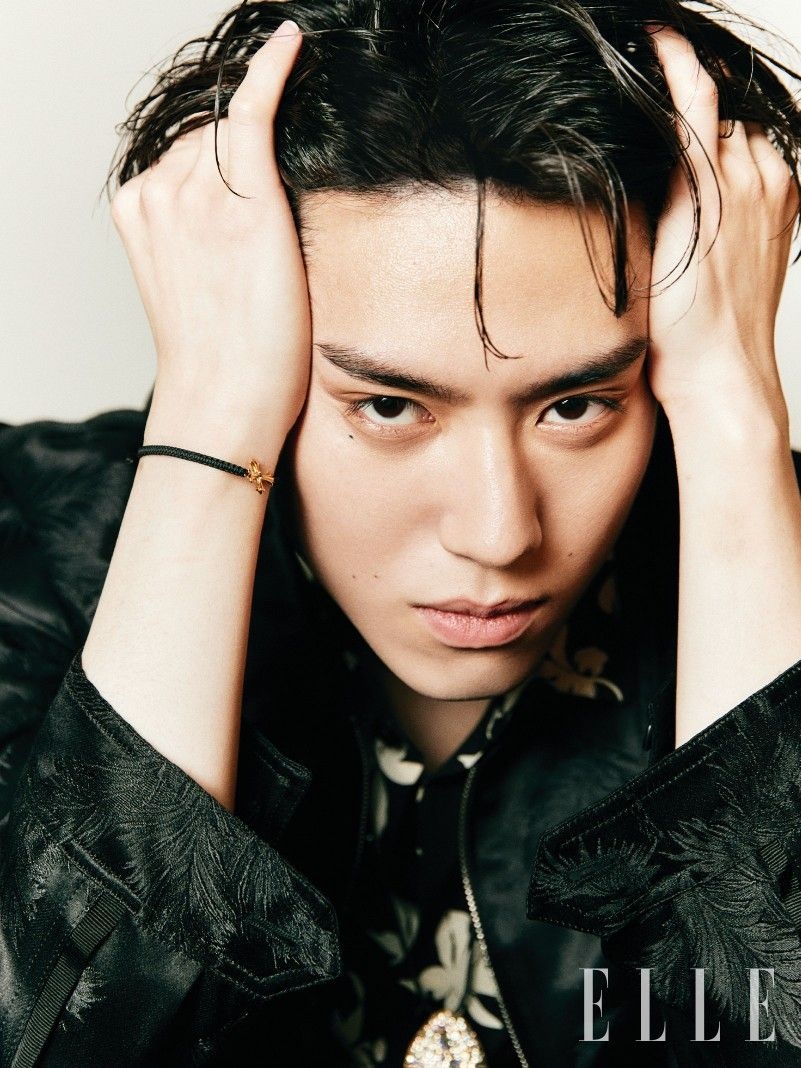 Yugyeom (유겸) is a South Korean singer currently under AOMG, who made his solo debut on June 11, 2021 with the album "Point of View: U". He's also a member of the boy group GOT7.
Stage Name: Yugyeom (유겸)
Birth Name: Kim Yu Gyeom (김유겸)
Nationality: Korean
Birthday: November 17, 1997
Zodiac sign: Scorpio
Height: 183 cm (6'0″) (vLive June 2020)
Weight: 68 kg (149 lbs)
Blood Type: A
MBTI Type: ENFJ (His former result was INFP)
Specialties: Street dancing (krumping, house dance, popping)
Hobbies: Playing the piano
Favorite Food: Samgyupsal, Bulgogi, Chicken, Kimbab
Favorite Artist: Chris Brown
Sub Unit: Jus2
Instagram: @yugyeom
Twitter: @yugyeom
Yugyeom facts:
– Yugyeom said that his mother got pregnant in Saudi Arabia but he was born in Seoul. Then they moved back in Saudi Arabia because of his dad's job and he grew up there for a while. (STAR Interview GOT7)
– Later, his hometown was Namyangju-si, Gyeonggi-do, South Korea.
– Family: mom, dad, 1 brother (older).
– Personality: Upbeat, always smiling and considerate
– He attended Donong Elementary School, Migeum Middle School, and later Hamlim Arts High School, majoring in Street Dance.
– Update: Woong from AB6IX went to the same high school as Yugyeom, and they are friends since the time they both trained in JYP.
– He changed his major to Taekyung University, Model Department, he became a colleague with Youngjae, since he also changed his major.
– Yugyeom's nickname is Brownie. (Got7 Ask in a Box)
– He became a JYP trainee in late 2010/ early 2011.
– He won 2nd place at the Adrenaline House Dance Battle back in 2011.
– He appeared in the web-drama "Dream Knight" (2015) alongside with the rest of GOT7 members.
– His is the youngest and the tallest member in GOT7.
– His Astrological sign is Scorpio and his Chinese sign is Ox.
– Yugyeom prayed a lot before GOT7 debuted. He prayed that they would all debut together and none of the members would be left outside.
– He loves dancing since his childhood.
– His hobby is playing the piano.
– His favorite food is samgyeopsal (grilled pork belly), kimbap (the Korean version of sushi), bulgogi (grilled marinated beef) and chicken
– He doesn't have a favorite movie and says he likes any movie.
– Yugyeom's favorite colors are yellow and black (mentioned in the videos of his and Jaebeom's collab with Ben Jones).
– His favorite type of music: R&B and HipHop.
– His favorite artists are G-Dragon and Chris Brown.
– His role model is Chris Brown.
– His motto is "Practice makes perfect. So let's practice until the end."
– He would love to have a duet with 15& member Baek Yerin.
– Although he is the maknae, many confuse him to be one of the oldest because of his tall height and his mature appearance.
– His mom didn't want him to be an idol. She just wanted him to go to school and be a normal student, but he told her to just give him a chance.
– He is a hard worker and sincere about everything.
– He took part in writing and composing the song "빛이나" (See The Light) for their Flight log: Departure album.
– He took part in writing and composing the song "노잼" (No Jam) for their Flight log: Turbulence album.
– He himself wrote and composed the song "양심없이" (Don't Care) for their Flight log: Arrival album.
– He took part in writing and composing the song 내게 (To Me) for their 7 for 7 album.
– When the lyrics for "1Degree" was being written for their new EP Spinning Top: Between Security and Insecurity, he took part in the process.
– He did a special dance stage with BTS's J-Hope.
– Chris Brown followed him on Instagram.
– He speaks Korean and Japanese.
– Yugyeom has a dog (black Pomeranian) called Dalkyum.
– He says that he likes to check out the pictures fans take of him and that he's very grateful to them.
– Yugyeom currently has 9 tattoos – 6 on his arms, 1 on his back and 2 around his waist.
– He is friends with BTS's Jungkook, Seventeen's DK, Mingyu & The8, and NCT's Jaehyun (a.k.a. '97 line).
– GOT7's Bambam & Yugyeom, BTS's Jungkook, Seventeen's The8, Mingyu, DK,  NCT's Jaehyun and Astro's Cha Eunwoo (the '97 liners) are in a group chat.
– His dorm partner was BamBam (BamBam moved in his own apartment, 5 minutes away from the dorm).
– Update: After moving out of the dorm, Yugyeom invited a composer hyung to live with him as he is scared to live by himself.
– Update 2: Yugyeom currently lives with his real brother (Euigyeom).
– Update 3: He once said that he could not sleep alone owing to the fact that he got nightmares whilst doing so (Mentioned in a V-Live with Mark as well as a Got2Day episode with Youngjae).
– He won first place on "Hit the Stage" episode 10. (He competed there against other idols such as IOI's Kim Chung Ha, Block B's U-Kwon, Girls' Generation's Hyoyeon, NCT's TEN, MONSTA X's Shownu)
– Yugyeom admitted that he was jealous of BamBam when they were trainees. It was because Bam was cute and little, so he was treated differently than Yugyeom. Bam then admitted that he was also jealous of Yugyeom for the opposite reason – because he was tall and manly. They fought a lot as a trainees because of that.
– At first, he thought Bang Chan was known as Banchan (반찬) which means side dish in Korean.
– The members call Yugyeom "Hit the Stage Yugyeom" because he won the competition.
– His contract with JYP Ent. expired on January 19, 2021 and he decided not to renew.
– He is now signed to AOMG Entertainment. On February 19th 2021, Yugyeom was officially announced as a new member of AOMG through a dance cover of Travis Scott's 'Franchise' and several social media support as well as posts from the AOMG members and Jay Park himself.
– He debuted as a soloist on June 11, 2021, with the album "Point of View: U" and title track 'I Want U Around (Feat. DeVita)'.
– Yugyeom's ideal type: A girl with a wacky personality.
(Special thanks to ST1CKYQUI3TT, Ma Liz, nancy idk, Jin's my husband, wife & son, Collecting Dreams, jxnn, A Person말리, Huda Ather, AriaOfficial, ParkXiyeonisLIFE, Leeyah, Jurajil, Terezz Vernerová, 민, Katrina Mendoza, KHGSMel, rosieswh, sleepy_lizard0226, dandelioncnvs, Ella, Gemstone Violeta, lol what)
How much do you like Yugyeom?
You may also like: Quiz: Who's your GOT7 boyfriend?
Yugyeom Discography
GOT7 Profile
Latest Release:
Do you like Yugyeom? Do you know more facts about him? Feel free to comment below.