Chungha Profile 2018: Chungha Facts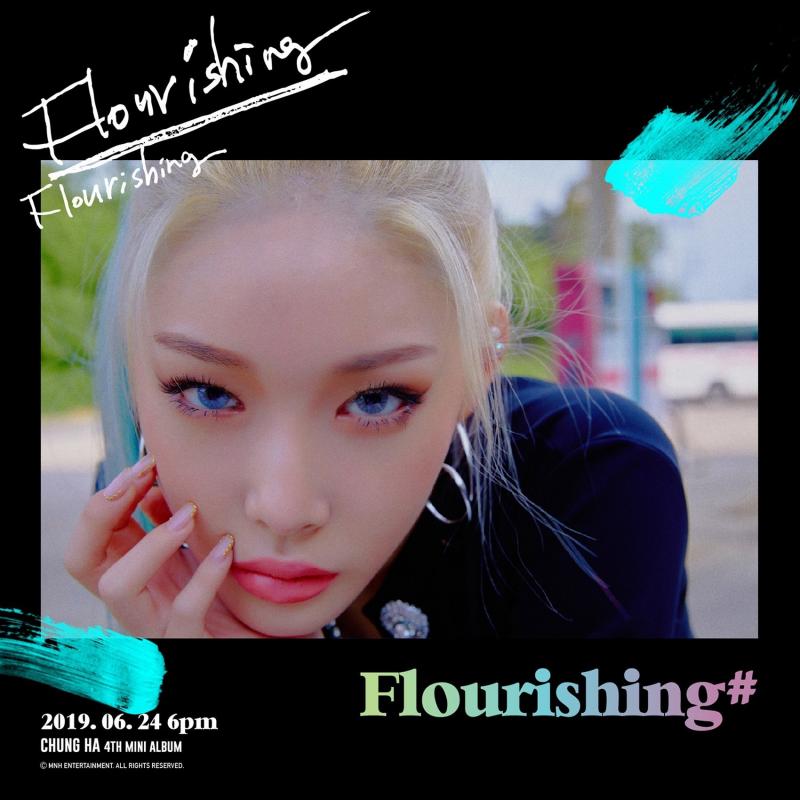 Chungha (청하) is a Korean solo singer, who became well known after finishing on rank 4 on the survival show Produce 101 and became part of the girl group I.O.I. She officially debuted as a solo artist on June 7, 2017, under MNH Entertainment.
Chungha Official Fandom Name: Byulharang
Chungha Official Fan Colors: Pantone 374c, Pantone 332c and BE83AB
Stage Name: Chungha (청하)
Birth Name: Kim Chan-mi (김찬미), but she legally changed her name to Kim Chungha (김청하)
English Name: Annie Kim
Birthday: February 9, 1996
Zodiac Sign: Aquarius
Nationality: Korean
Height: 161 cm (5'3")
Weight: 44 kg (97lbs)
Blood Type: A
Instagram: @chungha_official
Official Fan Cafe: MNH-Chungha
Chungha Facts:
– Chungha was born in South Korea.
– She lived in Dallas, Texas for 7/8 years.
– Her nickname is "Alcohol" – Chungha is the name of an alcohol drink brand. (SNL Korea 7 – May 7, 2016)
– Chungha first audited for YG Entertainment.
– Chungha is a former JYP trainee.
– Now she's currently under M&H Entertainment.
– Trainee Period: 3 years 3 months
– She said her dance training period was in total about 6-7 years.
– During her appearance on "Hit the Stage" she confessed that she almost quit dancing due to financial issues.
– Education: Sejong University
– Her hobby is watching movies alone.
– She can speak Korean and English.
– Specialty: Choreographs, Dancing
– Chungha is brave as seen on their show where they go to many abandoned/haunted places.
– Chungha appeared in Pentagon's "Pretty Pretty" MV.
– Chungha sang "Pit A Pat", Strong Woman Do Bong Soon OST.
– Chungha debuted as a solo artist with "Week".
– She appeared on Hit the Stage and finished in 7th place.
– She had a collaboration with Samuel for "With U".
– Chungha was a participant of Produce 101 and finished on rank 4, which allowed her to become part of the popular girl group I.O.I (which only promoted for 10 months).
– She got popular on Produce 101 for dancing freestyle so well.
– Chungha said that for her, I.O.I represents "Always an inner experience​".
– In January 2017 she was selected as a host for EBS' "Ah! Sunday – A Running Miracle".
– On 21 April, 2017 Chung-ha released her pre-debut single titled "Week".
– On June 7, 2017 she released her debut EP, "Hands on Me", with the lead track "Why Don't You Know".
– On November 8, 2017 it was announced that Chungha started filming for her own reality show called 'Chung Ha's Free Month'.
– Her role model is Lee Hyori. (Weekly Idol)
– As of August 2018, Kim Chung Ha was chosen as new Korean Shiseido ambassador.
– Chungha was an MC in Produce 48 episode 5 for a segment called "Dancing Queen" together with Somi.
– When Chungha was asked who her best friend is/are, she said the I.O.I members.
– Chungha is close to Stray Kids' Chan (they trained together before to leave JYP)
– She is part of SM Station X girl group project: Seulgi x SinB x Chungha x Soyeon.
– Chungha's ideal type: Someone who laughs a lot; Someone who has a lot of love and care; Someone who expresses their emotions well; Someone who I'm attracted to.
Note: Please don't copy-paste the content of this page to other sites/places on the web. If you use info from our profile, please kindly put a link to this post. Thanks a lot! 🙂 – Kprofiles.com
Profile made by thughaotrash (Sam)
(Special thanks to Kathy101, BaoziMin, L_gyun, Matthew서연, alcoholchungha, suga.topia, bubsᵎ ♡, Michelle, Luz Alice, Jami Yagi, sophia, Tsktsk, Kpoptrash, google, Stan ExO&TwiCe, chungha staaan)
How much do you like Chungha?
Latest Korean Comeback:

Do you know more facts about Chungha? Feel free to comment below.