Jeon Somi Profile and Facts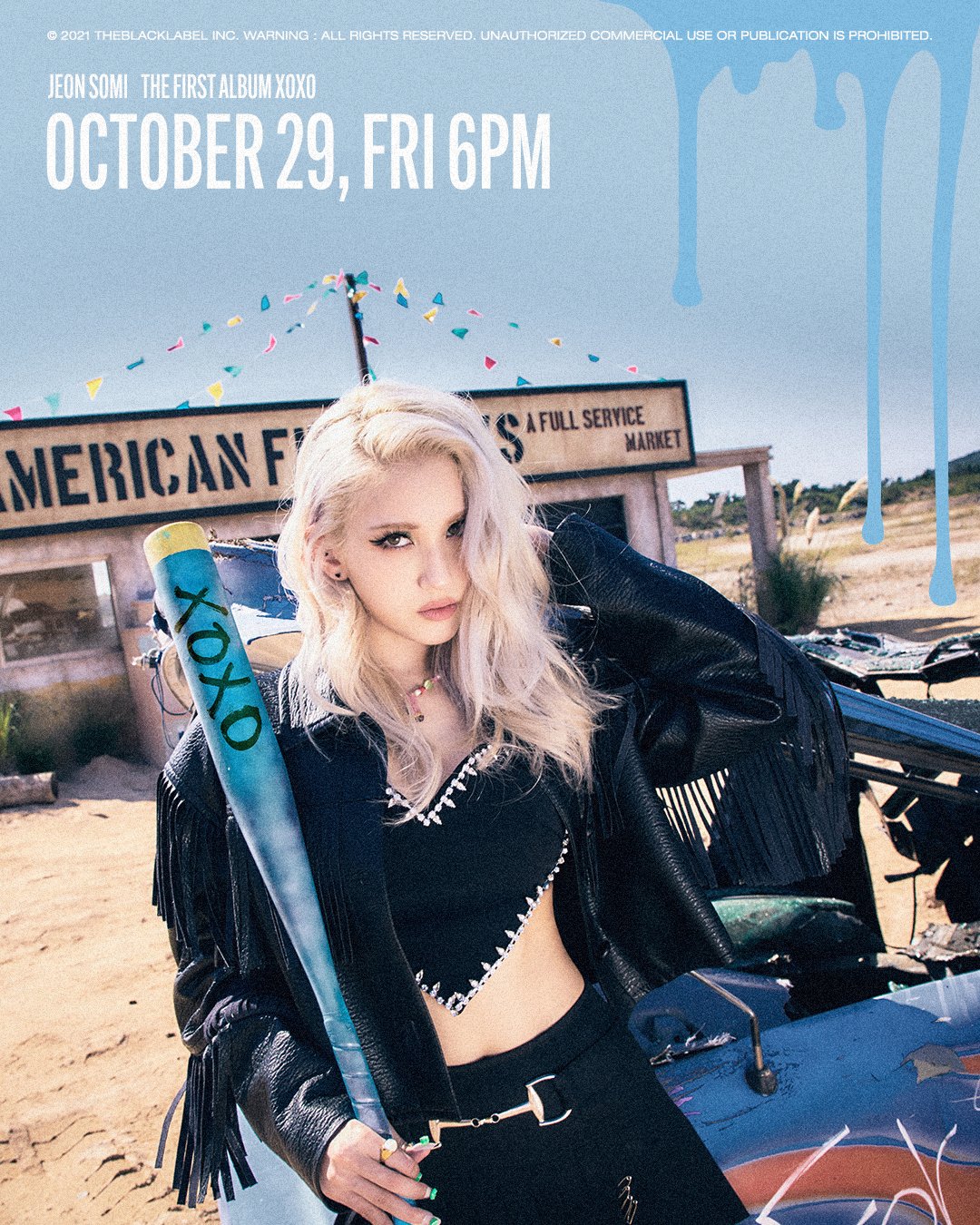 Jeon Somi (전소미) is a solo singer who became well-known after competing on the survival shows SIXTEEN and ranking first in Produce 101. SOMI is signed under The Black Label. She made her solo debut on 13 June 2019 with the single "Birthday".
Jeon Somi Official Fandom Name: Sommungchi
Jeon Somi Official Fan Colors: –
Jeon Somi Official Accounts:
Instagram: somsomi0309
Twitter: somi_official_
Facebook: SOMI (전소미)
YouTube: SOMI (전소미)
Tik Tok: somi_official_
Stage Name: Jeon Somi (전소미)
Birth Name: Ennik Somi Douma / Jeon Somi (전소미)
Birthdate: March 9, 2001
Zodiac Sign: Pisces
Birthplace: Ontario, Canada
Nationality: Canadian/Dutch/Korean
Height: 172 cm (5'8")
Weight: 46.6 kg (102 lbs)
Blood Type: O
MBTI Type: ENFP
Jeon Somi Facts:
– Somi was born to a Dutch-Canadian father and a Korean mother, Matthew and Sunhee.
– She and her family moved to South Korea when she was one year old.
– She has a younger sister named Evelyn.
– Education: Seoyun Middle School, Hanlim Multi Arts High School.
– In November 2016, she still held three citizenships: Canadian, Dutch and South Korean.
– Her nickname is "Vitamin". (SNL Korea 7, 7 May 2016).
– Another nickname of hers is "Maknae on top".
– Somi's hobbies are collecting socks, shopping, walking alone, searching for good music, and searching for good restaurants.
– She can speak Korean and English, but she cannot speak Dutch.
– Her specialties are taekwondo (4th-dan black belt), caricatures, cooking.
– Somi trained for 2 years.
– Somi can do an impersonation of an eating giraffe.
– Somi is easily scared when having to go to abandoned/haunted places.
– Somi has a cat named Cheese.
– One of her childhood dreams was to be a stewardess.
– She said she's trying a vegan diet for a month. (V-LIVE October 2018)
– Somi confirmed that she is 172 cm (5'8″) now, but she's afraid people will think she's too tall, so her official profile still lists her as 169 cm (5'7″). (SBS Power FM Choi Hwajung's Power Time)
– She admires/likes EXO (Kai especially), Bigbang and GOT7's JB.
– She mentioned JB scared her in the beginning when she met him.
– She is a model for Reebok and has done a campaign/shoot overseas with other famous celebrities.
– Somi appeared in GOT7's "Stop Stop It" MV.
– Somi also appeared in Up10tion's "White Night" MV.
– She had featured in 2PM's Jun K's "From November to February".
– Somi is huge fan of 2NE1, and her role model is Minzy (Unnies Slam Dunk season 2 ep 1).
– Somi was a co-host for Idol Likes Battle ep. 3 (guests GOT7).
– Somi and her younger sister Evelyn both played daughters of the character Mak Soon, the youngest sister of the main lead (Hwang Jung Min).
– Her father had a cameo appearance in Descendants of the Sun.
– She nicknamed her fans Som-taengs and Som-mungchis.
– Somi has a new cat named Cookie as of 24 August 2018 (instagram).
– Somi is close friends with Chaeyoung and the other members of TWICE.
– Somi is close friends with GFRIEND's Umji, AB6IX's Daehwi and Park Woojin, Kim Donghyun (who were former JYP trainees) and with CLC's Eunbin.
– She is also friends with BLACKPINK members.
– Somi was supposed to be a member of ITZY but after she left JYP she was replaced with Yuna.
– She won Produce 101, and became the Center of I.O.I
– After I.O.I's disbandment, she joined different variety shows, such as Sister's Slam Dunk Season 2.
– Somi was alongside six other female idols in Idol Drama Operation Team. They created a 7-member girl group called Girls Next Door which debuted on 14 July 2017.
– Kim Sejeong says she has the best body out of all the I.O.I. members.
– When she was in school, she used to get bullied for being mixed. She said she didn't have a lot of friends and wanted to get plastic surgery to look more Korean.
– Somi is one of the ambassadors of the Wetskills Foundation in the Netherlands.
– She was MC along with Up10tion in The Show.
– Somi was the MC for Music Bank in Berlin with Park Bogum on September 15, 2018.
– She was an MC for Produce 48 with Wanna One's Daniel as the previous winners.
– Somi was also an MC in Produce 48 episode 5 for a segment called "Dancing Queen" together with ChungHa.
– On 20 August 2018, Somi terminated her contract with JYPE.
– Somi made her solo debut under The Black Label on 13 June 2019.
Profile by Sam (thughaotrash).
(Special thanks to hi, Michelle A, Jxcklynn, m i n e l l e, Keriona Thomas, 김 변, Shara Nex, taesboxsmiles, molly, TvVx, Millic, Kathy101, Kpoptrash, Avery, Lesly, ɴɪᴋɪᴛᴀ, Joslyn Teo Kai Xin, irene, Riadel Grace Manuel, romsaetic, digi, renjun love bot, Jsoi, gowon loml, na)
Note: Please don't copy-paste the content of this page to other sites/places on the web. If you use info from our profile, please kindly put a link to this post. Thanks a lot! 🙂 – Kprofiles.com
How much do you like Jeon Somi?
You may also like: Poll: What are your rankings for all of SOMI's "XOXO" Promotion Outfits?
Somi Discography
Latest Korean Comeback:
Do you like Jeon Somi? Do you know more facts about her? Feel free to comment below. 🙂