Cosmic Girls (WJSN) Members Profile: Cosmic Girls Facts


Cosmic Girls (우주소녀), also known as WJSN is a 13-member girl group under Starship Entertainment and Yuehua Entertainment. The group consists of EXY, Seola, Xuan Yi, Bona, Soobin, Luda, Dawon, Eunseo, Cheng Xiao, Mei Qi, Yeoreum, Dayoung, and Yeonjung. They debuted on February 25, 2016, with their first mini-album "Would You Like?"
Cosmic Girls Fandom Name: Ujung (우정) (Means "friendship" in Korean)
Cosmic Girls Official Fan Color: Vivid Tangerine, Airforce Blue, and Timberwolf
Cosmic Girls Official Accounts:
Facebook: officialcosmicgirls
Twitter: WJSN_Cosmic
Instagram: wjsn_cosmic
Youtube: COSMIC GIRLS
Fan Cafe: WJSNcosmic
V LIVE: 우주소녀(WJSN)
Weibo: YH宇宙少女
TikTok: official_wjsn
Cosmic Girls (WJSN) Members Profile:
EXY


Stage Name: EXY (엑시)
Birth Name: Chu So Jung (추소정)
Position: Leader, Main Rapper, Vocalist
Birthday: November 6, 1995
Zodiac Sign: Scorpio
Height: 166 cm (5'5″)
Weight: 49 kg (108 lbs)
Blood Type: A
Sub Unit: Sweet (Leader), αγυρτης (The Imposter), WJSN THE BLACK
Instagram: exy_s2
Twitter: exy_s2
Weibo: wjsnexy
EXY Facts:
– Nationality: Korean
– She was born in Busan, South Korea.
– She has an older sister and one younger brother.
– She represents the Scorpio (zodiac sign).
– She can play the triangle and tambourine.
– Exy was one of the rappers in the second season of Unpretty Rapstar.
– She is part of YTeen, which is a Starship project group (WJSN and Monsta X).
– When she was first a trainee she was training to be a vocalist but ended up falling into hip-hop and becoming a rap trainee.
– She writes and composes her own rap.
– Exy was a trainee for 8 years.
– She helped compose songs on their albums ("WJ Please?", "Dream Your Dream")
– She acted with Sistar's Bora in a web drama called "The Flatterer".
– Exy appeared on "King of Masked Singer" as "Daring Woman".
– She is on the variety show "I Have Something to Say Today".
– She is close with Sua of Dreamcatcher.
Show more Exy fun facts…
Seola


Stage Name: Seola (설아)
Real Name: Kim Hyun Jung (김현정)
Position: Lead Vocalist
Birthday: December 24, 1994
Zodiac sign: Capricorn
Height: 164.6 cm (5'5″)
Weight: 45 kg (99 lbs)
Blood Type: A
Sub Unit: Sweet, ενύπνιον (The Dreamer), WJSN THE BLACK
Instagram: seola_s
Seola Facts:
– Nationality: Korean.
– She was born in Seoul, South Korea.
– She has an older sister.
– She represents the Sagittarius but is actually a Capricorn (zodiac sign).
– She is the vitamin of WJSN.
– She is part of Starship project group YTeen.
– She has Aquaphobia.
– She's able to turn any song into a ballad/sad song.
– Seola was a trainee for 10 years.
– In 2012, Seola appeared in Boyfriend "Janus" MV.
– Seola appeared in a "Just Dance" Commercial along with TWICE's Nayeon and Jeongyeon.
– She acted in the web drama "Good Morning Double-Decker Bus" (2017).
– She sang "Love Virus" together with Monsta X's Kihyun as the OST for "What's Wrong with Secretary Kim".
– She participated in the WJSN x Momoland x Pristin collaboration called Woo-Mo-Peu and covered BSS's Just Do It.
– She is part of the collaboration group between WJSN and Weki Meki, called WJMK.
– Seola was on MBC's "King of Masked Singers" as "Observatory".
-Seola sang "Stay With Me" with EXO's Chanyeol at KCON Australia.
Show more Seola fun facts…
Bona


Stage Name: Bona (보나)
Birth Name: Kim Ji Yeon (김지연)
Position: Lead Dancer, Vocalist, Rapper, Visual
Birthday: August 19, 1995
Zodiac Sign: Leo
Height: 163 cm (5'4″)
Weight: 47 kg (97 lbs)
Blood Type: A
Sub Unit: Wonder (Leader), ενύπνιον (The Dreamer), WJSN THE BLACK
Instagram: bn_95819
Weibo: Bona
Bona Facts:
– Nationality: Korean
– She was born in Gwangyeoksi, Daegu, South Korea.
– She has an older brother.
– She represents the Leo (zodiac sign).
– Bona's nickname is Bo-Bunny.
– She can play the piano.
– Bona was a Cube trainee before.
– She was a trainee for 7 years (6 years at Cube, 1 year at Starship).
– Bona is friends with all of the members of BTOB. (Would You Like Girls Ep.3)
– She is also friends with Blackpink's Jisoo.
– Bona's favorite colors are: pink, red, black, and white.
– Bona's favorite seasons are spring and autumn.
– She acted in the dramas "The Best Hit" (2017), "Girl's Generation 1979" (2017), and "Your House Helper" (2018).
Show more Bona fun facts…
Soobin


Stage Name: Soobin (수빈)
Birth Name: Park Soo Bin (박수빈)
Position: Main Vocalist
Official Birthday: September 14, 1996
Official Zodiac Sign: Virgo
Real Birthday: July 14, 1996
Real Zodiac Sign: Cancer
Height: 157 cm (5'2″) (revealed in Would You Like Girls "My Cosmic Diary")
Weight: –
Blood Type: AB
Sub Unit: Sweet, αγυρτης (The Imposter), WJSN CHOCOME
Instagram: soobly_s2
Soobin Facts:
– Nationality: Korean
– She was born in Seoul, South Korea.
– She has a younger brother.
– She represents the Virgo (zodiac sign).
– Her nickname is Soobly which means "Lovely".
– She can play the piano, violin, and flute.
– Soobin was a trainee for 7 years.
– She is part of Starship project group YTeen.
– She wants to be a CF queen.
– She's the happy virus of WJSN.
– Soobin can do an impression of a Pterodactyl. (Weekly Idol Ep.234)
Show more Soobin fun facts…
Luda


Stage Name: Luda (루다)
Birth Name: Lee Lu Da (이루다)
Position: Vocalist, Rapper
Official Birthday: March 6, 1997
Official Zodiac Sign: Pisces
Real Birthday: February 6, 1997
Real Zodiac Sign: Aquarius
Height: 156.7 cm (5'2″)
Weight: 43.4 kg (95 lbs)
Blood Type: A
Sub Unit: Natural, ενύπνιον (The Dreamer), WJSN CHOCOME
Instagram: e_lludda
Luda Facts:
– Nationality: Korean
– She was born in Seoul, South Korea.
– She has an older sister.
– She represents the Pisces (zodiac sign).
– Luda used to be a girl's scout.
– Luda has astigmatism. (WJSN Show Ep3)
– Luda has rhinitis.
– Luda has mismatched ears. (After School Club)
– Luda is called Lu-dak (chicken) because she can impersonate the sound of a chicken. (Weekly Idol)
– Pre-debut she was the most popular member.
– Luda is in a show called "Dunia: Into a new world".
– Luda has a single called "DreamWorld" which she sang in "Dunia".
– Luda is a cast member on the variety show "Tutor", along with other Kpop idols like Seventeen's Vernon, Pentagon's Hongseok, etc. Luda is a science tutor.
– She is part of the collaboration group between WJSN and Weki Meki, called WJMK.
Show more Luda fun facts…
Dawon


Stage Name: Dawon (다원)
Birth Name: Nam Da Won (남다원)
Position: Main Vocalist
Official Birthday: April 16, 1997
Official Zodiac Sign: Aries
Real Birthday: May 27, 1997
Real Zodiac Sign: Gemini
Height: 167 cm (5'6″)
Weight: 48 kg (105 lbs)
Blood Type: A
Sub Unit: Natural, ενύπνιον (The Dreamer)
Instagram: naneun_dawon
Dawon Facts:
– Nationality: Korean
– She was born in Seoul, South Korea.
– She has an older brother.
– She represents the Aries (zodiac sign).
– She can play the piano and guitar.
– She's the one who looks after the other members.
– Dawon is the clumsiest member of WJSN. (After School Club)
– Dawon is often praised for her fit body by her members and fans.
– She's very considerate, she will clean up after, and help take care of the other members.
– Aware of her surroundings (ex: in their reality show, Dawon moved to stand in front of a trash can because she didn't want the image of the trash can to ruin the image of WJSN when greeting their sunbaes)
– She swims in the morning, has physical conditioning at noon, and pilates in the evening. (NCT Night Night)
– She is friends with 15&'s Jimin.
– She was on the singing show "Spirit Girl".
Show more Dawon fun facts…
Eunseo


Stage Name: Eunseo (은서)
Birth Name: Son Ju Yeon (손주연)
Position: Vocalist, Rapper
Birthday: May 27, 1998
Zodiac Sign: Gemini
Height: 172 cm (5'7.5″)
Weight: –
Blood Type: B
Sub Unit: Joy, αγυρτης (The Imposter), φορευς (Dream Carrier), WJSN THE BLACK
Instagram: eeunseo._.v
Weibo: Eunseo
Eunseo Facts:
– Nationality: Korean
– She was born in Incheon, South Korea.
– She has two older sisters.
– She represents the Gemini (zodiac sign).
– Her nickname is "Sunlight Girl".
– She can play the piano, guitar, drums, and tambourine.
– Eunseo and Dayoung are the best cooks.
– Eunseo doesn't drink coffee because she can't sleep if she drinks one. (Battle Trip)
– Eunseo is nicknamed the "dad" of the dorm.
– If Eunseo concentrates on one thing, she can't multi-task. (After School Club)
– She is the fastest runner among WJSN. She once won Bronze on ISAC.
– Eunseo was classmates with BTS Jungkook.
– She is part of Starship project group YTeen.
– Eunseo is friends with GFriend's SinB. (Would You Like Girls Ep.3)
– Eunseo appeared in Monsta X "Rush" MV.
– Eunseo is a former Pledis trainee.
– Eunseo modeled for the 2018 S/S Metro City Runway.
– She is a cast member of "Real Men 300", where she was the only female recruit capable of doing a full set of push-ups.
-She is one of the vitamins in the group.
Show more Eunseo fun facts…
Yeoreum


Stage Name: Yeoreum (여름)
Birth Name: Lee Jin Suk (이진석) but legalized her name to Lee Yeo Reum (이여름)
Position: Main Dancer, Vocalist, Rapper
Birthday: January 10, 1999
Zodiac sign: Capricorn
Height: 162 cm (5'4″)
Weight: 45 kg (99 lbs)
Blood Type: A
Sub Unit: Joy, φορευς (Dream Carrier), WJSN CHOCOME
Instagram: yeolum_e
Yeoreum Facts:
– Nationality: Korean
– She was born in Seoul, South Korea.
– She has a younger brother.
– She represents the Capricorn (zodiac sign).
– Education: SOPA (graduated)
– She can play the piano, pipe, and janggu.
– She's a quiet person, but once she talks, it's full of aegyo.
– It's said she looks like Taeyeon from SNSD.
– Yeoreum sleep talks. (After School Club)
– She is Christian. ("Would You Like Girls" ep 7)
– She is part of Starship project group YTeen.
– Yeoreum's stage name means 'Summer' in English.
– She is an absolute foodie.
– According to Dayoung, Yeoreum is in charge of cuteness and aegyo.
– She is friends with Twice's Chaeyoung
– Yeoreum is a certified scuba diver.
– Yeoreum wants to try acting and musical plays.
– According to Bona, Yeoreum is sharp and one of the strongest members. ("Star1")
– Cosmic Girls Unit: Joy
Show more Yeoreum fun facts…
Dayoung


Stage Name: Dayoung (다영)
Birth Name: Lim Da Young (임다영)
Position: Lead Vocalist
Birthday: May 14, 1999
Zodiac Sign: Taurus
Height: 161 cm (5'3″)
Weight: 45 kg (99 lbs)
Blood Type: A
Sub Unit: Wonder, φορευς (Dream Carrier), WJSN CHOCOME
Instagram: dayomi99
Dayoung Facts:
– Nationality: Korean
– She was born in Jeju, South Korea.
– She doesn't have siblings.
– She represents the Taurus (zodiac sign).
– Education: SOPA (graduated)
– She can play the triangle and tambourine.
– Dayoung and Eunseo are the best cooks.
– Dayoung's nickname is 'Dayeob' because she is said to look like the comedian Shin Dongyeob. (Hello Counselor Ep.269)
– Despite being young Dayoung is nicknamed the "mom" of the dorm.
-While filming an MV, she was nicknamed "Poppy" because she resembled a Yorkshire Terrier (Idol Radio ep#420)
– Dayoung and Mina (Gugudan) were schoolmates in the past. (Happy Together)
– Dayoung can dance 2x speed of 'MoMoMo' without any trouble. (Weekly Idol Ep.234)
– Dayoung was not allowed to do a pigtails-hairstyle because of her resemblance to Shin Dongyup when she debuted, so her agency suggested that she should lose weight. But now she's allowed to. (Happy Together)
– Dayoung & ATEEZ's Yunho were classmates at SOPA.
– She is part of Starship project group YTeen.
– She was a contestant on K-Pop Star 1.
– Dayoung is part of a variety show called "Water Girls".
– Dayoung participated in "King of the Masked Singer" as "Brachiosaurus" and she won.
Show more Dayoung fun facts…
Yeonjung


Stage Name: Yeonjung (연정)
Birth Name: Yu Yeon Jung (유연정)
Position: Main Vocalist, Maknae
Birthday: August 3, 1999
Zodiac Sign: Leo (Real sign), but in WJSN she represents Ophiuchus
Height: 165 cm (5'4")
Weight: 52 kg (114 lbs)
Blood Type: A
Sub Unit: φορευς (Dream Carrier)
Instagram: uyj__0803
Yeonjung Facts:
– Nationality: Korean
– Yeonjung was born and raised in Gwangmyung, Gyeonggi Province, South Korea.
– She has a younger brother.
– She represents the Ophiucus, but she's actually a Leo (zodiac sign).
– Education: Hanlim Multi Art School (graduated)
– She can play the guitar.
– Yeonjung is a former SM Entertainment trainee.
– Yeonjung and Yeri (Red Velvet) are friends.
– Yeonjung acted in the drama "Hwayugi" (2017) as cameo in Ep. 1.
– She was a member of I.O.I (rank 11 in Produce 101)
Show more Yeonjung fun facts…
Members on Hiatus:
Xuan Yi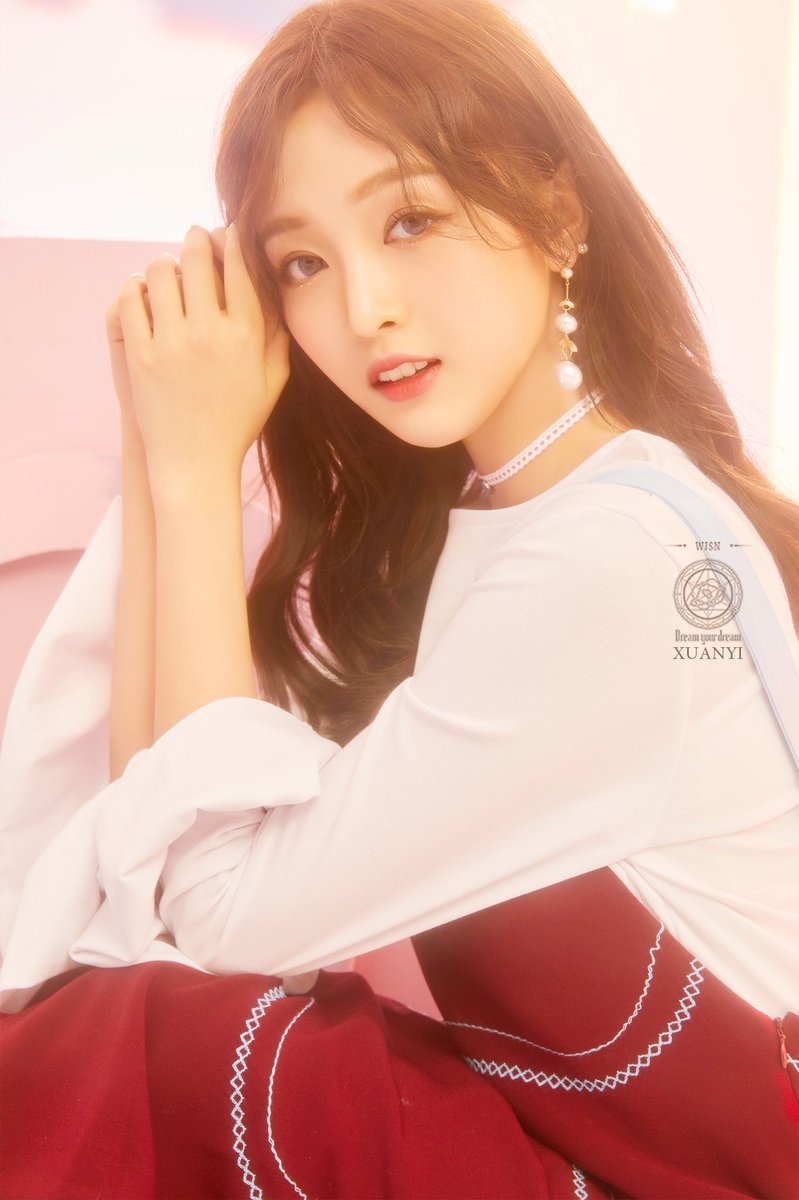 Stage Name: Xuan Yi (宣仪)
Birth Name: Wu Xuan Yi (吴宣仪)
Korean Name: Oh Sun Ee (오선의)
Position: Lead Dancer, Vocalist
Birthday: January 26, 1995
Zodiac Sign: Aquarius
Height: 166 cm (5'5″)
Weight: 42.9 kg (94 lbs)
Blood Type: O
Sub Unit: Joy (Leader), αγυρτης (The Imposter)
Instagram: w.xuanyi0126
Weibo: Xuan Yi
Xuan Yi Facts:
– Nationality: Chinese
– She was born in Hainan, China.
– She has a younger brother.
– She represents the Aquarius (zodiac sign).
– She can play the piano.
– Makes members kiss, beg, or use aegyo for her to buy them stuff in China.
– Whereas in Korea, she will beg or use aegyo for them to buy her stuff.
– She's a shopaholic.
– Xuanyi and Chengxiao skydived together. (Best Friends, Perfect Vacation)
– Xuan Yi loves seaweed.
– Xuan Yi can do a fish and a rabbit/bunny expression.
– Xuan Yi is a contestant on Produce 101 China.
– Xuan Yi ranked 2nd in Produce 101 China and is a member of a Chinese girl group called Rocket Girls, which will promote for two years.
– Update: On 9th August 2018 it was announced that Xuan Yi left Rocket Girls
– On August 18, 2018, it was announced she will re-join Rocket Girls and will promote with both WJSN and Rocket Girls.
– Xuan Yi's fans are called "Yiyuans"
– She joined 2 variety programs: "Best Friends' Perfect Vacation" and "Space Challenge"
– She is the leading actress in the voice movie "Future Girlfriend Lab".
– She won The Fresh Asia Music 2018 award in the Most Popular Female Singer category.
– She is on hiatus due to her promotions in China.
– Xuan Yi made her solo debut on September 25, 2020, with the song "25".
– Starting "We were in love" comeback she also promotes herself under the stage name Betty Wu.
Show more Xuan Yi fun facts…
Cheng Xiao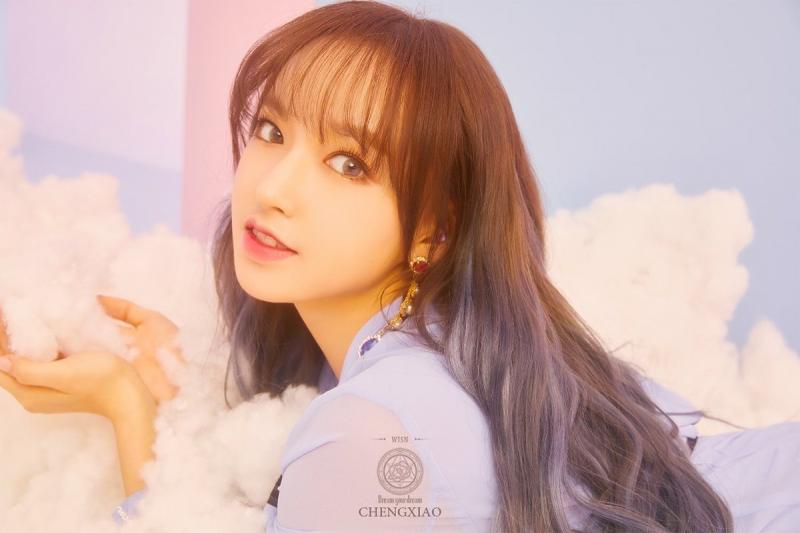 Stage Name: Cheng Xiao (성소)
Birth Name: Cheng Xiao (程瀟)
Korean Name: Jung Seong So (정성소)
Position: Main Dancer, Vocalist, Visual, Face Of the Group
Birthday: July 15, 1998
Zodiac Sign: Cancer
Height: 166 cm (5'6″)
Weight: 51.2 kg (112 lbs)
Blood Type: B
Sub Unit: Wonder, αγυρτης (The Imposter)
Twitter: chengxiao_0715
Instagram: chengxiao_0715
Weibo: chengxiao0715
Cheng Xiao Facts:
– Nationality: Chinese
– Place of Birth: Shenzhen, China
– She has a younger sister.
– She represents the Cancer (zodiac sign).
– She can play the guzheng.
– She is part of Starship project group YTeen.
– Her mother revealed she was only 16 when she left home to be a trainee.
– The high school she attended was 30 miles away from her dormitory and she had a hard time commuting.
– Cheng Xiao learned Chinese dance for 10 years.
– Cheng Xiao can't pronounce her own name. (After School Club).
– Her role model is f(x)'s Victoria.
– She is very flexible. She won Gold in Rhythmic Gymnastics on ISAC.
– She doesn't seem to talk much on camera, but in reality, she talks quite a lot.
– She was a former JYP trainee (Yizhibo live broadcast) and a former SM trainee.
– Cheng Xiao and Xuanyi skydived together. (Best Friends, Perfect Vacation).
– She was part of a project unit called Sunny Girls, they released a single called "Taxi" in Nov. 2016.
– In 2017, she was a cast member of SBS' show "Law of the Jungle".
– In 2018, she was a dance mentor in the reality survival show "Idol Producer".
– She acted in several Chinese dramas: "Legend of Awakening/天醒之路" (2019), "Detective Chinatown" (2020), "Falling Into Your Smile" (2021), "My Heart" (2021), "Lie to Love" (2021), "Vacation of Love 2" (2022).
– On December 28, 2020, she debuted as a soloist in China with the single "Focus-X".
– She is on hiatus due to her promotions in China.
– Cheng Xiao's Ideal Type: During tvN's 'Life Bar', Cheng Xiao picked actor Lee Min Ho as her ideal type.
Show more Cheng Xiao fun facts…
Mei Qi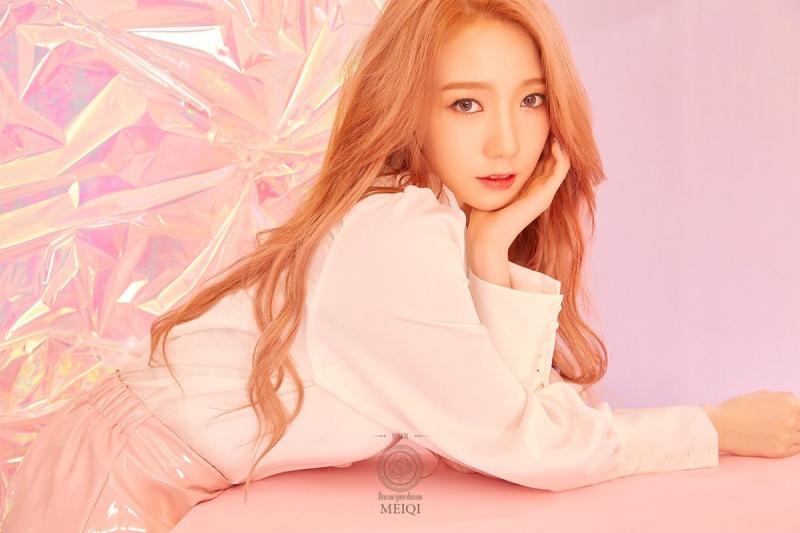 Name: Mei Qi (미기)
Birth Name: Meng Mei Qi (孟美岐)
Korean Name: Maeng Mi Ki (맹미기)
Position: Main Dancer, Vocalist
Birthday: October 15, 1998
Zodiac Sign: Libra
Height: 165 cm (5'4")
Weight: –
Blood Type: B
Sub Unit: Natural, ενύπνιον (The Dreamer)
Instagram: @m.meiqi7
Weibo: meiqi1015
Mei Qi Facts:
– Nationality: Chinese
– She was born in Luoyang, China.
– She doesn't have siblings.
– She represents the Libra (zodiac sign).
– She is a member of the Performance team.
– She is in charge of sexy concepts.
– Mei Qi is a contestant on Produce 101 China.
– Mei Qi ranked 1st in Produce 101 China and is a member of a Chinese girl group called Rocket Girls, along with Xuan Yi, who will promote for two years.
– Update: On 9th August 2018 it was announced that Mei Qi left Rocket Girls.
– On August 18, 2018, it was announced she will re-join Rocket Girls and will promote with both WJSN and Rocket Girls.
– In 2020 she was the winner of "Masked Dancing King" (2020).
– In 2021 she was a mentor and main host for the show "Born to Dance".
– She acted in "Marna" (2018), "Autumn In My Heart" (2019), "Jade Dynasty 1" (2019), "Step Up: Year of the Dance" (2019), and "Breaking Through" (2022).
– In April 2019, Mei Qi made her solo debut with the song "Jiang".
– She is on hiatus due to her promotions in China.
– Mei Qi's Ideal Type: is a warm guy with charisma.
Show more Mei Qi fun facts…
(Special thanks to Jeon Jeongsan, Yuggyyeeoomm, bea, peunwoota, house ghost, DREAMCATHERRUNN, WANNABLE, Katrina Pham, natalie, ChuuPenguin, Lali , alex, Wong Si Qi, yoongi is a heart shaker, seungwannie, Jinyoungie~ Mino ya! 💙, Lali, kibumsgf, Bob X, kibumsgf, m i n e l l e, ChuuPenguin, Kita, Nami, rnbwflavor, smol is justice, physicsgoddess, shy_mic, Amelia, JiminsCrookedTooth, felipe grin§, nikkiphommyvong_833, Leonora, seokjin windshield laugh, olever, Arnest Lim, Jackie, Amelia, Shiro Waterman, heart_joy, Jackie, Joeb Bray, Megan Lin, NsL791, rocky)
Note: Please don't copy-paste the content of this page to other sites/places on the web. If you use info from our profile, please kindly put a link to this post. Thanks a lot! 🙂 – Kprofiles.com
Note 2: current listed positions are based on the official WJSN website, where the member's positions have been revealed. We may have a different opinion on the positions but we are respecting the publicly announced positions. When any updates regarding the positions will appear, we'll update the profile again.
Sub-Note 1: According to the official website of YueHua Ent. The dance line is formed by 4 members: Chengxiao and Meiqi are the Main Dancers, Xuanyi and Bona are the Lead Dancers.
Who's your Cosmic Girls bias?
Related: Poll: Who is the best dancer in WJSN?
Poll: Who is the best vocalist/rapper in WJSN?
Poll: Which is your favorite WJSN (Cosmic Girls) ship?
WJSN Discography
WJSN: Who is Who
Latest Release:
Latest Korean Comeback:
Who's your Cosmic Girls bias? Do you know more facts about them? Feel free to comment below. It can help new fans find more info about them. 🙂