Vernon (Seventeen) Facts and Profile; Vernon's Ideal Type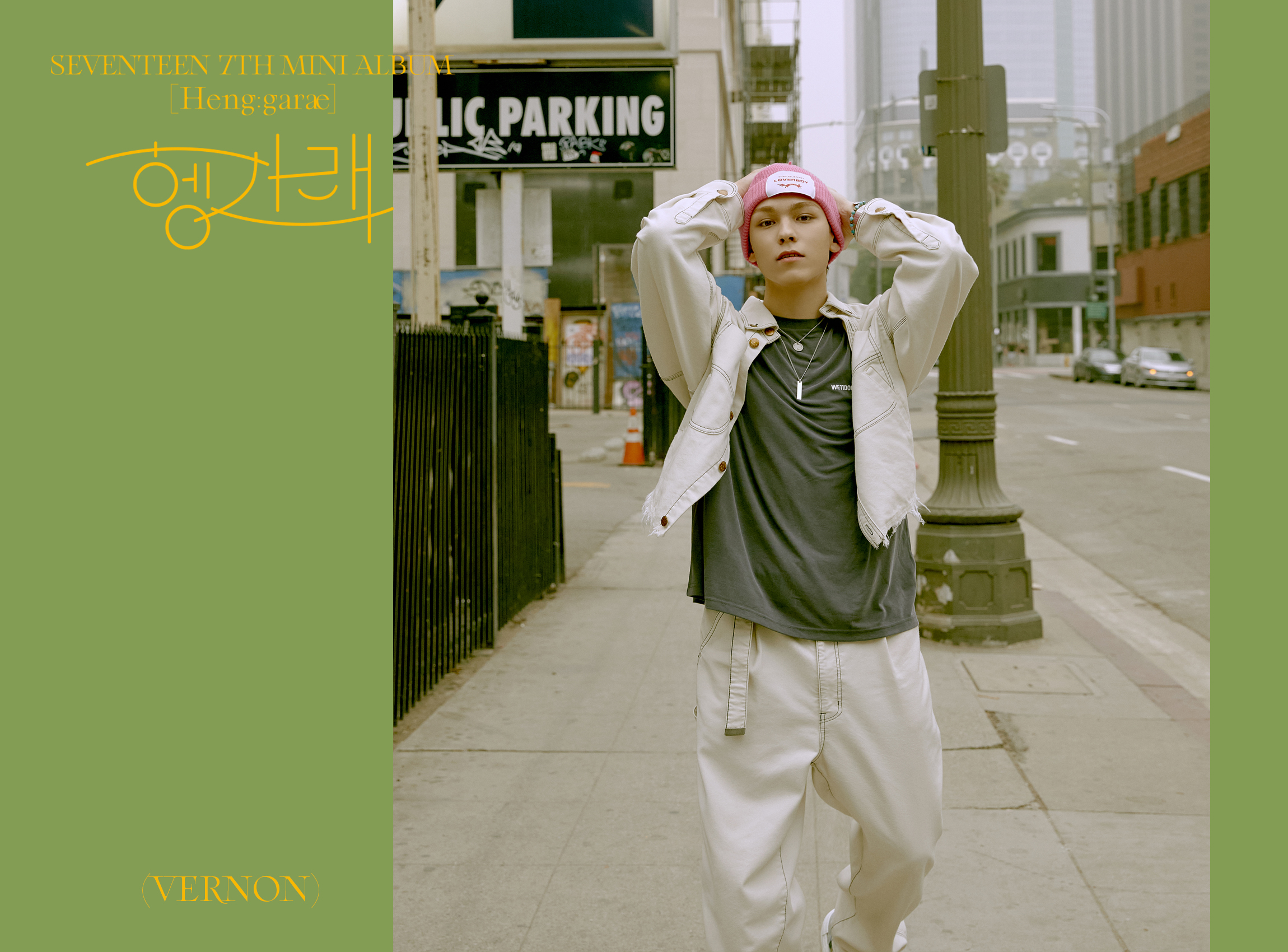 Stage Name: Vernon (버논)
Birth Name: Hansol Vernon Chwe
Korean Name: Choi Hansol (최한솔)
Birthday: 18 February 1998
Zodiac sign: Aquarius/Pisces Cusp
Nationality: Korean-American
Hometown: New York, United States
Height: 178 cm (5'10″)
Weight: 62 kg (136 lbs)
Blood Type: A
MBTI Type: ENTP  (2022 – taken by the members) / His previous results were: ISTP (Weverse Feb 14 2022); ISFP (Online fansign Oct 29, 2020) and ENFP (2019 – when he initially took the test)
Sub-Unit: Hip-Hop Team
Instagram: @vernonline
Vernon's Spotify list: Oh wow
Vernon facts:
– He's from New York but moved to Korea when he was 5 years old.
– His mother is American and his father is Korean.
– He has a little sister named Sofia.
– He's very close to his sister, he even got a temporary tattoo of her name on his arm.
– Education: Changcheon Middle School (dropout)
– He got cast at a station in front of his middle school.
– Vernon was 14 years old when he got street casted.
– His family lives in Hongdae but he lives in Gangnam since Seventeen's dorm is located there.
– His mom moved in Korea as well (when he was 5) but since she doesn't speak Korean, at home they kept talking in English, that's why Vernon's English is so good.
– His favorite rappers are Drake, T.I, J.Cole, and Kendrick Lamar.
– He's extremely ticklish.
– He likes the month December.
– He admires David Bowie.
– He has an interest for fashion and he owns a lot of hats.
– His hobbies are reading webtoons, watching movies, reading.
– Favorite colors: All colors
– His favorite foods are chocolate, garlic and olive oil pasta, and cheeseburgers.
– He likes chocolate cakes and cheesecakes.
– His favorite ice cream is Vanilla ice cream.
– He likes the actors Brad Pitt, Leonardo DiCaprio & Johnny Depp.
– His favorite Korean actor is Lee Byung Han.
– He is a Harry Potter fan.
– He's a Star Wars fan and bought a BB-8 robot when he was in Japan (source: SVT Club)
– His favorite Seasons are Summer and Fall.
– His favorite animals are cats.
– He likes cats and he has his own pet cat, named 'Dodam'. The name of the cat was picked by his cousin.
– He doesn't have a favorite girl group.
– He prefers watching movies over reading.
– He is allergic to peanuts. (Going Seventeen 2020 Ep 15)
– If he could introduce a member to his family, he would choose Soonyoung.
– He received the nickname 'Twix' because he had a lot of Twix in their practice room.
– He was voted by the other members as the shyest member.
– He was voted by the members for acting most cute around girl groups. He says he smiles with his eyes around girls and not around his members.
– He was in Man of K's "Falling" MV, Hello Venus' "Venus" MV, and Orange Caramel's "My Copycat" MV.
– Vernon is part of the group M.O.L.A (Make Our Lives Awesome), which consists of him, 15&'s Jimin, Woodz (Seungyoun), Kino (Pentagon) and Nathan.
– He loves English/British accents and he likes Australian accents.
– Vernon said that now he is better in Korean more than his own language, English.
– He views himself as a really free person.
– His role models are his parents and his teachers, as well as the American rapper J Cole.
– The meaning behind his stage name is that it's his middle name and also his mother's surname.
– Vernon is close with PENTAGON's Kino. He even bought Kino a phone case when he was in Japan.
– He wishes he could have good speaking skills like SeungKwan does.
– His shoe size is 280mm.
– When overseas, he shares rooms with SeungKwan the most.
– He's an easygoing person. He always takes the longest doing whatever everyone else is doing, and the hyungs scold him for it. (Japanese Seventeen Magazine)
– He likes a casual style with a little spicy impact. (Japanese Seventeen Magazine)
– He looks childish, but actually, he's a deep person. He places importance in not discriminating against anything/not being prejudice. (Japanese Seventeen Magazine)
– He was a pretty ordinary student, playing games with his friends in Internet cafes. Then, when he was in his 2nd year of middle school, he was scouted at an office as he was going home from school on the subway. It changed his life completely. If he wasn't scouted at that time, he would have no idea where he'd be or what he'd be doing now. (Japanese Seventeen Magazine)
– Vernon competed in "Show Me The Money 4" but got eliminated on the Third Round.
– Vernon is a cast member on the variety show "Tutor", along with other Kpop idols like Pentagon's Hongseok, WJSN's Luda, etc. Vernon is an English tutor.
– Vernon doesn't care about appearance. He cares more about the person's personality and heart. (Japanese Seventeen Magazine)
– Vernon and Hoshi used to share a room. (Dorm 2 – which is upstairs, floor 8th)
– Update: As of June 2020, in the dorm he has his own room.
– Vernon's ideal type is someone his heart can connect with.
Note: Source for the 1st MBTI results: Going Seventeen – September 9, 2019 – the members took the test themselves. Source for the 2022 MBTI results: Going Seventeen – June 29, 2022 – the members took the test for each other. Since some people complained that the 2022 test may not be as accurate, we kept all the results.
(Special thanks to pledis17, Dani (@w00zis on twitter), jxnn, HVC_SVT, HanHan0218, jxnn, cherrycarat, Payette Lune, SOO ♡, Jasmin)
Related: Seventeen Profile
How much do you like Vernon?
Do you like Vernon? Do you know more facts about him? Feel free to comment below.