Who Wore It Better: Harley Quinn (Boy Version)

Harley Quinn is a DC character from the original "Batman: The Animated Series" from the 1990's. Her popularity in pop culture sky rocketed in 2016 with the release of the movie "Suicide Squad." Since then, many idols have dressed up as Harley for occasions such as Halloween and special stages. Let's see who made the best idol Harley Quinn!

Ateez's Yeosang


Yeosang wore this undeniably iconic outfit for Halloween in 2019. He has the look down to a science.
B.A.P's Daehyun


Daehyun wore this outfit for Halloween in 2017. He gives the character an extra edgy look with the leather jacket. Although the wig doesn't look very realistic, he makes it up to us with the baseball bat.
Seventeen's Jeonghan


Jeonghan wore this costume for Halloween in 2015. Although his actual outfit is lacking, his real long hair paired with his perfect makeup is enough to make him look like the real Harley.
Infinite's Sungyeol


If you know the circumstances of when Sungyeol wore this outfit, please comment down below! Sungyeol's smeared lip stick adds a unique flare to his version of Harley.
SF9's Jaeyoon


Jaeyoon wore this costume in SF9's 'O Sole Mio' Halloween Dance Video in 2017. He went all out with full and brightly colored split hair. His split color jacket, although not accurate to the original character, adds a cool contrast to his hair.
ONF's J-US


J-US wore this outfit for Halloween 2020. He played into the red theme quite a bit and added some beautiful sparkly eye shadow.
The Boyz' Younghoon


Younghoon adopted this look for Halloween in 2020. His thick gold choker stands out significantly in this look, as well as his leather pants.
Stray Kids' I.N


I.N wore this look for Halloween 2020. His spikey choker looks amazing, as well as the color coordinated glove.
Honorable Mention
A.C.E's Byeongkwan and Wow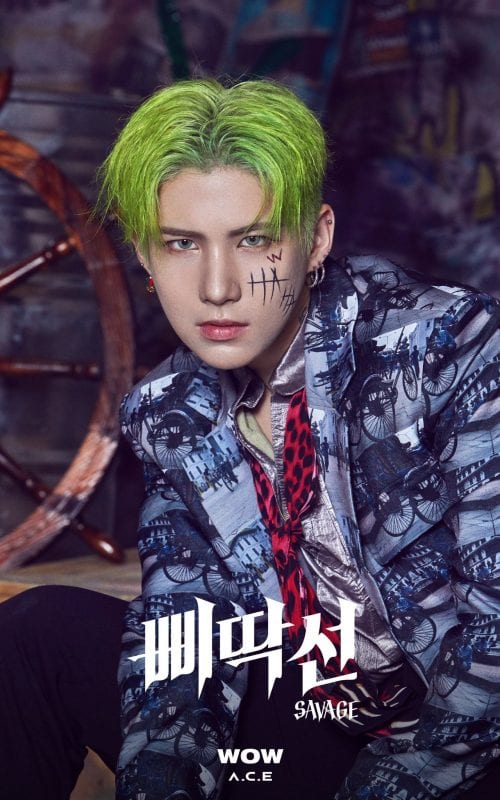 Although not a costume, Byeongkwan and Wow had a Harley and Joker concept in A.C.E's 'Savage' MV that they both absolutely slayed.
Made by: yaversetwo
Note 1: This is only to express personal opinion and is not meant to bash any idol. Please be kind and respectful.
Note 2: If you know any of the information that is lacking or know of an idol I forgot, please kindly comment below!
Note 3: I am aware of TxT's Harley Quinn themed stage. I did not include it because it felt kinda awkward to include an entire group in this poll. However, I am planning on giving them their own post/poll so stay tuned for that if it is not already up 😀
Note 4: Yes, the beginning blurb is copy and pasted from the girl version, but it is ok because I made the girl version as well lol.
Related: Who Wore It Best: Harley Quinn (Girl Version)
Who Wore It Better: Harley Quinn (Boy Version)
Who do you think made the best Harley Quinn? Feel free to comment down below!