Sungyeol (Infinite) Profile, Facts, and Ideal Type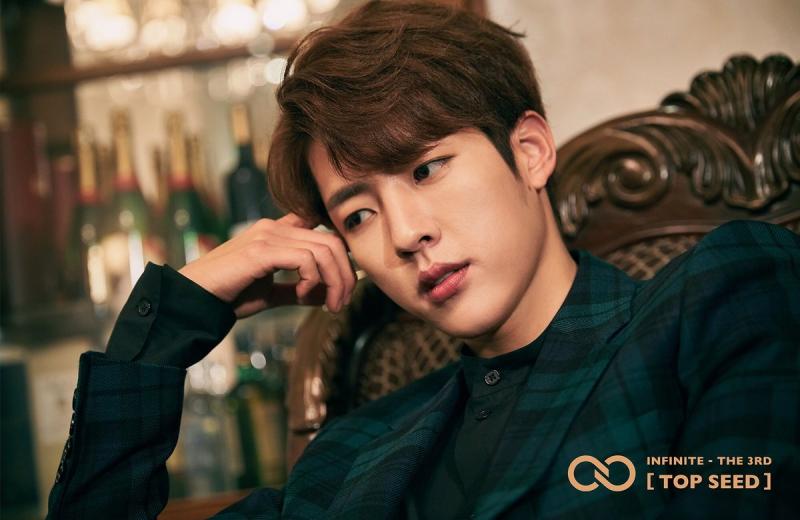 Sungyeol (성열) is an actor and a member of the South Korean boy group Infinite.
Stage Name: Sungyeol (성열)
Birth Name: Lee Seong Yeol (이성열)
Nicknames: Choding, Kindergarten Boy
Birthday: August 27th, 1991
Zodiac Sign: Virgo
Height: 183 cm (6'0″)
Weight: 70 kg (154 lbs)
Blood Type: B
MBTI Type: INFP
Sub Unit: Infinite F (F stands for Face) – L, Sungyeol, Sungjong
Instagram: @leeseongyeol_1991
Twitter: @Seongyeol1991
Sungyeol Facts:
– His hometown is Yongin, Gyeonggi-do, South Korea.
– His younger brother Daeyeol is a member of Golden Child.
-His position in Infinite is Lead Rapper and Vocalist.
– Sungyeol was the final member to join Infinite.
– Originally he wanted to be an actor.
– He is under Woollim Entertainment.
– He is the tallest member of Infinite.
– Before joining Woollim, he was a actor trainee under SM Academy.
– Alongside Sunggyu, L, and Hoya, he graduated from Daekyung University with a major in Applied Music.
– L once said: "Sungyeol first says 'I don't like you'. Then of course I go 'I don't like you either'."
– The first thing he would want to do with his girlfriend is: "Hold hands and go to the theaters!"
– When playing games he is very competitive.
– He loves to tease his members and managers.
– He thinks his nose is the best part of his body.
– After losing a bet, he had to go to the airport only wearing a bathrobe and sunglasses.
– Dyslexia runs in his family, so both Sungyeol and his brother have it.
– Ton Katsu is his favorite food.
– Bean paste soup is his least favorite food.
– Pink, purple and green are his favorite colors.
– He is one of the more emotional members of Infinite.
– Watching movies is one of his hobbies.
– Taeyeon of Girls' Generation is someone he has a crush on.
– Voyage d'Hermès by Hermès is the name of the perfume he currently uses.
– Something he always carries in his bag is cologne.
– He was a cast member of "Law of the Jungle in Caribbean/Maya Jungle" (2013), "Law of the Jungle in Panama" (2016), and "Law of the Jungle in Kota Manado" (2017).
– He can be seen in the drama "Hi! School: Love On" (2014) alongside Woohyun.
– He has acted in several other dramas such as: "Cheer Up On Love" (2009), "Jolly Widows" (2009-2010), "While You Were Sleeping" (2011), "Adolescent Medley" (2013 – cameo), "D-Day" (2015), and "Love Returns" (2017).
– He was a cast member of the web drama "Love for Ten: Generation Love" (2013).
– Sungyeol acted in the horror movie "0.0MHz" (2019).
– On March 26th, 2019 Sungyeol enlisted as an active duty soldier and was discharged on October 27, 2020.
– On March 31, 2021 Woollim announced that Sungyeol's contract expired and he won't renew.
– Sungyeol is currently managed by the same company as Myungsoo, Management 2SANG.
– Sungyeol's Ideal Type: "I like girls who aren't deceiving and are easy-going and cute." Soo Ae is an actress he likes.
Note: Please don't copy-paste the content of this page to other sites/places on the web. Please do respect the time and effort the author put in compiling this profile. If you need/want to use info from our profile, please kindly put a link to this post. Thank you.
Profile Made By ♥LostInTheDream♥
How Much Do You Like Sungyeol?
Do you like Sungyeol? Do you know more facts about him? Feel free to comment down below.