JENNIE (BLACKPINK) Profile and Facts: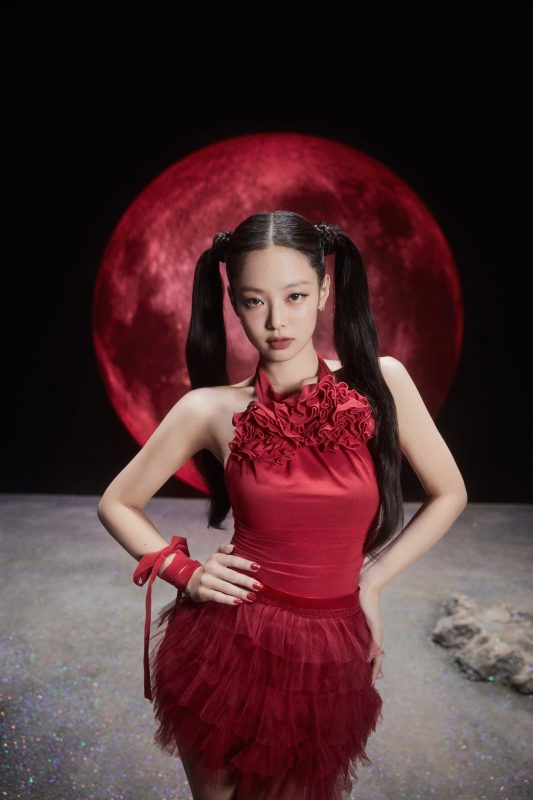 JENNIE (제니) is an South Korean singer, actress, model. She is a member of the girl group BLACKPINK, under YG Entertainment. On November 12, 2018, JENNIE debuted as a soloist with the song "SOLO".
Stage Name: JENNIE (제니)
Birth Name: Kim Jennie (김제니)
Position: Main Rapper, Lead Vocalist
Birthday: January 16, 1996
Zodiac Sign: Capricorn
Chinese Zodiac Sign: Pig
Height: 163 cm (5'4″)
Weight: 45 kg (99 lbs)
Blood Type: B
MBTI Type: INFP
Instagram: @jennierubyjane / @lesyeuxdenini
Weibo: jennierubyjane
YouTube: Jennierubyjane Official
Spotify: JENNIE's Playlist
JENNIE Facts:
– Born in Cheongdam-dong (Gangnam District) Seoul, South Korea.
– She doesn't have any siblings.
– JENNIE lived in Auckland, New Zealand for 5 years. ("Knowing Brother")
– She studied in New Zealand at ACG Parnell College.
– She is known as the 'YG princess' in the group.
– One of her nicknames used to be "Human Gucci" due to the fact that she often wears expensive clothing from Gucci, nowadays it's 'Human Chanel'.
– She had "mandukie" as a nickname because her cheeks looks like a dumpling and dumpling in korea is "Mandu".
– JENNIE said that her nickname when she was young was Jerry, because of Tom and Jerry, and Jerry sounded like Jennie, so that's how she got it.
– She also has the nickname NiNi, she will call herself it all the time when posting on the Vapp or IG.
– She trained for 5 years 11 months (2010 August).
– JENNIE is fluent in Korean, Japanese, and English.
– She really likes milk flavored ice cream.
– Her favorite foods are anything that is Korean food.
– JENNIE's favorite drinks are healthy drinks.
– Her favorite colors are black and pink.
– Her favorite number is 1. (Vlive Star Road ep. 13 and 14)
– She has a motion sickness issue (BLACKPINK HOUSE).
– She has 2 puppies, Kai and Kuma.
– She can play the piano and the flute.
– She's the best at cooking. (From BlackPink's ch+ survey, the members voted Jennie as the person who is the best at cooking).
– She has a habit of playing with her hair while watching TV.
– One of JENNIE's hobbies is taking pictures.
– Her favorite animals are chinchillas and capybaras. (BLACKPINK "Star Road" ep.8)
– JENNIE's Hidden Talent is speaking in a "baby voice" (BP in Weekly Idol)
– She said that she enjoy speaking in satoori (dialect).
– JENNIE's close friends with Nayeon (Twice), Irene (Red Velvet), Yerin (GFriend), Chahee (Melody Day) and Lime (Hello Venus).
– She is also close with Mino and Hanbin.
– JENNIE prefers sexy guys over cute ones. (Blackpink Live Radio Interview)
– She said if she was a guy, she would date JISOO because she makes her laugh. (AIIYL v-live comeback)
– JENNIE is the fashion icon of the group. (Based on their previous interviews; also she's usually the member who gets invited to luxury fashion events)
– She acted in BIG BANG G-Dragon's 'That XX' MV.
– She was featured in BIG BANG G-Dragon's 'Black', Lee Hi's 'Special' and BIG BANG Seungri's 'GG Be'.
– JENNIE also sang in LEE HI's 'Special' and Seungri 'GG Be'.
– She acted is several CFs for Sprite or CASS beer.
– JENNIE said she is the type who falls in love easily. ("Knowing Brother")
– She ranked 18th on "The 100 Most Beautiful Faces Of 2017".
– She was ranked 13th on TC Candler "The 100 Most Beautiful Faces of 2018".
– JENNIE ranked 19th on TC Candler "The 100 Most Beautiful Faces of 2019".
– She is a regular member of the show "Village Survival, the Eight".
– She is the Chanel House Ambassador, Hera Muse/Global Ambassador, KTcorp Endorser (The biggest telephone company in South Korea), Endorser Of Calvin Klein Jeans, Endorser Of Gentle Monster and has collaborated with them and designed her own sunglasses collection.
– JENNIE is the first KPOP idol to be in cover of Korea's Top 6 magazines, such as ELLE magazines, Cosmopolitan magazines, Harper's Bazaar magazines, W magazines, Vogue Korea magazines, and Marie Claire magazines.
– She has appeared on the covers of numerous smaller magazines such as, Top Class, Dazed, Nylon Japan, Billboard, and High Cut.
– During pre-debut Jennie had a temporary tattoo on her wrist with the words "Stay Strong" designed in cursive. She used it as a reminder to keep holding on to her dream of being an idol.
– On November 12, 2018, JENNIE debuted as a soloist with the song "SOLO".
– It was revealed that Jennie and EXO's KAI are dating on January 1, 2019.
– On January 25, 2019 SM Entertainment confirmed that Jennie and Kai broke up, in order to focus on their personal careers.
– On February 24, 2021, Dispatch revealed that G-Dragon and JENNIE have been dating for around a year. YG Ent. refused to comment on the matter.
– She made her acting debut on June 4, 2023 in HBO's 'The Idol' under the name Jennie Ruby Jane.
– She also released a song for the series 'One Of The Girls'.
– JENNIE has designed a capsule collection for Calvin Klein and a Porsche Taycan.
– JENNIE's ideal type: Someone who is a hard worker.
NOTE: Please don't copy-paste the content of this page to other sites on the web. If you use info from our profile, kindly put a link to this post. Thanks! – KProfiles.com
(Special thanks to ST1CKYQUI3TT, Grace Kenbeek, Mina, satzu under mistletoe, Lin, love ya, Old skool, Kuma, Ki.R, Johadi Sauceda, AkmalHN, Minatozaki, Huy Phan Gia, _kpopgurl_, rosie posie, jensoonator, Kpoptrash, Lamiji, Karlijne Piana, Amelia Kristanto, MinPark, aprillily, – mixhalia, blink.exol.nctzen, Zoya, Asɪᴀ)
How much do you like Jennie?
Related: JENNIE Discography
JENNIE Award History List
BLACKPINK Members Profile
Latest Comeback:
Do you like JENNIE? Do you know more facts about her? Feel free to comment below.