ROSÉ (BLACKPINK) Profile and Facts: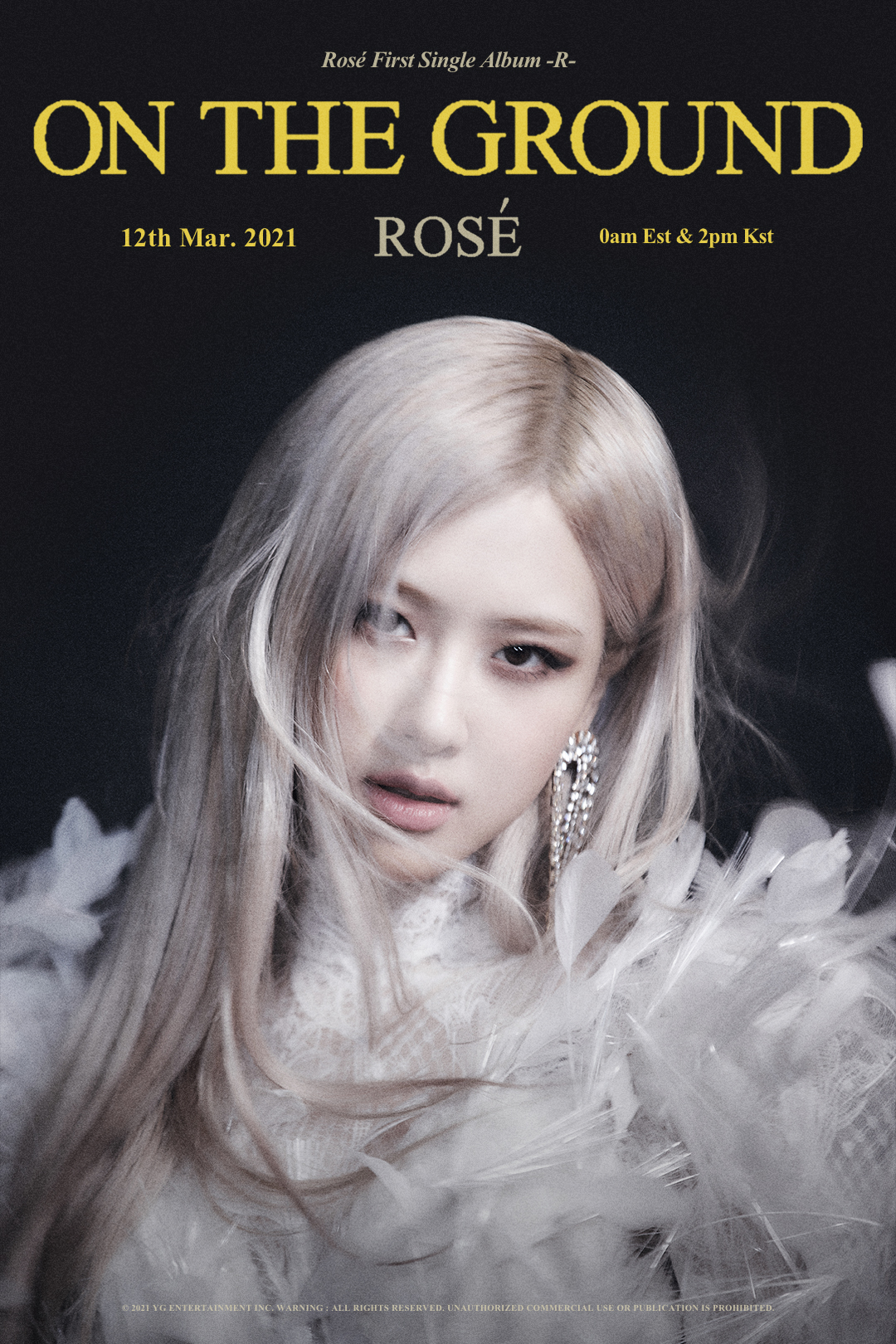 ROSÉ (로제) is a singer and a member of the group BLACKPINK under YG Entertainment.
Stage Name: ROSÉ (로제)
Birth Name: Roseanne Park
Korean Name: Park Chae Young (박채영)
Nicknames: Rose, Rosie, "Pasta"
Birthday: February 11, 1997
Zodiac Sign: Aquarius
Birthplace: Auckland, New Zealand
Height: 168.7 cm (5'6")
Weight: 44 kg (97 lbs)
Blood Type: B
MBTI Type: ENFP
Instagram: @roses_are_rosie
Weibo: roses_are_rosie
TikTok: @roses_are_rosie
Youtube: ROSÉ
Spotify: ROSÉ's Playlist
ROSÉ Facts:
– She is Korean, but she was born in Auckland, New Zealand (according to Rose during V Line; and according to Rosé during Radio star), and raised in Melbourne, Box Hill (Australia), where she attended Canterbury Girls Secondary College.
– ROSÉ has an older sister, named Alice.
– She moved to Korea back in 2012. (according to Rosé during Weekly Idol)
– ROSÉ placed first in YG auditions in Australia.
– She has adopted a dog named Hank: @hank_says_hank.
– Her Chinese zodiac sign is Ox.
– She trained for 4 years 2 months (2012 May).
– Pre-debut, ROSÉ used to be a cheerleader in Australia.
– When she was younger, ROSÉ joined a choir, singing in churches in Australia.
– She's known for her unique voice and slim waist. Her stylist said that her pants size is 24 (size 0) and she confirmed that her waist is 24 inches (60,96cm) wide.
– ROSÉ is known as "Blackpink's Goddess". (Vlive Start Road from Jennie ep 2-3)
– ROSÉ joined the group on May 7th and Lisa's first thought on her when they met on the elevator was "Oh! I got a special vibe from her! Australia!" (13th of April,2017 on V Live).
– She can speak Korean, English, Japanese.
– She collaborated with G-DRAGON for the song 'Without You'.
– G-DRAGON said that he really likes ROSÉ's voice when he did a collaboration with her back in 2012 and said that her voice is really unique.
– She can play the piano, the guitar.
– She also likes drawing.
– ROSÉ is left-handed (according to Jisoo during Channel+ Vapp)
– She really likes kimchi stew.
– ROSÉ loves to eat peppers. (vLive for "As If It's Your Last")
– ROSÉ loves mangoes.
– She hates avocados. ROSÉ says it's mushy and weird.
– She hates avocados but owns an avocado plush toy that she got in New York.
– ROSÉ doesn't like jokbal.
– Her favorite drinks are healthy drinks.
– She is very sensitive, and cries very easily.
– ROSÉ's favorite color is Blue (vLive 170929)
– Her favorite number is 5 and her favorite equation is 5×3=15.
– Her hobbies are playing guitar and drawing.
– She becomes sleepy when she does nothing.
– ROSÉ can twist her hands and she can talk even if her mouth is closed.
– She has a habit of biting her fingers when no one is looking at her.
– She has a pet fish called 주황이 (Joo-hwang) which means orange.
– ROSÉ's role model is Gummy.
– Chaeyoung (ROSÉ) is close to TWICE's CHAEYOUNG and TZUYU, with Red Velvet's Joy and Yeri.
– ROSÉ is close friends with Ladies Code's Ashley Choi. (According to Ashley on 'International bnt' interview)
– She is Christian and goes to church quite often.
– On Weekly Idol, ROSÉ said that MC Jeong Hyeong-don reminds her of her father.
– Seungri said that ROSÉ reminds him of Taeyang as she has strong vocals and has a lot of soul as an artist.
– ROSÉ collaborated with 10cm, TWICE's JIHYO and EXO's CHANYEOL in the "SBS Gayo Daejun Acoustic Stage 2016"
– She appeared on the King Of Masked Singer and passed the first round, but unfortunately she couldn't pass the second round. The votes were 50-49 but sadly she couldn't make it.
– ROSÉ can spin her hands in 360 degrees. (Knowing Bros)
– She said on last VLive that she has got five ear piercings.
– She is close to Anthony Vaccarello. (The artistic director of the Yves Saint Laurent house)
– As of 2020 Rosé's favourite song is "Fix You" by Coldplay.
– ROSÉ is good in archery. (Source: BLACKPINK House when Rose and Lisa were playing archery)
– If ROSÉ was a guy, she would date Jisoo because Jisoo can make her laugh. (Source: AIIYL VLive)
– Hyeri (Girl's Day) is best friends with Rosé. (source: Amazing Saturday)
– She is really close with BLACKLABEL producers Vince, Seungjoo and Soonho. (source: Instagram live)
– Her solo ELLE issue is the most sold issue by a female artist and the second most sold by any artist. (source: Ktown4u)
– ROSÉ was announced the first global ambassador of Yves Saint Laurent (Fall 2020) in 59 years. (source: Elle Kr July 2020)
– She ranked 66th on TC Candler "The 100 Most Beautiful Faces of 2019".
– ROSÉ and LISA are the first K-Pop girl group members to reach 1 million 'likes' on Instagram.
– She debuted as a soloist on March 12, 2021, with first single album '-R-'.
– ROSÉ's ideal type: Someone nice and genuine, with a good / unique voice. She said there are many sunbaenims with great voices, but among them, Big Bang stand out. She also mentioned Gong Yoo as a celebrity close to her ideal type. (2 O'Clock Date)
(Special thanks to ST1CKYQUI3TT, Park Sooyoung, Johadi Sauceda, Hena De la Cruz, Seriously, mochi, YellowDuckyMomo, Pamieeee_, E 💸, Reweda Mohammed, rosie posie, hitchawittaDDDD, Jess Lee, Peter, Jessa Legaspi Espiel, Madeline Prance, Kpoptrash, Kaira Chang, Jennie MinPark, Blacksé, Lynn & Art, Yuqi Idle Unnie, jin's worldwide handsome face, a, Clown theory, Zoya)
NOTE: Please don't copy-paste the content of this page to other sites on the web. If you use info from our profile, kindly put a link to this post. Thanks! – KProfiles.com
How much do you like ROSE?
Related: ROSÉ Discography
ROSÉ Awards History List
BLACKPINK Members Profile
Latest Korean Comeback:
Do you like ROSÉ? Do you know more facts about her? Feel free to comment below.