T1419 Profile and Facts: T1419 Ideal Types: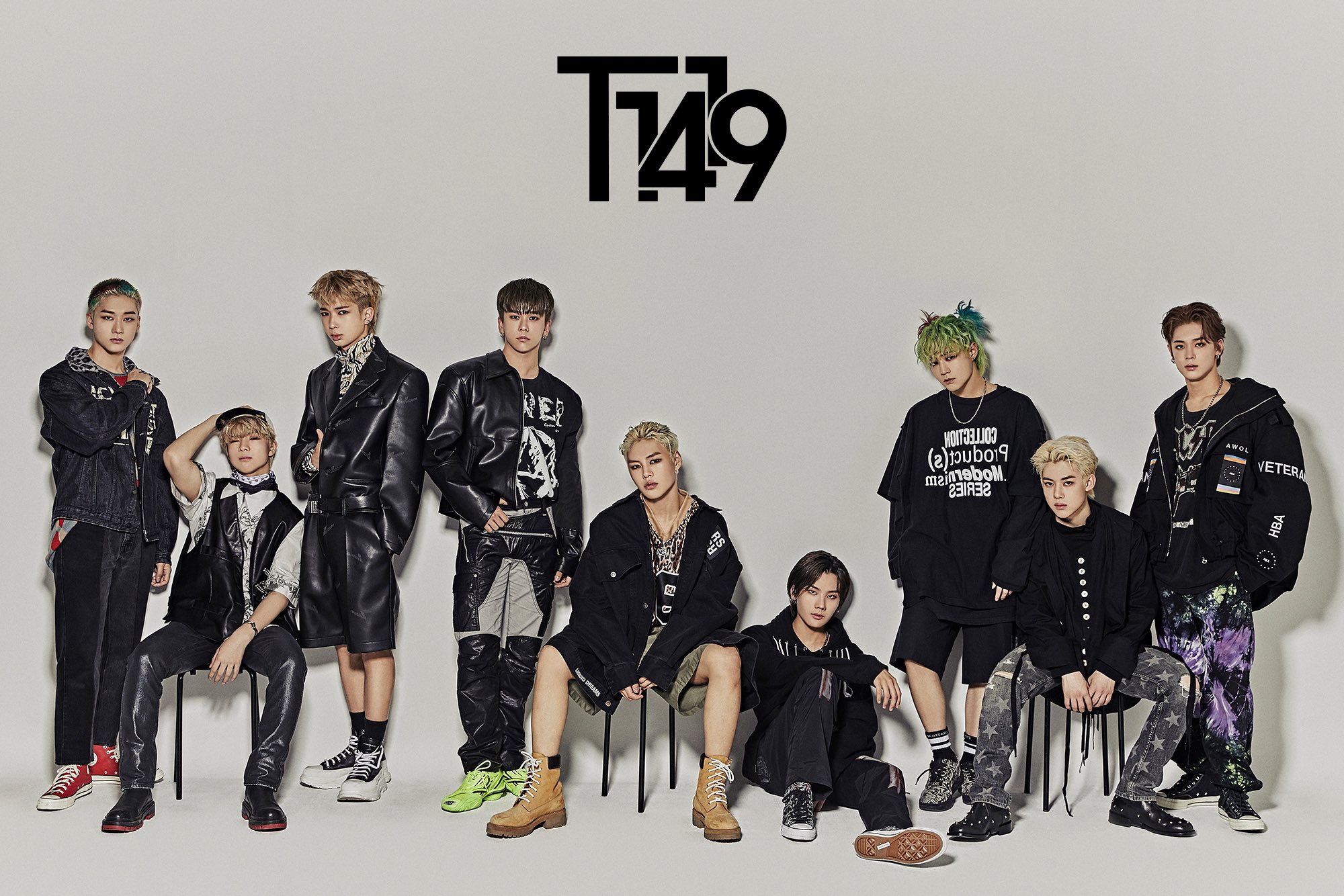 T1419 (티일사일구) is a South Korean-Japanese boy group under MLD Entertainment. They consist of 9 members: Noa, Sian, Kevin, Gunwoo, Leo, On, Zero, Kairi and Kio. They released a pre-debut single "Dracula" on October 27, 2020. They debuted on January 11th, 2021 with the 1st Single Album "BEFORE SUNRISE Part. 1"
T1419's group name stands for?
Teenagers who met at the age of 14-19 that express their passion through music. The name is a reference to the concept of boys, which is to present problems, etc. teenagers have in the 21st century.
T1419 Fandom Name: EDELWEISS (meaning: "Pure and Precious Memories and hope")
T1419 Official Colors: –
T1419 Official Account:
Official Website: mldenter.com/t1419
Official Website (Japan): t1419japan.com
Twitter: @T1419_official
Twitter (Japan): @T1419_JAPAN
Instagram: @t1419_official
Instagram (Japan): @t1419_japan
Youtube: T1419
Youtube (Japan): T1419 JAPAN OFFICIAL
Facebook: T1419
Fan Cafe: T1419.OFFICIAL
V Live: T1419
TikTok: @t1419_official
TikTok (Japan): @t1419_japan
T1419 Members Profile:
Noa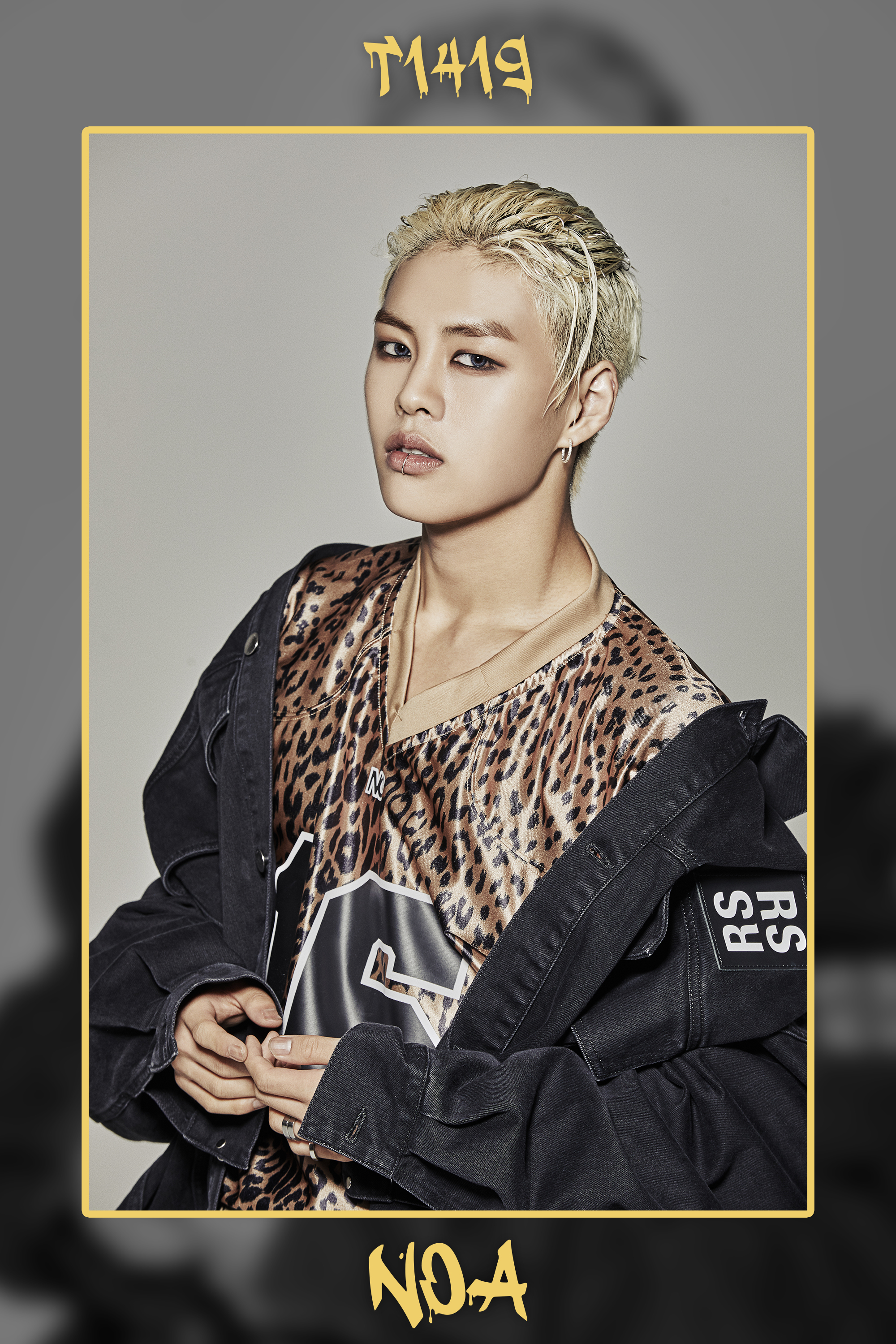 Stage Name: Noa (노아)
Birth Name: Choi Yu Bin (최유빈)
Position: Leader, Main Rapper, Main Dancer
Birthday: August 2, 2000
Zodiac Sign: Leo
Height: 176 cm (5'9″)
Weight: 64 kg (141 lbs)
Blood Type: O
Nationality: Korean
MBTI Type: ENFP
Instagram: @king_noa_t1419
Noa Facts:
– His members code is T82.
– He was born in Seoul, South Korea.
– Family: Parents, Choi Wooseok (Younger Brother, born 2009)
– He eats chocolate cereal frequently. (T1419 데일리어스(Daily Us) Ep 1)
– Hobby: Watching TV series, Reading poems, Listening to music
– Favorite food: Chips ([Pops in Seoul] 📘MY IDOL DIARIES📕 ASURABALBALTA♪ "T1419" Edition!)
– Shoe size: 265 mm ([Pops in Seoul] 📘MY IDOL DIARIES📕 ASURABALBALTA♪ "T1419" Edition!)
– Specialty: Rapping, Dancing
– Motto: Amen
– Favorite Japanese Word: Bara (Meaning: Rose)
– He is the father of the group.
– He is in the 3rd stage of Kendo.
– His role model is BigBang's G-Dragon.
Show more Noa fun facts…
Sian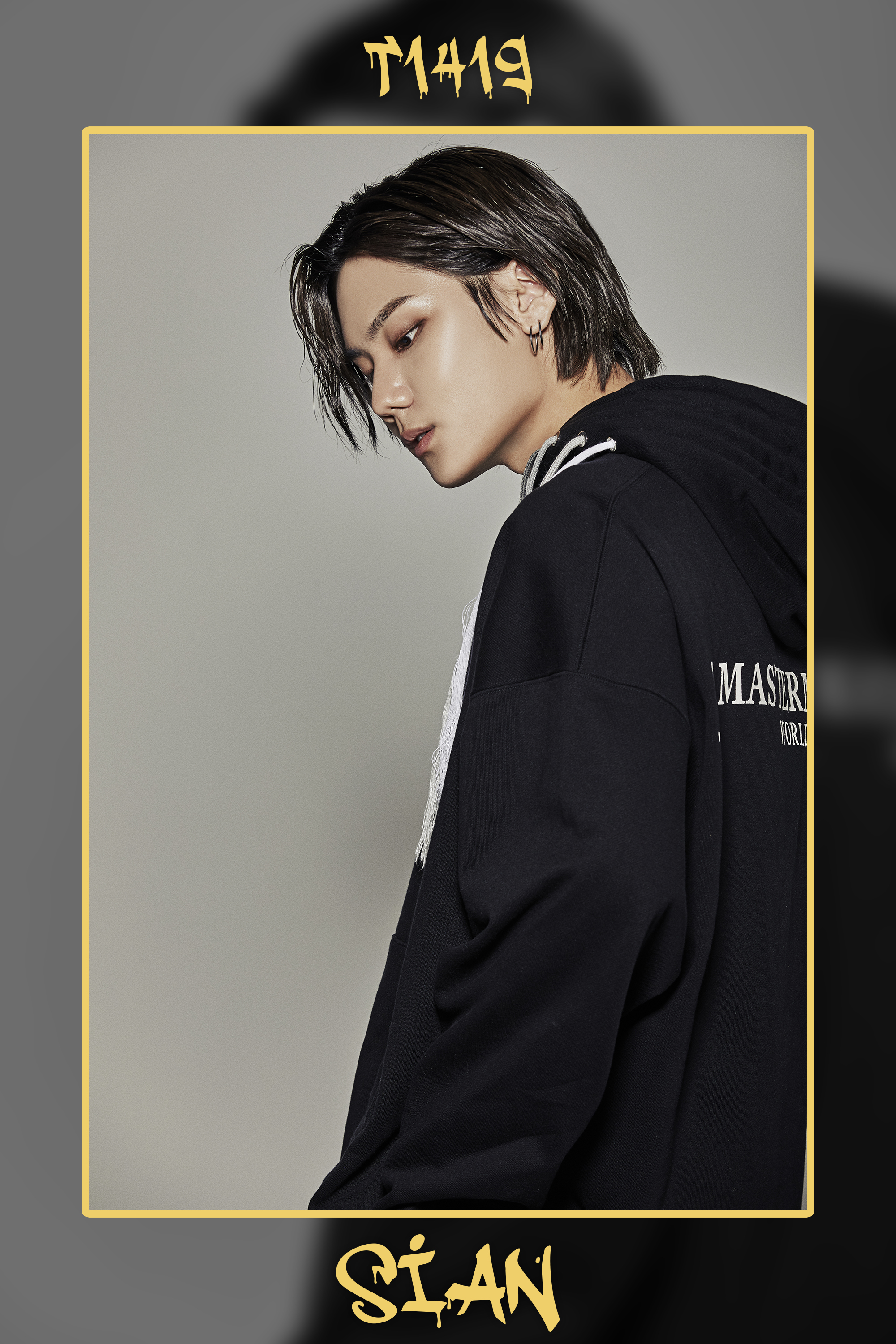 Stage Name: Sian (시안)
Birth Name: Choi Chang Min (최창민)
Position: Main Vocalist
Birthday: February 2, 2001
Zodiac Sign: Aquarius
Height: 181 cm (5'11")
Weight: 65 kg (143 lbs)
Blood Type: O
Nationality: Korean
MBTI Type: INFJ-T
Instagram: @siaaaaan_choi
Sian Facts:
– His members code is T21.
– He is from Seoul, South Korea.
– Family: Parents, Sister (Born 2003)
– Education: Hanlim Multi Art School.
– Hobby: Soccer, Watching baseball games
– Specialty: Singing, Dancing, Free-style dance, Flexibleness
– Motto: Heaven helps those who help themselves
– Favorite Japanese Word: Tsuki (Meaning: Moon)
– Favorite Food: Cheese Cake
– Shoe size: 280 mm ([Pops in Seoul] 📘MY IDOL DIARIES📕 ASURABALBALTA♪ "T1419" Edition!)
– He can do split.
– He was born on the same day as JUST B's Geonu.
– He likes mint chocolate.
– He is the mother of the group.
– Sian is a fan of Day6.
– Sian's favorite color is purple.
– Sian can speak a bit of English. (Meeting Momoland's little brother group, T1419 – Edward Avila)
– Sian can do a voice impression of Lucio from Overwatch. (Meeting Momoland's little brother group, T1419 – Edward Avila)
– His role model is PENTAGON's Kino.
Show more Sian fun facts…
Kevin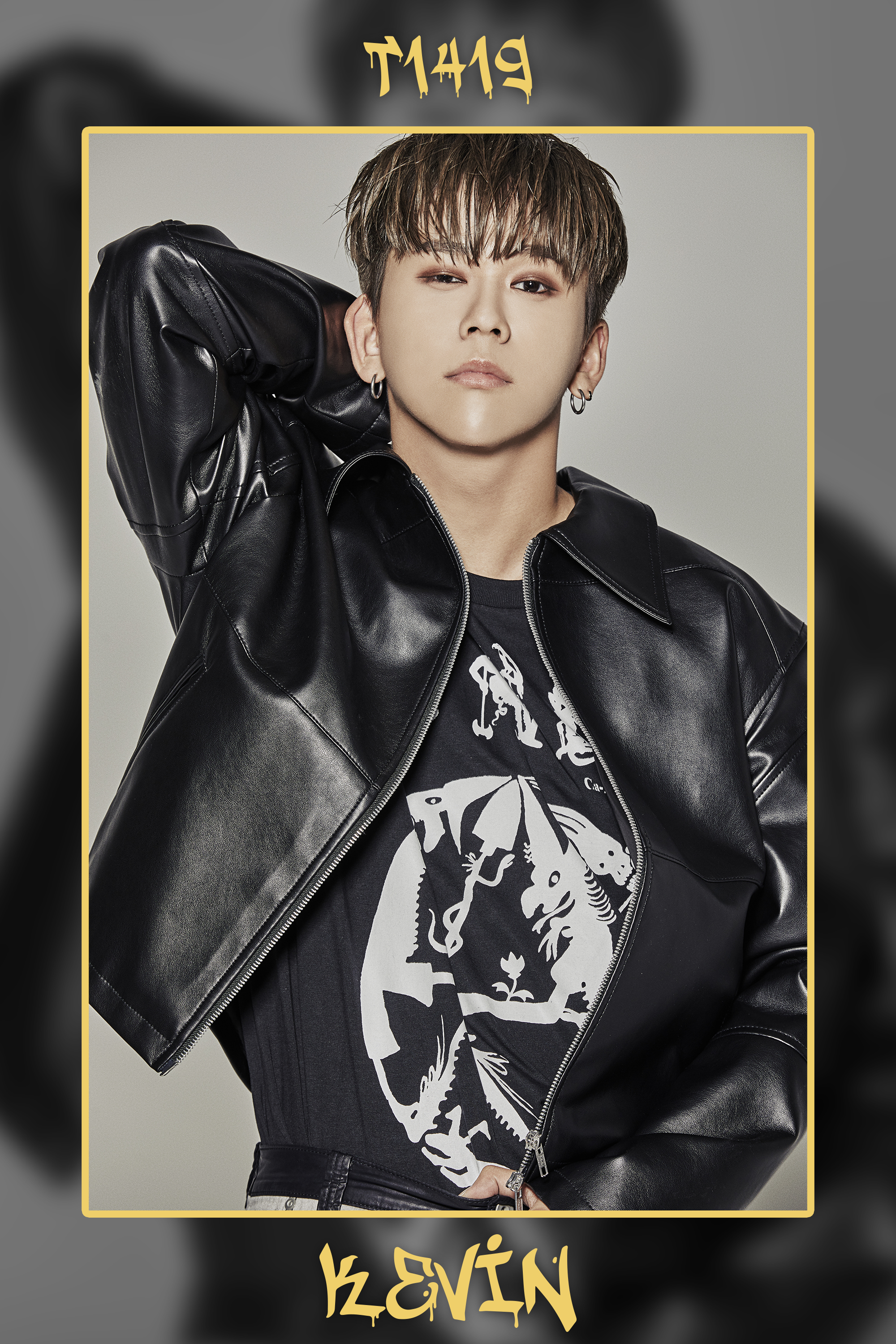 Stage Name: Kevin (케빈)
Birth Name: Baek Seung Bin (백승빈)
Position: Main Vocalist
Birthday: April 8, 2001
Zodiac Sign: Aries
Height: 179 cm (5'10.5″)
Weight: 59 kg (130 lbs)
Blood Type: AB
Nationality: Korean
MBTI Type: ENTJ
Instagram: @_zpqls
Kevin Facts:
– His members code is T48.
– He is from Seoul, South Korea.
– Family: Parents, 3 Older Sisters
– Education: Hanlim Multi Art School.
– Hobby: Listening to music, Making music, Watching movies, Going shopping
– Specialty: Fencing
– Motto: No bigger success without challenge
– Favorite Japanese Word: Aishiteru (Meaning: I Love You)
– He wants to learn how to shoot. (T1419 데일리어스(Daily Us) Ep 1)
– Kevin is a good fencer, he's beaten many competitors in middle school. (T1419 데일리어스 (daily us) Ep. 2)
– He has very strong thighs.
– He was born on the same day as KINGDOM's Louis.
– Kevin is a former swimmer. (T1419 데일리어스(Daily Us) Ep 4)
– Kevin can juggle. (Meeting Momoland's little brother group, T1419 – Edward Avila)
– His role model is EXO's Baekhyun.
Show more Kevin fun facts…
Gunwoo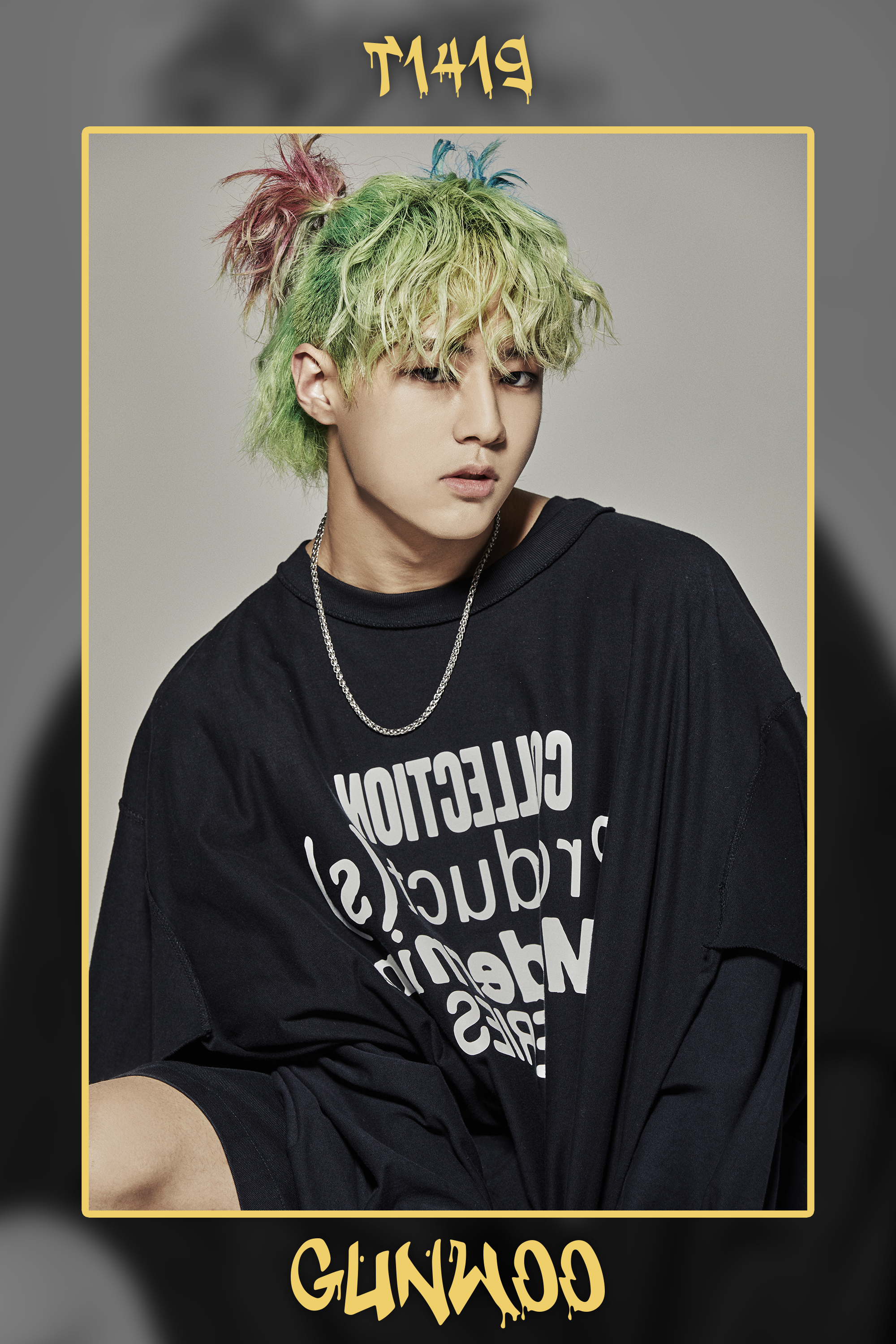 Stage Name: Gunwoo (건우)
Birth Name: Kim Gun Woo (김건우)
Position: Main Dancer, Rapper, Center
Birthday: May 28, 2002
Zodiac Sign: Gemini
Height: 176 cm (5'9″)
Weight: 64 kg (141 lbs)
Blood Type: A
Nationality: Korean
MBTI Type: ENTJ
Instagram: @gunwoo_t28
Gunwoo Facts:
– His members code is T28: FIGHT.
– He was born in Seongnam, Gyeonggi Province, South Korea.
– Family: Parents, Younger Brother, Younger Sister
– He currently attends university in Korea.
– Favorite food: Chicken ([Pops in Seoul] 📘MY IDOL DIARIES📕 ASURABALBALTA♪ "T1419" Edition!)
– Hobby: Taking a walk in the early morning
– Specialty: Playing the piano
– Motto: Do it with passion and happiness
– Favorite Food: Doenjang Jjigae
– He was born on the same day as Hinapia's Bada.
– Favorite color: Blue ([Pops in Seoul] 📘MY IDOL DIARIES📕 ASURABALBALTA♪ "T1419" Edition!)
– Gunwoo practiced boxing when he was in the first year of high school, but his father wouldn't let him continue. (T1419 데일리어스(Daily Us) Ep 1)
– His role model is Hyunjin from Stray Kids.
Show more Gunwoo fun facts…
Leo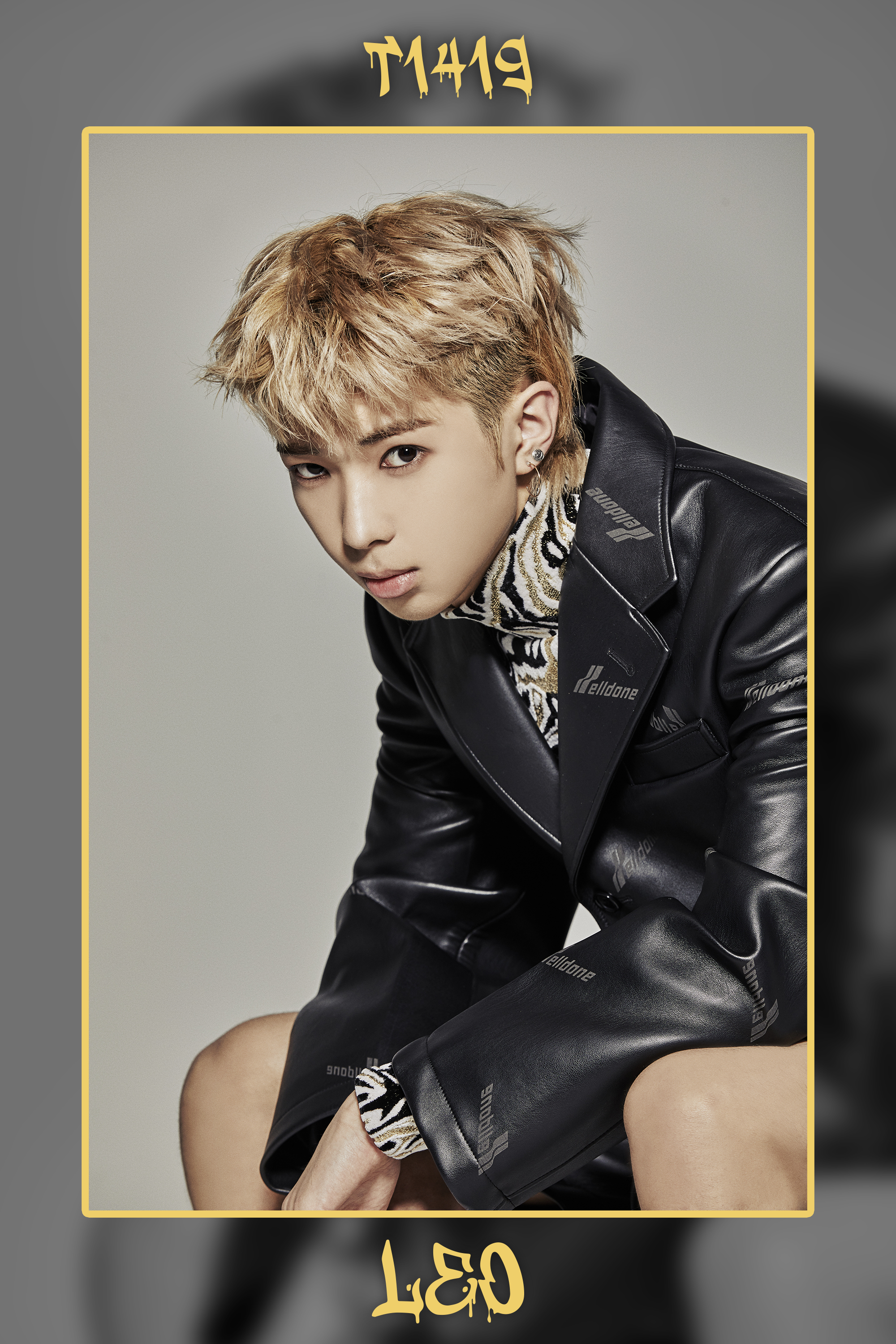 Stage Name: Leo (레오)
Birth Name: Hayase Leo (早瀬怜央/하야세 레오)
Position: Rapper
Birthday: October 8, 2002
Zodiac Sign: Libra
Height: 180 cm (5'11")
Weight: 62 kg (137 lbs)
Blood Type: A
Nationality: Japanese
MBTI Type: ENFP
Instagram: @10_leooo_08
Leo Facts:
– His members code is T33: PASSION.
– He was born in Osaka, Japan.
– Family: Parents, Younger Sister
– Hobby: Listening to music
– Specialty: Speaking English
– Motto: Being free
– Nickname: Oreo
– Leo is jealous of the people who are going to school. (T1419 데일리어스(Daily Us) Ep 1)
– The members agree that Leo is the bravest (T1419 데일리어스(Daily Us) Ep 2)
– He knows how to make macarons (T1419 데일리어스(Daily Us) Ep 2)
– He is left-handed.
– Favorite Artist: Khalid
– His role model is iKON.
– He shares a birthday with Former Uni.T, SONAMOO'S Euijin & HUB's Rui.
– Leo's favorite color is gray.
Show more Leo fun facts…
On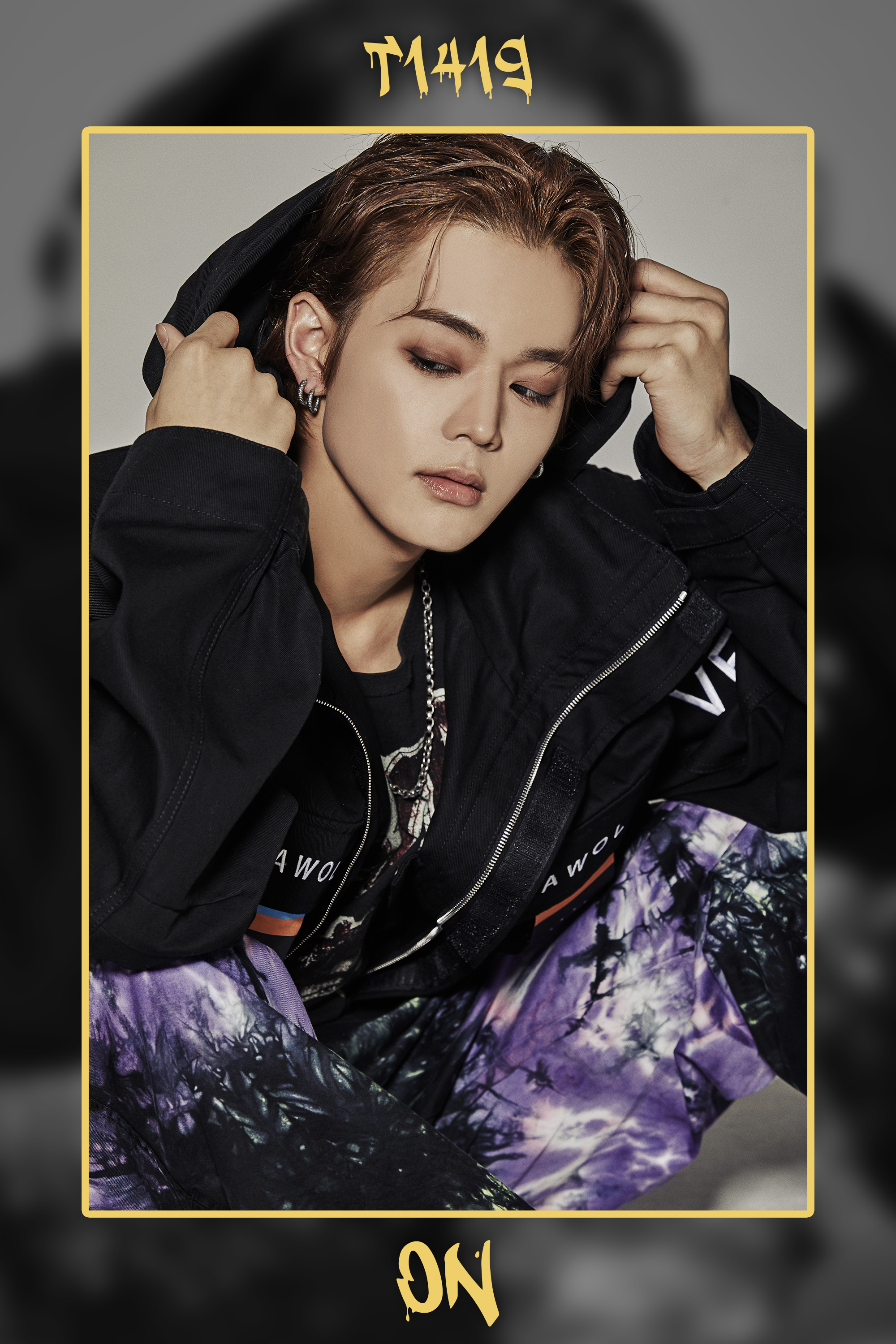 Stage Name: On (온)
Birth Name: Choi Ju Hwan (최주환)
Position: Rapper, Vocalist, Visual, Face Of The Group
Birthday: October 16, 2002
Zodiac Sign: Libra
Height: 178 cm (5'10")
Weight: 59 kg (130 lbs)
Blood Type: A
Nationality: Korean
MBTI Type: ISFJ
Instagram: @choiononon_
On Facts:
– His members code is T07.
– He is from Paju, Gyeonggi Province, South Korea.
– Family: Parents, Sister (Born 2000)
– Hobby: Reading, Working out
– Specialty: Japanese, Dancing, Good looking
– Motto: Don't put the emotion in work
– Nickname: Alpaca
– Hobby: Kart Rider (Online Game)
– He trained for almost 2 years.
– Shoe size: 275 mm ([Pops in Seoul] 📘MY IDOL DIARIES📕 ASURABALBALTA♪ "T1419" Edition!)
– He always checking his own today fortune every morning. (T1419 데일리어스(Daily Us) Ep 1)
– His role model is BTS' Jungkook and The Boyz' Sunwoo.
– On's favorite color are black and white.
– On can do handstands. (Meeting Momoland's little brother group, T1419 – Edward Avila)
– On shares his birthday with Cravity's Woobin.
Show more On fun facts…
Zero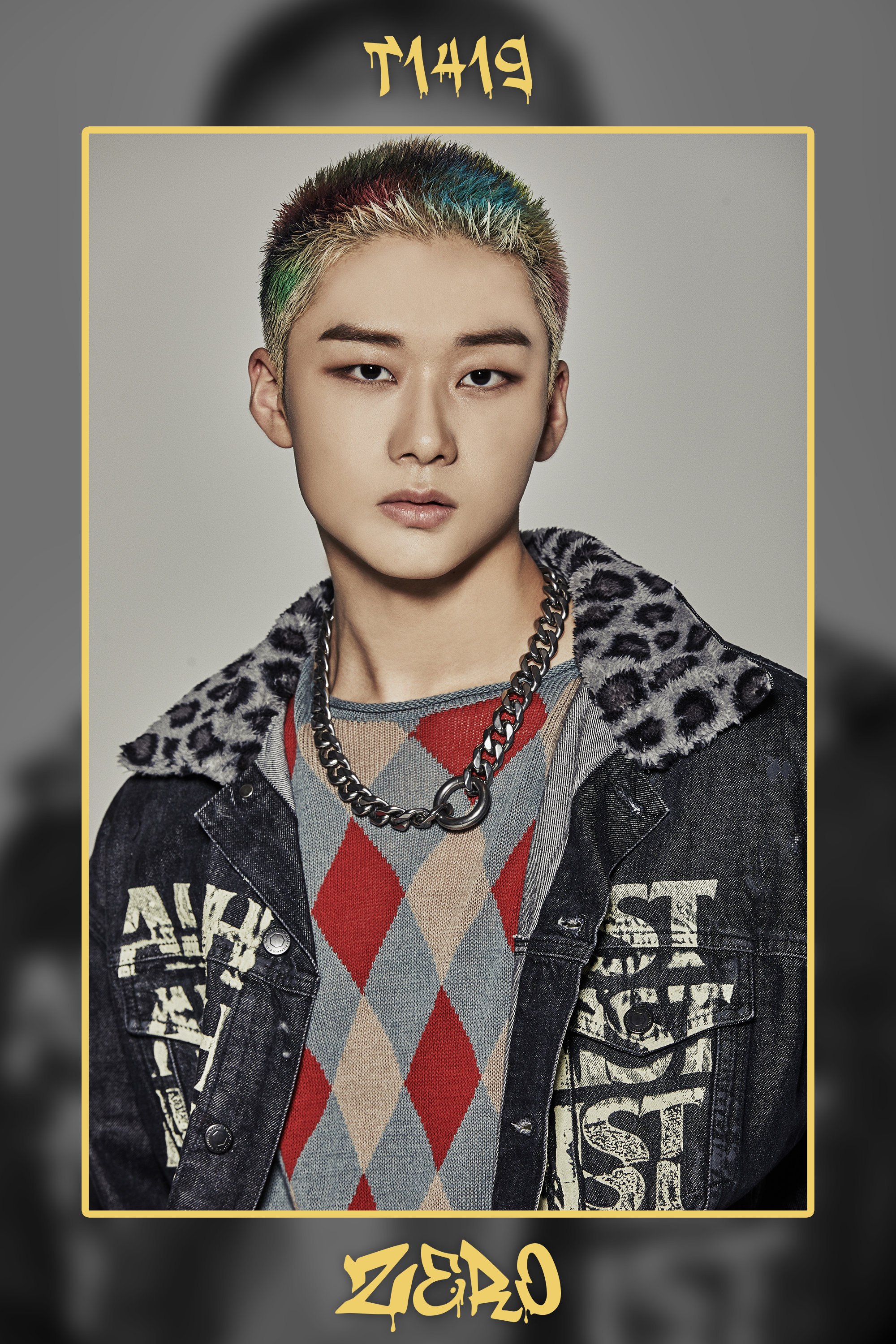 Stage Name: Zero (제로)
Birth Name: Nasukawa Shota (名須川将太/나스카와 쇼타)
Position: Vocalist, Rapper, Dancer, Visual
Birthday: January 20, 2003
Zodiac Sign: Aquarius
Height: 178 cm (5'10")
Weight: 63 kg (139 lbs)
Blood Type: A
Nationality: Japanese
MBTI Type: ESFJ
Instagram: @ze.ro0120
Zero Facts:
– His members code is T02.
– He was born in Osaka, Japan.
– Family: Parents, Sister
– He has 2 puppies in his house. ([Pops in Seoul] 📘MY IDOL DIARIES📕 ASURABALBALTA♪ "T1419" Edition!)
– He is close to Kitagawa Reito (Former Produce 101 Japan contestant and former pre-debut member of BXW)
– He used to play football in his childhood.
– Zero entered the 30th Junon Superboy Anothers Contest in November 2017. Zero was a member of Junon Superboy Anothers' Team Midwest in 2018-2019.
– Hobbies: Soccer, Listening to music, Watching anime
– Specialty: Dancing, Soccer
– Motto: Not to forget a heart of gratitude
– Favorite Food: Macaroons
– His role model is NCT's Jaemin and BigBang.
– Zero's favorite color are black and light blue.
Show more Zero fun facts…
Kairi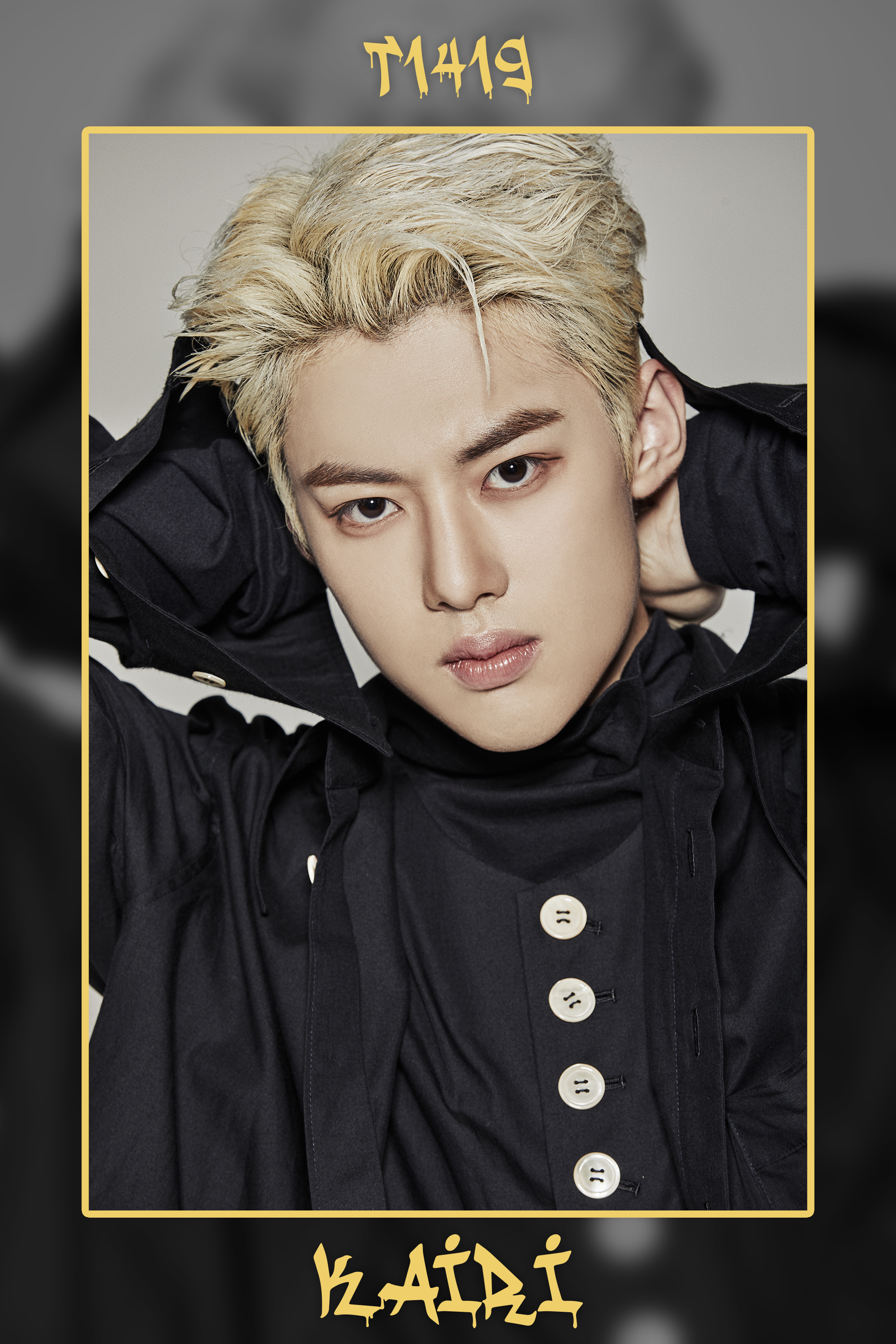 Stage Name: Kairi (카이리)
Birth Name: Imai Kairi (今井魁里/이마이 카이리)
Position: Vocalist, Dancer
Birthday: February 24, 2003
Zodiac Sign: Pisces
Height: 170 cm (5'7")
Weight: 55 kg (121 lbs)
Blood Type: A
Nationality: Japanese
MBTI Type: INFJ-T/INFJ-A
Instagram: @kai_02tym
Kairi Facts:
– His members code is T24 : RUIN.
– He was born in Osaka, Japan.
– Hobby: Dancing, Singing, Rapping, Playing games
– Specialty: Dancing, Singing
– Motto: Being hard at everything
– Favorite food: Budaejjigae ([Pops in Seoul] 📘MY IDOL DIARIES📕 ASURABALBALTA♪ "T1419" Edition!)
– He was born on the same day as PIXY's Sua.
– His role model is 2PM's Jun.K.
– Kairi saw a ghost. (T1419 데일리어스(Daily Us) Ep 1)
– Favorite colour: Pink (T1419 데일리어스(Daily Us) Ep 2), Black, Gray
– Kairi likes macarons. (T1419 데일리어스(Daily Us) Ep 2)
– Kairi's favorite animal is a cat. (T1419 데일리어스(Daily Us) Ep 4)
– Kairi can make his hand form the shape of a mandu (Korean dumpling). (Meeting Momoland's little brother group, T1419 – Edward Avila)
– Kairi can draw cartoons. (Meeting Momoland's little brother group, T1419 – Edward Avila)
Show more Kairi fun facts…
Kio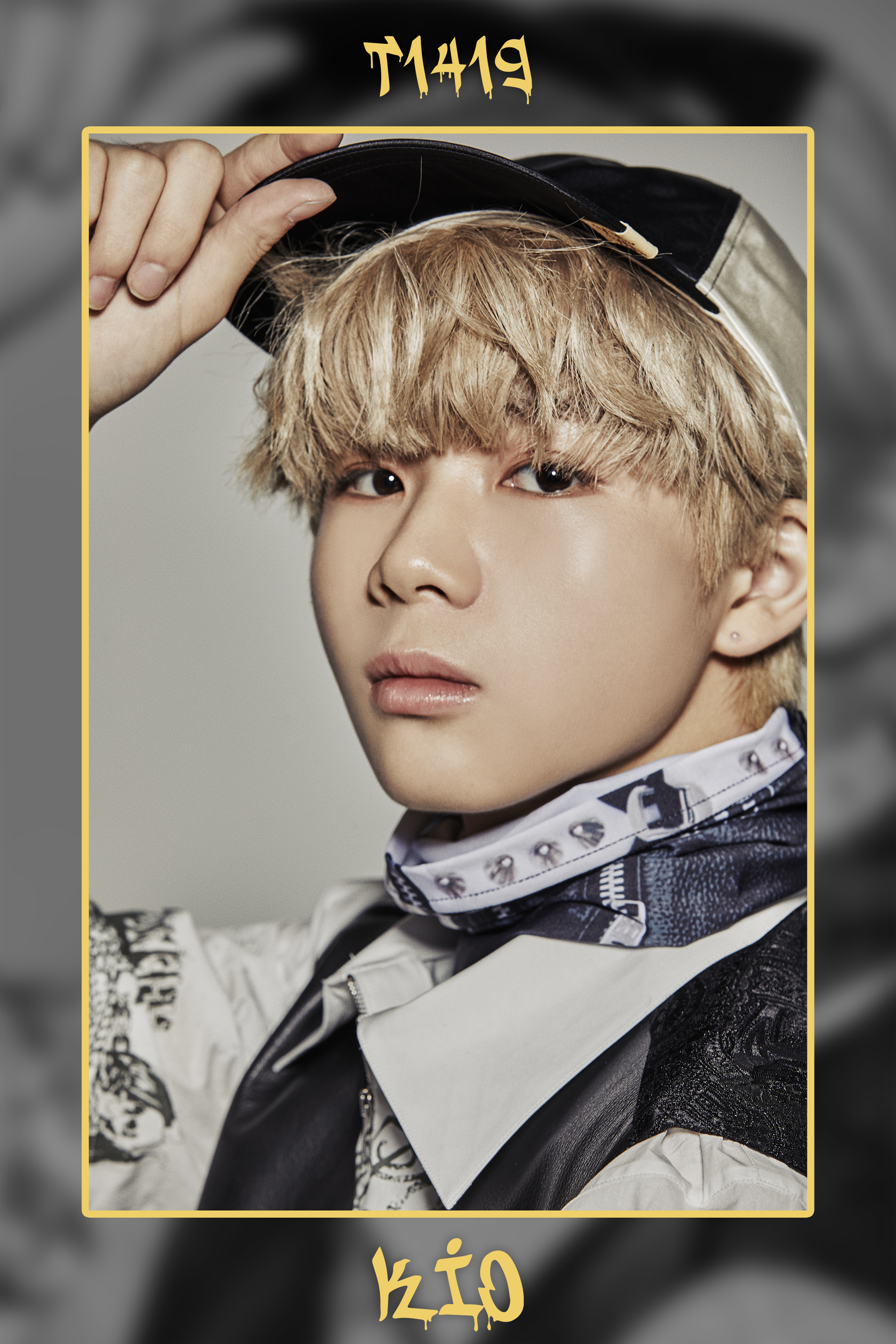 Stage Name: Kio (키오)
Birth Name: Udō Musashi (有働武蔵/우도 무사시)
Position: Rapper, Vocalist, Maknae
Birthday: November 25, 2004
Zodiac Sign: Sagittarius
Height: –
Weight: –
Blood Type: A
Nationality: Japanese
MBTI Type: INFP
Instagram: @imk_io
Kio Facts:
– His members code is T25 : ANXIETY.
– He was born in Saitama Prefecture, Japan.
– Family: Parents, Older Sister
– Favorite food: Milk ([Pops in Seoul] 📘MY IDOL DIARIES📕 ASURABALBALTA♪ "T1419" Edition!)
– Shoe size: 280 mm ([Pops in Seoul] 📘MY IDOL DIARIES📕 ASURABALBALTA♪ "T1419" Edition!)
– Hobby: Listening to K-pop
– Specialty: Rubik Cube
– Motto: Indomitability
– Favorite Food: Cheese
– Nickname: Chapagetty (Korean instant noodle)
– Favorite Artist: Seventeen's Woozi
– Kio wants to be the CEO of MLD Entertainment in 10 years (2030). (T1419 데일리어스(Daily Us) Ep 1)
– Kio shares his birthday with NCT's Shotaro.
– His role model is Seventeen
Show more Kio fun facts…
Made by Country Ball
Note: Please don't copy-paste the content of this page to other sites/places on the web. If you use info from our profile, please kindly put a link to this post. Thanks a lot! 🙂 – Kprofiles.com
(Special thank to twitter, Evans Cortez, @DAILY_TEEN1419 (Twitter), Kyoujji, @MLDT1419 (twitter/Instagram), Dominic Besa, 최경찬, softie,lune, 美咲, Emily Stuart, Emzie, Mireia, aeriel, Leninhaaa, 夏依諾, SunJung, Lowyat, kadie♡༄, taesteaxt, Kairi, Nishtha Gupta, Jar, Kyoujji, yuh, Leninhaaa, Nishtha Gupta, Faith Z, Stnparkk, DarkWolf9131, handongluvr, Zara, DarkWolf9131 for additional information)
You may also like: T1419 Discography
Latest Korean Comeback:
Japanese Debut Song:
Who is your T1419 bias? Do you know more facts about them? Feel free to comment below. It can help new fans find more info about them. 🙂