Jessi Profile and Facts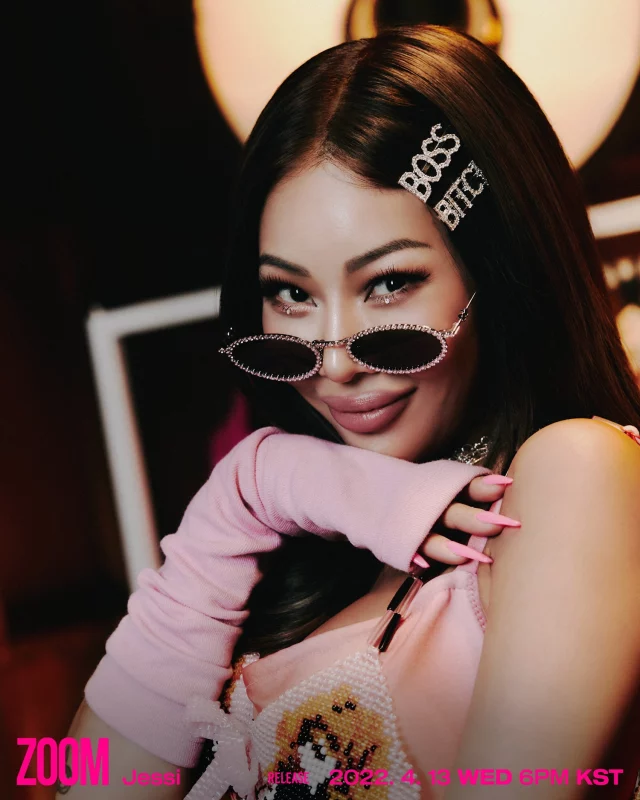 Jessi (제시) is a Korean-American rapper and singer under MORE VISION. Jessi debuted as a soloist on December 1, 2005 with the single album "Get Up", under the stage name Jessica H.O.
Jessi Fandom Name: Jebbies
Jessi Official Fan Color: –
Jessi Official Accounts:
Daum Cafe: @JEBBIES (제시 공식 팬카페)
Facebook: @Jessi 제시
Instagram: @jessicah_o
TikTok: @itsjessibaby
VLive: @Jessi
YouTube: @Jessi
Stage Name: Jessi (제시)
Birth Name: Ho Hyun Joo (호현주) / Jessica Ho
Birthday: December 17, 1988
Zodiac Sign: Sagittarius
Birthplace: New York, USA
Height: 167 cm (5'6'')
Weight: 56 kg (123 lbs)
Blood Type: O
Jessi Facts:
– Jessi was born in New York city, but grew up in New Jersey, USA.
– She has 2 older brothers.
– She moved to South Korea when she was 15.
– She attended Korea Kent Foreign School.
– Jessi went to the same school as Girls' Generation's Tiffany and Jessica.
– She is a former SM trainee but left as she felt that SM didn't fit her style of music.
– She said she had a hard time getting used to Korean culture.
– She used to have to sleep in saunas when she didn't have enough money for a place to stay.
– She is Christian.
– Jessi's parents are Korean immigrants.
– Her Chinese zodiac sign is the Dragon.
– Her IQ is 137.
– She has tattoos on her left ear, left scapula and her eyebrow.
– She's admitted to getting plastic surgery and says that she regrets it.
– She loves shopping.
– Jessi's pomeranian Chewie has their own instagram account: @softandchewie.
– She originally debuted as a soloist in 2005 with the song "Get Up" and had her first comeback with the album "The Rebirth" in 2009.
– She took a 5 years break from music, and left Korea to return to America.
– Jessi's surname, Ho, is a rare surname in Korea. Only more than 5,000 people have this surname.
– In 2014, Jessi returned to Korea and debuted in the trio Lucky J
– In 2015, Jessi appeared on "Unpretty Rapstar" season 1 and won 2nd place.
– She featured on JYP's song "Who's Your Mama?" in 2015.
– J.Y. Park revealed Jessi's featuring in "Who's Your Mama?" was Suzy's idea.
– She appeared as a guest in various popular variety shows, like "Running Man" and "Happy Together".
– She appeared as a mentor in several episodes of "Unpretty Rapstar 2" (2015).
– She was a permanent cast of "Sister's Slam Dunk" season 1 (2017).
– In 2018 Jessi starred on the show "Yo! MTV Raps".
– Jessi is close to Girls' Generation's Tiffany and to Ailee
– Jessi is also close to Hyorin (ex member of Sistar).
– On January 2019 Jessi left YMC Entertainment and joined PSY's label, P NATION.
– In October 2020 she debuted as a member of the project girl group Refund Sisters / Refund Expedition.
– She left P NATION on July 6, 2022.
– It was announced that Jessi joined MORE VISION on April 15, 2023.
– Jessi's Ideal Type: Jessi chose Jungkook as her ideal type and as the singer she wants to sing a duet with. (As of March 2021)
Profile made by Sam (thughaotrash)
(Special thanks to Jay Tolentino, Keke, Idamandaq, ncttttt, Kim collin, Qi Xiayun, turtle_powers, ɴɪᴋɪᴛᴀ, KittyDarlin, jieunsdior, senjinality, Nivi, aira/yin 尹, nothing)
Note: Please don't copy-paste the content of this page to other sites/places on the web. If you use info from our profile, please kindly put a link to this post. Thanks a lot! 🙂 – Kprofiles.com
How much do you like Jessi?
You may also like: Jessi Discography
Latest Korean Comeback:
Do you like Jessi? Do you know more facts about her? Feel free to comment below. 🙂