Jackson (GOT7) Facts and Profile, Jackson Wang's Ideal Type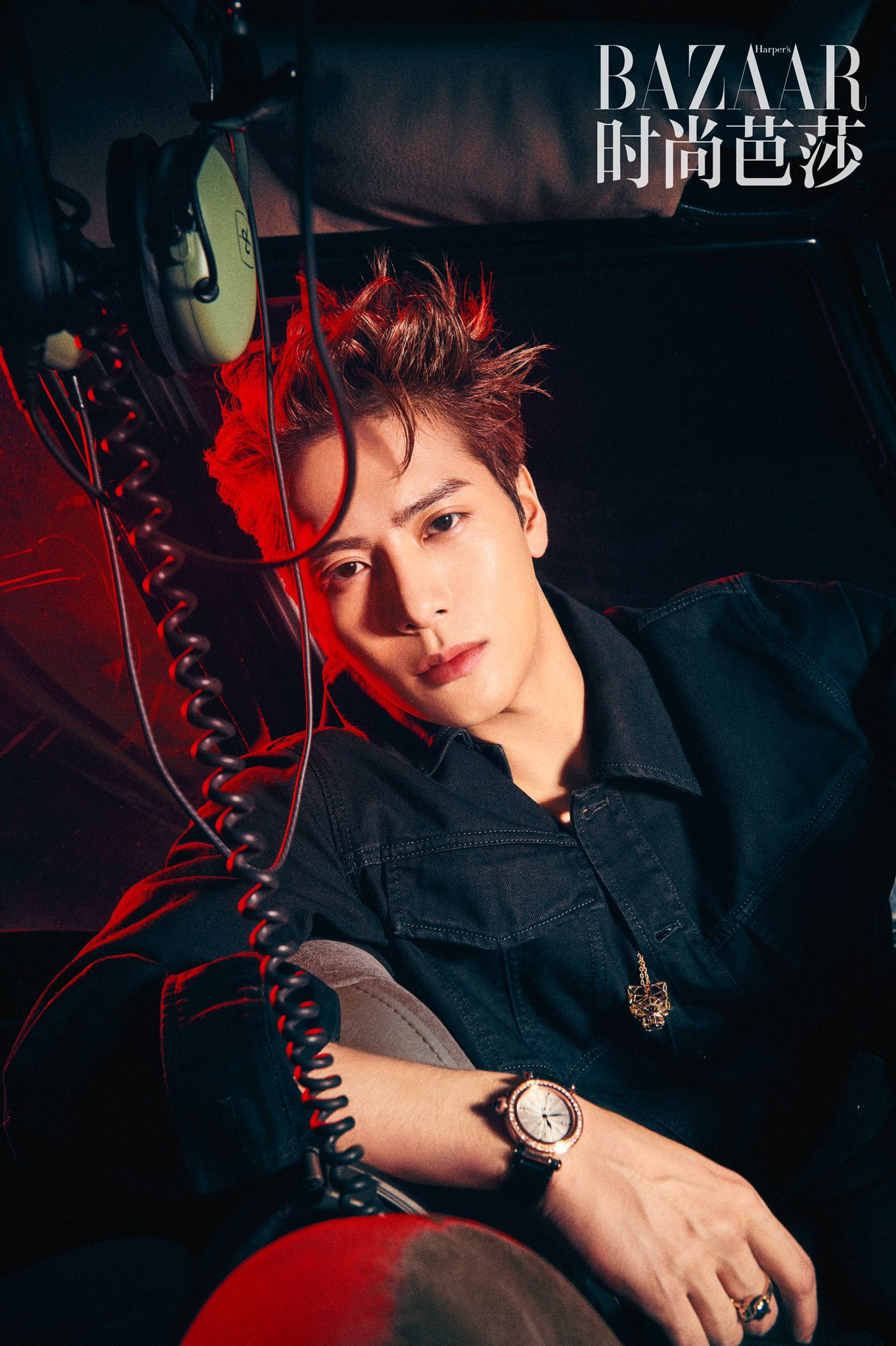 Jackson Wang is a Chinese soloist under Team Wang and a member of the South Korean boy group GOT7. He made his solo debut with an English song called "Papillon" in August 25, 2017.
Jackson Wang Fandom Name: Team Wang and Jacky
Jackson Wang Fandom Color: —
Jackson Wang Official Media:
Instagram: jacksonwang852g7
Twitter: @jacksonwang852
YouTube: Jackson Wang
Facebook: Jackson Wang
TikTok: @jacksonwang
Douyin: 王嘉尔
SoundCloud: Jackson Wang
Stage Name: Jackson (잭슨) / Jackson Wang
English Name: Jackson Wang
Birth Name: Wang Jia Er (王嘉尔)/ Wang Ka Yee (王嘉爾)
Korean Name: Wang Ga Yi (왕가이)
Birthday: March 28, 1994
Zodiac Sign: Aries
Chinese Zodiac Sign: Dog
Height: 174 cm (5'9″)
Weight: 63 kg (139 lbs)
Blood Type: O
MBTI Type: ENFJ
Jackson Wang Facts:
– He was born in Kowloon Tong, Hong Kong, but grew up Sha Tin District, Hong Kong, China.
– Family: mom, dad, 1 brother (older).
– He attended American International School, and completed up to the 11th grade.
– His personality: serious but playful, never gives up on something he really wants.
– He is the most outgoing and sassiest out of the GOT7 members.
– Was a former member of the Fencing National Team in Hong Kong.
– He has been fencing since the age of ten.
– He led his fencing team to the 2010 National Youth Olympics, but lost.
– In 2011, he won 1st place in the Asian Junior and Cadet Fencing Championship
– Both his parents were doing sports professionally.
– His mother, Zhou Ping, is a gold medalist at the World Gymnastics Championships.
– His father, Wang Rui-ji, was a former coach of the Hong Kong National Fencing Team.
– He had ADHD as a child, he said he still has it now however its less severe than when he was a child. ("Let Go of My Baby" S3 Ep.1).
– He became a JYP trainee in July 3rd 2011.
– He was a trainee for about 2.5 years.
– Pre-debut he participated in Mnet Who Is Next (W.I.N) (2013)
– His first screen name was "J-Flawless" during his W.I.N era. Now his nickname is Mandu or "Wild & Sexy".
– He's also known as Wang Gae or Wang Puppy.
– Jackson is the GOT7 member who went to the most variety shows.
– In 2014 he won the SBS Entertainment Awards Best Male Rookie Award – Variety.
– He participated in the second season of "Roommate".
– Jackson is fluent in English, Cantonese, Mandarin, Shanghainese and Korean. He also speaks Japanese and French (basic) and a bit of Thai.
– Education: Completed 11th grade at American International School in Hong Kong
– His favorite foods are chocolate, Dim Sum, spaghetti carbonara, chicken, and hamburgers.
– He absolutely loves cheese.
– He absolutely cannot handle spicy foods.
– His hobbies are dancing, rapping, beatboxing.
– He wants to try new and exciting things which they cannot do most of the time because they are busy. Like rock climbing, skydiving, bungee jumping.
– Most of the time, he volunteers to pay for the meals, drinks, etc.
– Unlike most idols, he does not invite his close friends to Got7 concerts. He knows they have their own schedules so he doesn't want to ask them to make time for him. (He does not get free tickets from the agency.)
– He got a big surprise from JYP during "Roommate 2" Christmas Party. Since Jackson couldn't have his family close during Christmas, JYP brought Jackson's parents from Hong Kong. Everyone broke into tears.
– His mother was sick; she couldn't sit for too long because of back problems. Originally, her doctor said she cannot travel/ride the plane, but she insisted after watching "Roommate". She said she cried really hard seeing her son sad and disappointed.
– His favorite artists: Dr. Dre, G-unit, 50 Cent, Lloyd Banks.
– His favorite movie is Miracle in Cell No. 7 (he cried when he watched Miracle in Cell No. 7)
– His favorite color is black.
– He likes to dress in black.
– He doesn't wear perfume.
– He said he really wants to visit India.
– There is a rumor that he has a tattoo on his back of his name.
– His role model are the 2PM hyungs.
– He took part in writing and composing "Boom x3" for the Flight log: Turbulence album.
– He took part in writing and composing "Shopping Mall" and "Out" for their Flight log: Arrival album.
– His motto: "Never give up on something you can't live a day without. Never say you can't before you try."
– His religion is Christianity.
– Jackson was the one who wrote the rap for "U GOT Me" on GOT7's "Got Love" album.
– Jackson also co-wrote the song "Boom" in the Turbulence album.
– His dorm partner used to be Mark, he changed now and shares a room with JB.
– EDIT: All the members have separate rooms now and only BamBam and Yugyeom shares a room. (After School Club).
– EDIT 2: Jackson moved out of the dorm.
– Mark says that Jackson's the member that takes the most selfies in the bathroom, but Jackson says it's not him but BamBam.
– Jackson grew up in the same neighborhood with NCT's Lucas. (Running Man China)
– He's close with f(x)'s Amber and Super Junior-M's Henry, KARA's Youngji, Lay (EXO), Jooheon (Monsta X), Lu Han, Kris Wu, Tao, RM (BTS), Casper (ex Cross Gene member), Prince MaK (former member of JJCC, etc.
– He participated in "Celebrity Bromance" with Jooheon of Monsta X.
– He was in a parody band called Big Byung, along with VIXX's N and Hyuk, and BTOB's Sungjae.
– He has astigmatism.
– He used to be terrified to wear contacts because he was afraid that it will roll to the back of his eyes. He has now overcome his fear and have revealed at a fansign that he had started wearing contacts.
– His motto is: "Never give up on something you can't live a day without. Never say you can't before you try."
– He founded his own agency in China (Hong Kong) called Team Wang.
– From September 2017, Jackson won't participate in Japanese promotions, he will only go to Japan for special events such as award ceremonies (Statement of Sony, GOT7's company in Japan)
– On 30 November 2017 Jackson released his 2nd solo single called Okay.
– Jackson is the rap mentor of Idol Producer (Chinese Produce 101).
– Jackson was a dance mentor with Luhan on a Chinese tv show "Hot Blood Dance Crew" and his team (with Luhan) won the show against dance mentors Willam Chan and Victoria Song's team.
– On December 17, 2018 Madamme Tussauds Hong Kong announced that Jackson's wax figure was in creation. Jackson stated, "When I was 9, I visited Madame Tussauds with my family and I wished I could have my own wax figure in future too. Now my dream has come true." Source: www.madametussauds.com
– Jackson won "Choice Next Big Thing" at the 2018 Teen Choice Awards.
– Jackson is ranked 35th on TC Candler "The 100 Most Handsome Faces of 2018".
– In July 2020 Jackson launched his clothing brand Team Wang Studio with limited collection.
– His contract with JYP Ent. expired on January 19, 2021 and he decided not to renew.
– On January 22, 2021 it was officially announced that his label, Team Wang, has signed a business agreement with Sublime Artist Agency.
– He plans to continue his solo career under Team Wang.
– He's also part of the co-ed project hip-hop group PANTHEPACK.
– Jackson's ideal type: when asked nowadays what his ideal type is, he would answer as long as they find themselves suitable for each other then that's it!
(Special thanks to Maritza Lara, Ma Liz, nancy idk, Huda Ather, Abhilash Menon, ParkXiyeonisLIFE, bree ☆, Terezz Vernerová, gwen heng, Wang Ga, Nightmare 1060, australichan, Sherry Yang, Blackpink_rose34, julie park, Eunwoo's Left Leg, CallMeTaeyong, LeeSuh_JunDaeSoo, Floyda Lynch, j, Faith, Jinson, Kook's Bunny Smile )
You may also like: Jackson Wang Discography
Quiz: Who's your GOT7 boyfriend?
Back to GOT7 Profile
How much do you like Jackson?
Latest Chinese Release:
Latest English Release:
Do you like Jackson Wang? Do you know more facts about him? Feel free to comment below.