Chuu (ex LOONA) Profile and Facts;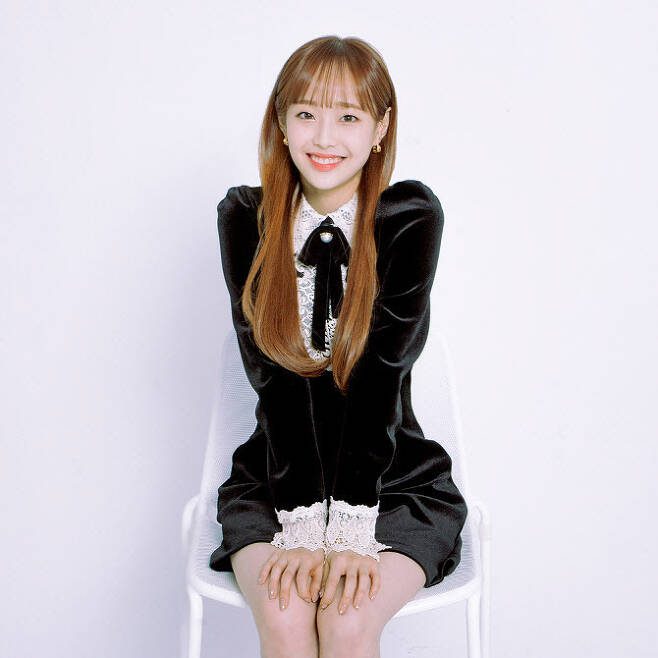 Chuu (츄) is a South-Korean idol under BY4M STUDIO. She is a former member of LOONA.
Stage Name: Chuu (츄)
Birth Name: Kim Jiwoo (김지우)
Birthday: October 20, 1999
Zodiac Sign: Libra
Birthplace: Chungcheong, South Korea
Blood Type: A
Sub-Unit: LOONA yyxy
Chuu Facts:
– Chuu debuted December 27, 2017 under LOONA with the song "Heart Attack".
– Her color is peach and her animal is an penguin.
– Chuu and Kim Lip were close friends before LOONA because they went to school together.
– Chuu and Kim Lip graduated Hanlim on February 9, 2018.
– She is friends with JooE from Momoland, Yeri from Red Velvet and Bang Suji (a Polaris trainee).
– The song she falls asleep to is "Upon your Existence, Ophelia" by Lucia.
– She is very girly and feminine.
– Chuu prefers skirts over pants.
– She hates rainy weather.
– She's always wanted to debut in a girl group.
– Chuu loves macaroons and mint chocolate.
– She has two younger brothers.
– Chuu auditioned for JYP but she didn't get in.
– She was a part of FNC Academy.
– People think Chuu looks like Gugudan's Mina and like Naeun from April.
– A lot of international fans say that Chuu looks like a female version of Lee Daehwi (AB6IX, Wanna One).
– Chuu was a trainee for 1 month.
– Chuu thinks her charming point is her bubbliness.
– Chuu is known among the LOONA members in Korea for her aegyo.
– According to the members, Chuu & Yves take the most selfies in Yyxy.
– Chuu likes to eat shrimp sushi.
– Chuu does not like Yaja Time.
– Chuu's shoe size is 5.5 ~ 6 (US size).
– Chuu comes from a musical family, her mom sings classical music.
– Chuu's mom didn't like the idea of her being an idol because she knew how hard singing was.
– Chuu's dad always supported her, so that was the reason why Chuu kept going.
– Chuu's dad buys like 50 albums for every release.
– Chuu writes in her diary twice a day, and usually before bed.
– Chuu had a big fanbase pre-debut due to her Instagram.
– Chuu watched a lot of sitcoms like "Unstoppable High Kick" when she was younger.
– She used to have an Instagram until she was confirmed as a LOONA member, then she deleted it.
– Chuu trended 4th on Naver, 2-3 days before the release of her song.
– Pre-debut, Chuu wrote her own song, called 지우 노래, which simply means Kim Jiwoo's Song.
– Chuu is classmate with lots of idols (Red Velvet's Yeri, Kim Lip, Astro's Rocky, WJSN's Yeonjung, Momoland's Jooe).
– Chuu's favorite artists are Dean, MeloMance, Ariana Grande, and Paul Kim.
– Chuu, Yves, Go Won and Olivia Hye shared a room in the dorm.
– Chuu was once locked outside of the dorm for 20 minutes since the other girls couldn't hear her from inside, and Chuu had lost/forgot her key.
– One time in Budapest, the other members left Chuu in the toilet and she went chasing them while they were in their van. (Fan meeting 080718 – from Go Won)
– Chuu and Yves met each other first in an academy. Yves thought that Chuu was a timid and shy kid at the time and she asked for Chuu's phone number. They became friends and did a cameo at a web series. (180830 LOONA fansign)
– According to Chuu, her idol is Yves.
– On November 25, 2022, it was announced that Chuu was removed from LOONA.
Note: Please don't copy-paste the content of this page to other sites/places on the web. If you use info from our profile, please kindly put a link to this post. Thanks a lot! 🙂 – Kprofiles.com
Profile made by Sam (thughaotrash)
(Special thanks to legitpotato, meta.boy, 코위, Homura for providing additional info.)
Related: LOONA Profile
Latest release:
Do you like Chuu? Do you know more facts about her? Feel free to comment below. 🙂