Lee Chaeyeon (former IZ*ONE) Profile and Facts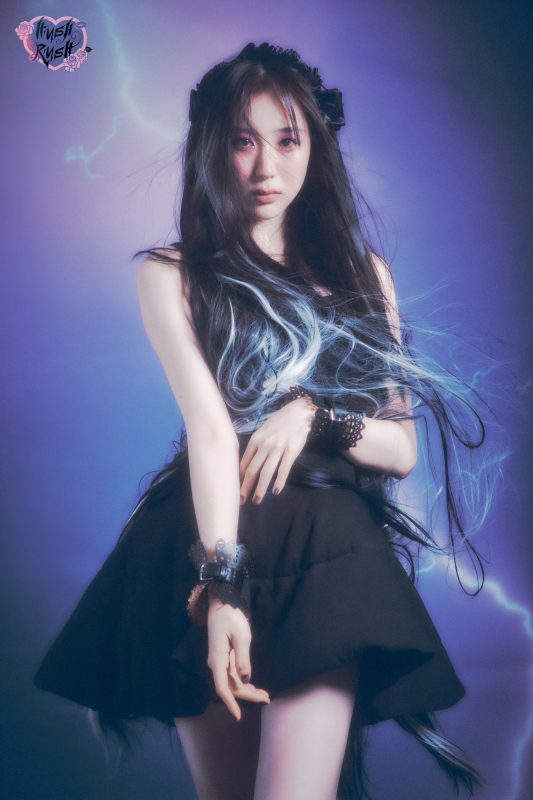 Lee Chaeyeon is a former member of the South Korean-Japanese girl group IZ*ONE under Off The Record Entertainment. She is signed under WM Entertainment and debuted as a soloist on October 12, 2022 with the mini album HUSH RUSH.
Lee Chaeyeon Fandom Name: —
Lee Chaeyeon Fandom Color: Chaenmerald
Lee Chaeyeon Official Accounts:
Daum Cafe: @LeeChaeYeon
Instagram: @chaestival_
TikTok: @official.lcy
Twitter: @official_lcy
Stage Name/Birth Name: Lee Chaeyeon (이채연)
Birthday: January 11, 2000
Zodiac Sign: Capricorn
Chinese Zodiac Sign: Rabbit
Height: 165.2 cm (5'5″)
Weight: 47 kg (104 lbs)
Blood Type: A
MBTI Type: ISFJ (Her previous result was ENFJ-T)
Lee Chaeyeon Facts:
– She is from is Yongin, South Korea.
– She has 2 younger sisters: Chaeryeong (1,5 year younger than her), and Chaemin (6 years younger than her).
– Her sister Chaeryeong, is a member of JYP's new girl group ITZY.
– She is extremely good at girl's hip hop.
– Her habit is hiding her forehead.
– She used to wear braces.
– She has dogs named Chaeri and Chaeso.
– She can speak Japanese.
– She likes spicy food.
– Her favorite ice cream flavor is yogurt.
– IZ*ONE members said that she is good at cooking.
– Her favorite type of music is pop songs/JYP songs. (K-POP STAR 3 Profile)
– Her talent is making choreographies.
– She likes playing badminton and cooking in her spare time.
– She can learn choreography extremely well and rapidly.
– She was a part of KYW Dance School and uploaded some dance covers.
– She and her sister Chaeryoung auditioned for Fantagio in 2012.
– She had a cameo in Bread, Love and Dreams when she was young (Fancafe)
– Shewas a contestant of KPOP Star season 3 along with her sister, Chaeryeong.
– She trained for 4 years and 1 month.
– She is a former JYP Entertainment trainee.
– She is friends with Stray Kids' Changbin, AB6IX's Daehwi and Woojin, Twice's members, fromis_9's Jiwon. CRAVITY's Allen, aespa's Giselle, former Gfriend's Yerin and Jeon Somi.
– She appeared in the show SIXTEEN, the show that created TWICE, but sadly was eliminated first.
– On SIXTEEN she was known as a "fashion holic."
– Produce48 was her third try at a survival show and debut.
– She is nicknamed "Feather" in that show because of her feather-like dance.
– She learned the 1000% chorus choreography whilst only watching it one time.
– She is the "father" of IZ*ONE. (181024 XSportNews Interview) as if 2020, Eunbi stated Chaeyeon is the Mother of IZ*ONE (On NOW Radio).
– She was crowned as "Dancing Queen" by the members in both "Idol Room" and "Weekly Idol".
– In IZ*ONE she is closest to Sakura.
– If she were a boy, out of the IZ*ONE members she'd date Sakura. (Iz*one Chu ep 2)
– She has watched dramas like Twenty-Five Twenty-One, Meteorological Administration People: Office Romance Cruelty, Business Proposal, and Bridgerton.
– Her favorite food in Japan is yakiniku and sukiyaki.
– Chaeyeon's favorite dessert is raw milk monaca ice cream.
– Some food she recommends are tofu kimchi, pork belly salad, and tofu salad.
– She is currently signed under WM Entertainment.
– She debuted as a soloist on October 12, 2022 with the mini album HUSH RUSH.
– Motto: "Whatever it is, unless you're crazy, you can achieve it".
profile made by skycloudsocean
Additional information provided by ROBIEN, smilylaugh, hothot100, Esther Laon, Momoipop, Forever_kpop___, Alpert, brightliliz, Ghel Dy
Note: Please don't copy-paste the content of this page to other sites/places on the web. If you use info from our profile, please kindly put a link to this post. Thanks a lot!  – Kprofiles.com
Note 2: Chaeyeon updated her MBTI result to ISFJ in October 2022. (Source)
Related: IZ*ONE Profile
How much do you like Chaeyeon?
Solo Debut:
Do you like Lee Chaeyeon? Do you know more facts about her? Feel free to comment below 🙂