L/Myungsoo (Infinite) Profile, Facts, and Ideal Type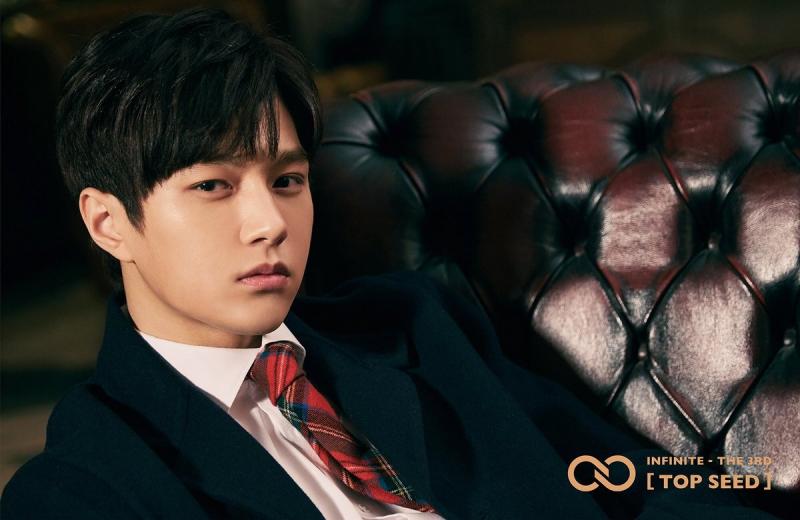 L/Myungsoo (김명수) is an actor and a member of the South Korean boy group Infinite.
Stage Name: L/Myungsoo
Birth Name: Kim Myung Soo (김명수)
Nicknames: Cold City Man, Center
Birthday: March 13th, 1992
Zodiac Sign: Pisces
Height: 180 cm (5'11")
Blood Type: O
MBTI Type: ISTJ
Sub Unit: Infinite F (F stands for Face) – Myungsoo, Sungyeol, Sungjong
Instagram: @kim_msl
Twitter: @KIMMYUNGSOO_1
Youtube: 묭묭튜브
vLive: KIM MYUNG SOO (L)
L/Myungsoo Facts:
– His hometown is Seoul, South Korea.
– Moonsu is the name of his younger brother.
– Alongside Sunggyu, Hoya, and Sungyeol, he graduated from Daekyung University, with a major in Applied Music.
– Naturally, his hair is curly and frizzy.
– Out of all the Infinite members he eats the most.
– He is part of Infinite's maknae line.
– Black is his favorite color.
– Most of his clothes are black.
– He can play the guitar.
– On May 15th, 2013, he released his best-selling photo essay book titled "L's Bravo Viewtiful"
– He thinks he most resembles a hippopotamus.
– He has a cat named Byeol.
– Even though they always do fan service together, he says he doesn't like Sungyeol.
– He speaks the best Japanese in Infinite.
– For the cartoon 'Welcome to the Convenience Store' he was a voice actor.
– He likes to read the manga Naruto, Bleach and One Piece.
– Stubbornness is a habit he needs to fix.
-He is good friends with the actor Kim Minsuk.
– If he wasn't a singer he would want to be a photographer, as he likes to take pictures.
– He has acted in several dramas inculding: "Jiu – Special Investigation Team" (2011), "Shut Up Flower Boy Band" (2012), "Mom is Acting Up" (2012), "Master's Sun" (2013), "Cunning Single Lady" (2014), "My Lovely Girl" (2014), "The Time We Were Not In Love" (2015), "One More Time" (2016), "Ruler: Master of the Mask " (2017), "Miss Hammurabi" (2018), "Angel's Last Mission: Love" (2019), "Meow, the Secret Boy" (2020), "Secret Royal Inspector" (2020)..
– He also acted in the movie "Mr. Shark" (2016).
-He has won and been nominated for many acting awards.
– L was a contestant on "King of Mask Singer" as "I'm Your Father". (Episode 63)
– Myungsoo was originally offered the lead male role for the drama "Solomon's Perjury" (2016), but he declined due to scheduling conflicts.
– On August 19th, 2019 Myungsoo left Woollim Entertainment after he contact expired. However, he is still a member of Infinite.
– He is currently managed by Management Esang.
– He released his debut single album "Memory" on February 3, 2021.
– On February 22, 2021 he enlisted for his mandatory military service (Marine Corps).
– From October 2021 to January 2022 he is part of the Korean Army Musical called "메이사의노래" (Meissa's Song) alongside EXOs Chanyeol, Cross Genes Yongseok, KARDs J.Seph, IMFACTs Jian, IN2IT members Inpyo and Hyunuk, VAVs Baron, ARGONs Gon, Park Sunho, as well as multiple professional musical actors and other enlisted soldiers. He plays one of the lead roles that he shares with former B.A.P member Daehyun.
– L/ Myungsoo's Ideal Type: Someone with long, wavy hair, and has innocent charm.
Note: Please don't copy-paste the content of this page to other sites/places on the web. Please do respect the time and effort the author put in compiling this profile. If you need/want to use info from our profile, please kindly put a link to this post. Thank you.
Profile Made By ♥LostInTheDream♥
How Much Do You Like L/Myungsoo?
Latest Release:
Do you like L? Do you know more facts about him? Feel free to comment down below.