Kim Sejeong Profile: Kim Sejeong Facts and Ideal Type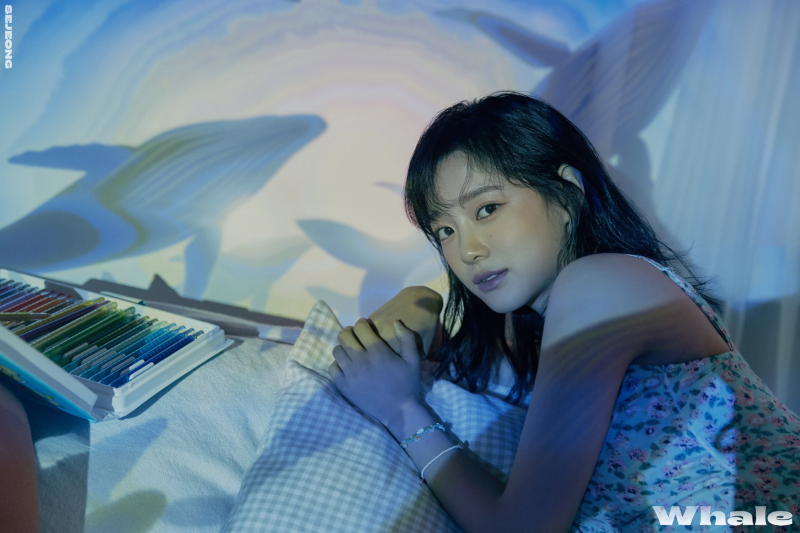 Sejeong (세정) is a South Korean singer under Jellyfish Entertainment. She is currently a member of the girl group Gugudan and former member of I.O.I.
Kim Sejeong Fandom Name: –
Kim Sejeong Official Colors: –
Stage Name: Sejeong (세정)
Birth Name: Kim Se-jeong (김세정)
Birthdate: 28 August 1996
Birthplace: Gimje, North Jeolla, South Korea
Nationality: South Korean
Height: 164 cm (5'5″)
Weight: 48 kg (105 lbs)
Blood Type: AB
Label: Jellyfish Entertainment
Specialties: Singing, listening to music
Hobbies: Painting, Re-watching movies
Instagram: @clean_0828
Sejeong Facts:
– She has an older brother.
– Education: Hanyang Women's University
– She used to be a member of I.O.I, currently a member of Gugudan.
– In 2012, she participated in the second season of K-Pop Star 2.
– When she took part in Produce 101, she got the nickname "God Sejong" because she remained in first and second places during the entire competition.
– She was a trainee for only one year prior to appearing on Produce 101.
– In a letter, it was revealed that Sejeong felt bad for her mum because they were poor. She asked her mum to wait till the day when she could steadily provide for her family.
– She loves to imitate cartoon expressions.
– Her role model is soloist IU.
– When Sejeong was 18 years old, she won 1st place in a writing competition.
– She was a host of Talents for Sale (어서옵SHOW) in 2016 and was named a permanent MC for Get It Beauty in January 2017.
– She is the fastest Korean soloist to win a live music show, with the song "Flower Road" (produced by Zico).
– On 12 January 2017, the song "If Only" (만에 하나) for the K-drama The Legend of the Blue Sea (푸른 바다의 전설) OST was released.
– In January 2017, she participated in King of Mask Singer but was eliminated in Round 1.
– She acted in a Lotte Water Park CF with Astro's Eunwoo.
– She was the lead actress in the K-drama School 2017 (학교 2017), her first lead role in a K-drama series.
– On 13 October 2017, SM Station released the song "Star Blossom", a collaboration between Sejeong and NCT's Doyoung.
– On 15 July 2018, she appeared as a cast member of the sci-fi variety show Galileo: Awakened Universe.
– On 16 September 2018, the song "Lover" (정인) for the K-drama Mr. Sunshine OST was released.
– Since 2018, she has appeared as a cast member on Busted! (범인은 바로 너), along with Yoo Jay Suk, Lee Kwang Soo and EXO's Oh Sehun.
– In 2019, she sang "All of My Days" (나의 모든 날) for the K-drama Crash Landing on You (사랑의 불시착) OST.
– In March–April 2019, she participated in King of Mask Singer again, becoming a finalist. She sang Lee So-ra's "To You Who Don't Love Me Anymore" (나를 사랑하지 않는 그대에게) in Round 2 and Jaurim's "Twenty-five, Twenty-one" (스물다섯, 스물하나) in Round 3.
– She is seemingly adept at shooting a recurve bow.
– Sejeong's ideal type: Someone who's mature at an early age.
Profile by Guirxh.
(Special thanks to @_Sejeongdays, Miming, KIMSEJEONGINDO, Navystin, Nature Says "Stan BTS", Forever_kpop___, The Nexus, BBaam, Seseduo, sleepy_lizard0226.)
Note: Please do not copy and paste the content of this webpage onto other websites or other platforms on the web. If you use the info from our profile, then please kindly include a link to this post. Thank you.
– Kprofiles.com

You may also like: Kim Sejeong Discography
Latest Korean Comeback:

Do you like Sejeong? Do you know more facts about her? Feel free to comment below and please include the corresponding source(s). 🙂