DIONE Members Profile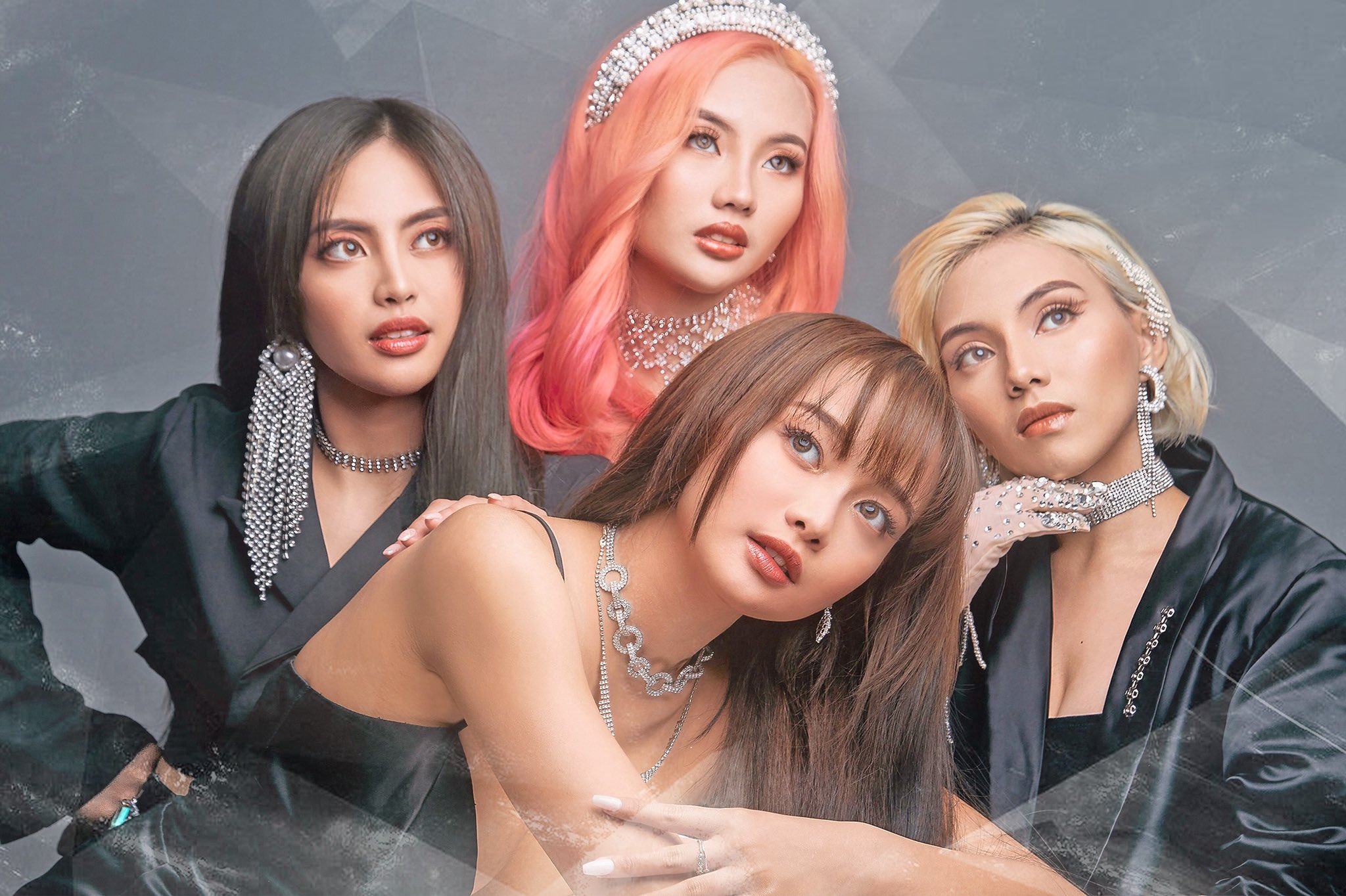 DIONE is a 4-member Filipino girl group that consists of Joyden, DK, Clara, and Ella under FirstOne Entertainment. Some of the members were in the disbanded group, LUNA, who were under the same agency. They made their debut on April 7, 2022 with the digital single "BLING BLING"
DIONE Introduction:
"Guess who's here, we are DIONE!"
DIONE Fandom Name: Tali
DIONE Official Fandom Color: –
Official Accounts:
Facebook: @firstoneDIONE
Instagram: @firstone_dione
Kumu: @firstone_dioneoffcl
TikTok: @firstone_dione
Twitter: @firstone_DIONE
DIONE Members Profile:
Joyden


Stage Name: Joyden
Birth Name: Mary Joyden Mater
Position: Leader, Vocalist, Rapper
Birthday: April 13, 1999
Zodiac Sign: Aries
Height: –
Weight: –
Blood Type: –
MBTI Type: –
Nationality: Filipina
Facebook: @heyitsjoyden / @Joyden Mater (Inactive)
Instagram: @dione_joyden
Kumu: @dione_joyden
TikTok: @joydennn
Twitter: @dione_joyden
Joyden Facts:
– She lives in Las Piñas, Philippines.
– Her favorite bands are Wanna One, SB19, and ONE OK ROCK.
– Her favorite places are seashores.
– She's afraid of heights, dolls, frog, rats, and trucks.
– Joyden looks up to Jennie of BLACKPINK.
– She likes dogs, sweets, and good fashion sense.
– Her favorite foods are fish cake, tocino, and chicken sweets.
– Joyden's dream is to become an actress.
– Her favorite movie is 'The Divine Fury'.
– She dislikes spicy food and hospitals.
– Joyden has a second degree black belt in Taekwondo.
– Her favorite number is 11.
– She can't swim.
– Her hobbies are watching movies/series, watching survival/reality shows, writing fiction & poetry, internet surfing, discovering new music, and spending quality time with loved ones.
Clara


Stage Name: Clara
Birth Name: Clarice Romela Melegrito
Position: Main Dancer, Rapper, Vocalist
Birthday: June 8
Zodiac Sign: Gemini
Height: –
Weight: –
Blood Type: –
MBTI Type: –
Nationality: Filipina
Facebook: @clariceromela
Instagram: @dione_claraa
Kumu: @dione_clara
TikTok: @dione_claraa
Twitter: @dione_claraa
Clarice Facts:
– She prefers wearing black clothes and denim.
– Her hobbies are going to art museums, trying out new food, painting or sketching if she has free time, and watching crime documentaries.
– One of her favorite songs is "Safety Net" by Ariana Grande ft Ty Dolla $ign.
– Clarice is a quiet person, but outgoing with people she likes.
– She enjoys watching crime-documentaries.
– Clarice likes art galleries, ice cream, good music, and clothes.
– Her favorite foods are barbeque, ice cream or anything sweet.
– She is allergic to seafood.
– Her celebrity crushes are Jungkook, Hyunjin, and Kai.
– Clarice's dream is to be a well-known fashion designer.
– Her stage name in LUNA was her actual name, Clarice.
– Clarice hates insects or anything that flies.
Ella


Stage Name: Ella / Ella Park
Birth Name: Michaela Diaz
Position: Main Rapper, Dancer
Birthday: May 4
Zodiac Sign: Taurus
Height: –
Weight: –
Blood Type: –
MBTI Type: –
Nationality: Filipina
Facebook: @itsmeellangpark
Instagram: @dione_ellapark
Kumu: @dione_ella
TikTok: @dione_ella
Twitter: @dione_ella
Ella Facts:
– Her hobbies are sleeping, listening to music, doing TikTok videos, editing, and hanging out with friends.
– She likes carbonara, amusement parks, and the consistency of a person.
– Ella dislikes horror houses, close minded people, and inconsistency.
– Some food she dislikes are tomato sauce, liver, and okra.
– She has been a K-pop fan since 2009.
– Ella has been a fan of BTS since 2015, and her bias is Jungkook.
DK


Stage Name: DK
Birth Name: Daudette Keyn Gutierrez Teodocio
Position: Main Vocalist, Youngest
Birthday: July 24, 1999
Zodiac Sign: Leo
Height: –
Weight: –
Blood Type: –
MBTI Type: –
Nationality: Filipina
Facebook: @daudettekeyn.teodocio
Instagram: @dione_dkt
Kumu: @dione_dau
TikTok: @daudettekeynteodocio
Twitter: @dione_dkt
DK Facts:
– Her favorite foods are corn, chicken and meiji yunyun.
– If she wasn't a singer she would be a chef.
– She likes spicy foods, ballroom dancing, and historical places.
– DK's favorite bands are The Carpenters, SB19, Westlife and IV Of Spades.
– Her hobbies are watching documentaries of Kara David and documentaries about the solar system, planets, galaxies, etc. Also, some of her other hobbies are writing poems and songs, reading articles about Philippine history, cooking & baking, going to the ballroom, and playing different instruments.
– Her favorite series is Stranger Things.
– DK dislikes vegetables, drinking medicine, and needles.
– Her celebrity crush is Z.Tao
– She started singing when she was six, and she started dancing when she was in kindergarten.
– Joyden and DK were in a cover group called Black Kiss, along with Danniela Teodocio and Jezzie Concepcion.
– DK has an older sister named Danniela.
– She went to Azgh College Inc.
Debut Release:
Note: Please don't copy-paste the content of this page to other sites/places on the web. Please do respect the time and effort the author put in compiling this profile. If you need/want to use info from our profile, please kindly put a link to this post. Thanks a lot! 🙂 – Kprofiles.com
Who is your favorite DIONE member?
Who is your favorite DIONE member? Do you know more facts about them? Feel free to comment below. 🙂
made by: brightliliz