Temporary Idols Members Profile: Temporary Idols Facts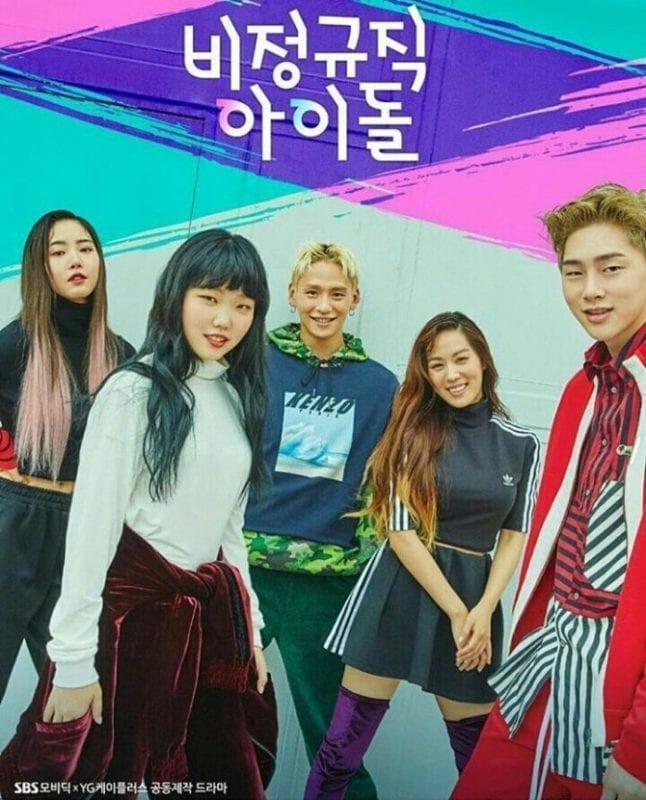 Temporary Idols (비정규직 아이돌) is a Korean co-ed group that consists of 5 members: Heejung, Soo-Ah, Youngdeuk, Hyunbin, and Suhyun. In the k-drama, their company is YZ Entertainment, they're all under YG.
Temporary Idols Fandom Name: Temporary Fans
Temporary Idols Official Fan Color: –
Temporary Idols Official Logo:
Temporary Idols Members Profile:
Heejung


Stage Name: Heejung (희정)
Birth Name: Kim Hee Jung (김희정)
Position: Leader, Main Rapper, Lead Dancer, Vocalist
Birthday: April 16, 1992
Zodiac Sign: Aries
Height: 162 cm (5 ft 3¾ in)
Weight: 45 kg (99 lbs)
Instagram: @kimheebibi
Heejung Facts: 
– She has a very short temper.
– Heejung gets along mostly with Soo-Ah.
– Her and Hyunbin argue a lot, due to when Hyunbin does something that annoys her.
– Before getting on the team, she was about to leave the company since a trainee came in smelling of alcohol.
– Whenever she gets mad, she'll ball up her fists, and the tighter her grip is, the most her nails dig into her skin.
– When nobody's around, she loves to play with dolls. One day, their manager had a challenge for everyone to diss her through rap so she could control her anger. She was playing with her dolls, and Hyunbin came out of her closet and dissed her, so she was forced to rap out her anger. She rapped for 3 hours straight.
– She plays Overwatch on PC.
Soo-Ah


Stage Name: Soo-Ah (수아)
Birth Name: Hwang Seung Un (황승언)
Position: Lead Vocalist, Rapper, Visual
Birthday: October 31, 1988
Zodiac Sign: Scorpio
Height: 170 cm (5'7″)
Instagram: @hwangseungun
Soo-Ah Facts: 
– She's very optimistic.
– When she first met the original lineup (Heejung, Suhyun, and Hyunbin), Heejung got her into thinking they were all going to get fired. So when their manager came in, she got on her knees and begged that they didn't let go.
– Soo-Ah created the name of the group, when she asked the manager if they would be part time idols.
– She came from a poor family, so she was offered a solo contract so she could provide for her family quicker and still debut; as their manager was forced to leave, and the CEO didn't want their team to debut. She said no, because her members helped her overcome everything.
– She used to have stage fright, but by her members watching her a lot and gingko berries, she overcame it and now has confidence.
– When Heejung confronted her for having a solo contract and leaving the team, she told the team the truth, but they barely believed her. She told Youngdeuk that she envied him due to the fact that he could still make a living without being on the team.
– She loves disco.
– She finds the bathroom the most comfortable place.
– As a trainee, she never performed in front of others.
– She knows English.
– Her favourite song is "How's This?" by HyunA.
Youngdeuk


Stage Name: Youngdeuk (영득)
Birth Name: Kwon Young Deuk (권영득)
Positions: Main Dancer, Lead Rapper, Vocalist
Birthday: November 20, 1989
Zodiac Sign: Scorpio
Height: 177 cm (5'10″)
Weight: 70 kg (154 lbs)
Instagram: @deukie_______
Youngdeuk Facts:
– He was meant to be the group's choreographer.
– This group was his second chance to be an idol.
– The members sometimes look up to him since he's had the most experience as a trainee.
– The rest of the group used to dislike him for showing off when he was the choreographer.
– He says Heejung's a good dancer, but is inexperienced in the basics.
– He gained the nickname of "idiot" by Soo-Ah, since he tried battling Hyunbin with setting up the table.
Hyunbin


Stage Name: Hyunbin (현빈)
Birth Name: Kwon Hyunbin (권현빈)
Position: Rapper, Vocalist, Visual
Birthday: March 4, 1997
Zodiac Sign: Pisces
Height: 187 cm (6'2″)
Weight: 66 kg (145 lbs)
Instagram: @komurola
Hyunbin facts:
– He's very self-centered and thinks he's the best.
– Some of the trainees and the CEO himself said that they wondered if he came to be a trainee or update his social media.
– The manager tricked Hyunbin into getting eager to practice by spending a whole night making 20k accounts on Instagram, and said G-Dragon liked a couple of his pictures.
– He bickers with Heejung a lot.
– He likes rock music.
– Once, Soo-Ah was giving each of the members a hug, but she skipped him so he hugged himself.
– He is secretly dating Suhyun.
– His nickname is "idiot", because he battled Youngdeuk in setting up the table.
Suhyun


Stage Name: Suhyun (수현)
Birth Name: Lee Su Hyun (이수현)
Positions: Main Vocalist, Face of the Group, Center, Maknae
Birthday: May 4, 1999
Zodiac Sign: Taurus
Height: 164 cm (5'5″)
Weight: 52 kg (115 lbs)
Instagram: @akmu_suhyun
Suhyun facts:
– She's one half of Akdang Musician.
– She is in the group due to her brother leaving to go to the military.
–  She used to not be able to hit high notes, but thanks to the members scaring her so much, she was able to.
– She has a big crush on Hyunbin, and is secretly dating him.
– Suhyun finds the smell of makeup most comfortable.
– She loves blues music.
– She's quietest in the group.
– One time, she played Overwatch with Heejung, and Heejung installed a jumpscare to Suhyun's computer.
– Her brother produced their title track "Red Carpet".
Note: Please don't copy-paste the content of this page to other sites/places on the web. Please do respect the time and effort the author put in compiling this profile. If you need/want to use info from our profile, please kindly put a link to this post. Thanks a lot! 🙂 – Kprofiles.com
Post by: heebibis
Who's your Temporary Idols bias?
Who is your Temporary Idols bias? Do you know more facts about them? Feel free to comment below. 🙂