Sodam (BLANK2Y) Profile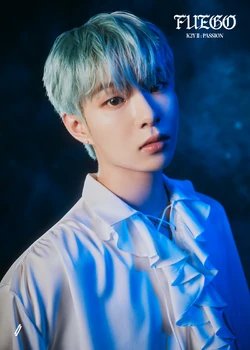 Sodam (소담) is a member of the S. Korean boy group BLANK2Y.
Stage Name: Sodam (소담)
Birth Name: Park Sodam (박소담)
Position: N/A, Maknae
Birthday: November 26, 2004
Zodiac Sign: Sagittarius
Height: –
Weight: –
Blood Type: A
MBTI Type: INFP
Nationality: Korean
Sodam Facts:
– On February 25th, 2022, Sam Choi, the Founder & CEO of Keystone Entertainment, officially revealed on his twitter (@csungmuk) that Sodam was the 7th member of BLANK2Y.
– He's the youngest member of BLANK2Y.
– He was born in Suncheon, Jeollanam-do. (justjared.com)
– He's currently studying at Apgujeong High School. (justjared.com)
– He has an identical twin brother and is the younger twin. (justjared.com)
– Before preparing to become a singer, he wanted to become a soccer player. (justjared.com)
– His favorite fruits are melon and watermelon. (justjared.com)
– He says people think he's a picky eater but is actually the opposite; He's an adventurous eater. (justjared.com)
– He isn't easily surprised or frightened and used to get scolded for greeting actors inside haunted houses. (justjared.com)
– His favorite colors are all shades of blue. (justjared.com)
– If he had 3 wishes, he would wish to become a successful person, to be a happy person, and to always be healthy. (Minnie)
6/25/22 Twitter Menpa:
– His favorite sport is still soccer.
– When asked which member acts younger than him, even though he isn't, he said Mikey.
– A movie genre he likes is action.
– An emoji he uses often is the white heart.
– He loves pineapple pizza.
– When asked for a song recommendation, he recommended an OST from Goblin called "The First Snow" by Jung Joonil
Related: BLANK2Y Profile
Profile made by 🥝Vixytiny🥝
Special thanks to Minnie💚
Do you like Park Sodam? Do you know more facts about him? Feel free to comment down below!