Lily (NMIXX) Profile and Facts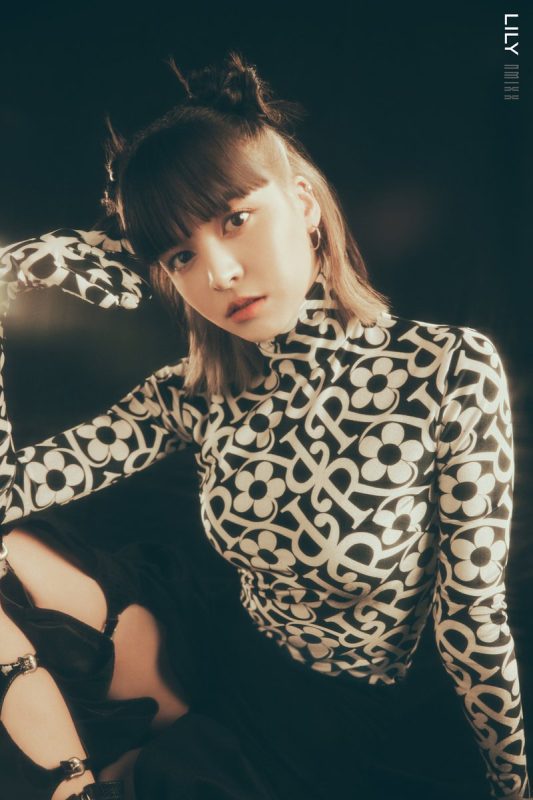 Lily (릴리) is a JYP Entertainment idol from the group NMIXX.
Stage Name: Lily (릴리)
Birth Name: Lily Jin Morrow (릴리진모로우)
Korean Name: Park Jin (박진)
Birthday: October 17, 2002
Zodiac Sign: Libra
Chinese Zodiac Sign: Horse
Height: 165 cm (5'5″)
Weight: –
Blood Type: O+
Nationality: Korean-Australian
Instagram: lily_m_official (Private)
Twitter: LilyJinMorrow (Private)
MBTI: ENFP
Lily Facts:
– Lily was born and raised in Victoria, Australia.
– Her father is Australian (Bruce Marrow) and her mother is Korean (Park Jin-hee).
– She has a younger sister, named Amy Morrow (born in 2007).
– She was a child model and actress.
– Lily started taking piano lessons when she was 4 years old.
– She also took ballet classes.
– She speaks both English and Korean, but also can speak basic Japanese.
– Lily signed to JYP Entertainment on May 4, 2015. Both JYP Entertainment and YG Entertainment scouted her, but she chose the former.
– She did hidden vocals in multiple songs by 3RACHA.
– She is the main vocalist of NMIXX.
– The genres she listens to the most are rock, R&B, and pop.
– Training Period: 6 years, 6 months
– She dislikes vegetables.
– She was supposed to debut with ITZY.
– Hobbies: Reading, listening to music, and watching YouTube videos
– Her childhood dream was becoming a singer in South Korea.
– Lily sang multiple OSTs when she was a child.
– Her Harry Potter house is Hufflepuff.
– She is friends with the actress Ahn Yuna.
– She formerly went by the stage name Lily M.
– Lily appeared on all 6 JYP trainee showcases.
– Charming Point: Stage presence
– She did voice acting for GOT7's If You Do.
– She loves eating potato chips.
– The kind of rock she listens to is pop-punk, old rock band, and emo rock, such as Red Hot Chili Peppers and Green Day.
– She appeared on Stray Kids (Episode 1)
– She had her own band in high school, performing in multiple cities of Australia.
– Her father taught her how to sing.
– She is a fan of Taylor Swift, GOT7, and Miss A.
– She trended in the top 10 worldwide on Twitter within an hour of her qualifying video being posted
– Fans describe her as the biggest happy virus to exist
– She was the 7th and last member of NMIXX to be announced.
– Her favorite pop artist is Taylor Swift. She even had a fan account of her
– She appeared on KPOP STAR 4, ranking 4th place (Auditioned with If I Ain't Got You by Alicia Keys)
– She had a fanbase since 2014.
– She likes mint chocolate chip ice cream.
– Her favorite season is Summer.
– She's traveled all around the world with different JYPE idols.
Note: Please don't copy-paste the content of this page to other sites/places on the web. Please do respect the time and effort the author put in compiling this profile. If you need/want to use info from our profile, please kindly put a link to this post. Thanks a lot! 
 – Kprofiles.com
Profile by sunniejunnie
How Much Do You Like Lily?
Related: NMIXX Profile
Do you like Lily? Do you know more facts about her? Feel free to comment below. 🙂