Benji Profile and Facts; Benji's Ideal Type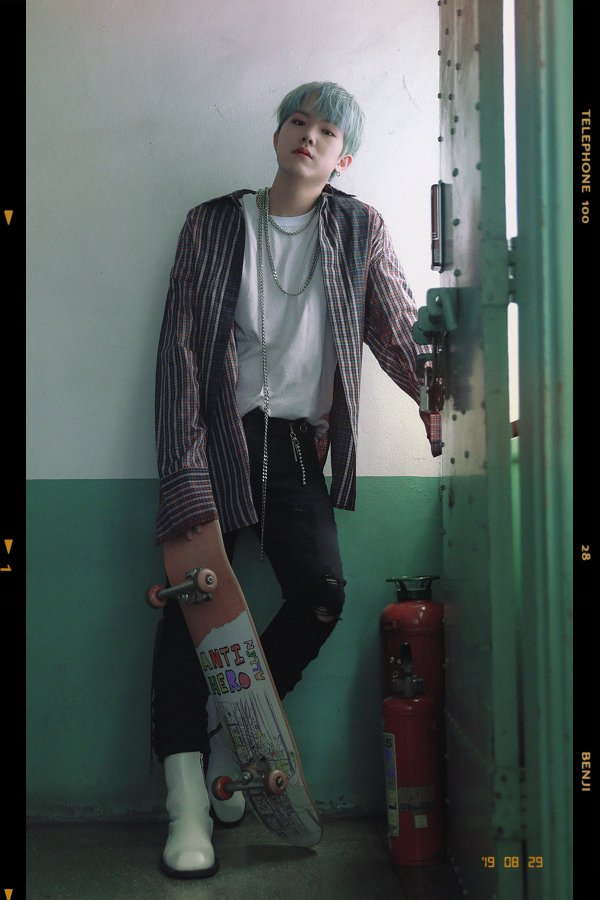 Benji (벤지) is a soloist, MC and DJ under GH Entertainment aswell as a member of B.I.G. He officially debuted solo on August 28, 2019.
Stage Name: Benji (벤지)
Birth Name: Benjamin Bae
Korean Name: Bae Jae Wook (배제욱)
Birthday: May 3, 1992
Zodiac Sign: Taurus
Nationality: American-Korean
Height: 183 cm (6'0″)
Weight: 72 kg (158 lbs)
Blood Type: B
Instagram: @baebenji92
Benji Facts:
– Birthplace: Indiana, USA but grew up in Seattle, Washington, USA.
– He doesn't have any siblings.
– Education: Juilliard School (dropout), Cleveland Institute of Music & Heifetz International Music Institute
– He has been playing the violin since the age of four.
– He moved to Korea in 2011 with the goal to become a singer.
– He was a trainee for 3 years.
– He debuted as the main vocalist, visual and face of the group of kpop boygroup B.I.G in 2014.
– Nicknames: BenJi, Puppy, BenjiBear
– His specialties are rap, violin, beatbox.
– He is funny, sexy and cute.
– Benji has his driver license in USA.
– His favorite food are everything except veggies.
– He started playing the violin at the age of 4 and studied it up until his first year of college.
– His hobbies are violin, yoyo, beatboxing, rap, writing lyrics, composing, cooking.
– His favorite girl group is Destiny's Child.
– Benji did a special stage with ASTRO's Eunwoo, Super Junior M's Henry, N.Flying's Jaehyun and Day6's Young K where they performed Love Yourself by Justin Bieber. Benji played the violin.
– He appeared in f(x)' Amber "Rogue Rouge: Get Over It" MV.
– Benji is a participant in JTBC's show "Superband".
– He has collaborated with Heyne for song 'Duet' (2016).
– He sang 'My Girl' for 'Go Go Song OST' (2019).
– On August 28, 2019, Benji debuted as a soloist with the single "Telephone".
– Benji's known ideal type: Someone who's nice and can dance.
Benji Variety Shows:
Hello Counselor | Guest (2017, KBS2)
Idol Tour | Guest (2017, MBC Music)
Access Showbiz Tonight | Guest (2017, SBS)
Kiss The Radio | Guest (2017, KBS Cool FM)
Simply K-pop | Special MC (2017, Arirang TV)
Talk Show Hello | Guest (2017, KBS2)
Video Star | Guest (2017, MBC Every 1)
Show Champion: Curtain Talk | MC (2016-present, YouTube)
K Culture Elite | MC (2015-present, Arirang TV)
TOUR VS TOUR | Fixed cast (2015-present, Arirang TV)
Good Life | MC (2015-present, Channel A)
Music Access | DJ  (2014-present, Arirang Radio)
Always Cantare | Fixed cast (2014-present, tvN)
made by Min Ailin
Note: Please don't copy-paste the content of this page to other sites/places on the web. If you use info from our profile, please kindly put a link to this post. Thanks a lot! 🙂 – Kprofiles.com
Latest Korean Comeback:

Back to B.I.G Profile
Do you like Benji? Do you know more facts about him? Feel free to comment below.😊