BANG YONGGUK Profile and Facts; BANG YONGGUK's Ideal Type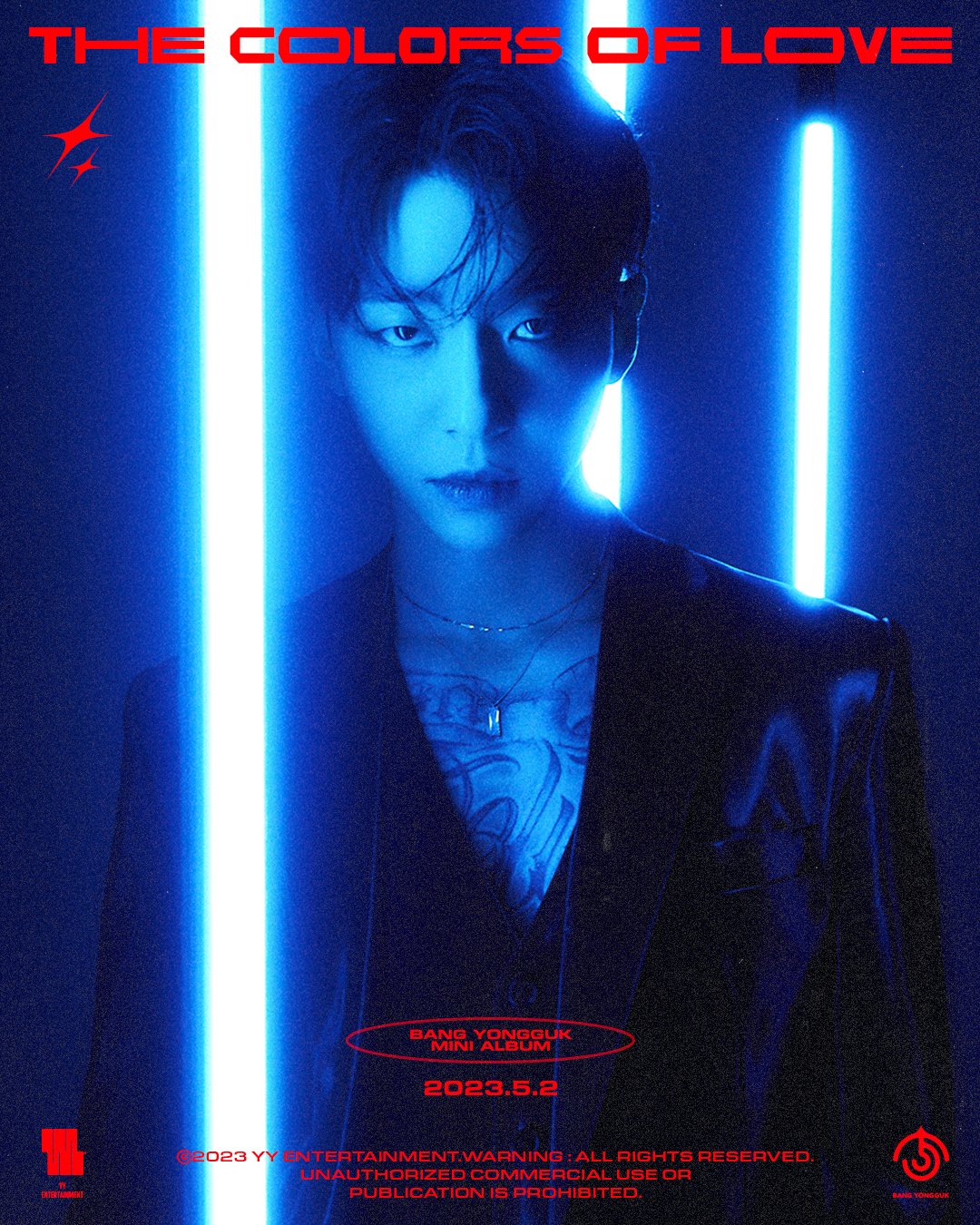 BANG YONGGUK (방용국) is a soloist under YY Entertainment and former leader/member of B.A.P (Best Absolute Perfect) formed by TS Entertainment. He debuted solo with single "Yamazaki" on July 4, 2017.
Stage Name: BANG YONGGUK (방용국)
Birth Name: Bang Yongguk (방용국)
Birthday: March 31, 1990
Zodiac Sign: Aries
Height: 182 cm (6'0″)
Weight: 60 kg (132 lbs)
Blood Type: O
MBTI Type: INTJ-A
Nationality: Korean
Twitter: @BAP_Bangyongguk
Instagram: bangstergram
Website: BANG YONGGUK OFFICIAL
Soundcloud: bangxter
YouTube: BANG YONGGUK
BANG YONGGUK Facts:
– He was born in Incheon, South Korea.
– At a young age, he moved for a short time to the coastal Ijak islands of Incheon.
– Family: Parents, older sister (Natasha), older identical twin brother (Yongnam).
– Education: Kyunghee Cyber University, Yuhan High School ('08), Gae Woong Middle School.
– He speaks Korean, Japanese, English and is also learning Spanish.
– He served as the leader and main rapper of k-pop boy group B.A.P between 2012 and 2018 until his contract with TS Entertainment expired and he decided not to renew it. All B.A.P members have hinted the possibility of future reunion under a different name.
– He was discovered for his skills on writing lyrics after he posted some of his rap lyrics on an online forum while he was still in middle school.
– He used to be part of an underground hip-hop group called 'Soul Connection' under the stage name Jepp Blackman .
– Hip-hop duo 'Untouchable' were the ones to recommend Yongguk to their agency TS Ent. Yongguk signed with his turn under TS in 2010..
– A year prior B.A.P's debut, he and former groupmate Zelo debuted in a sub-unit rap duo called Bang & Zelo.
– His twin brother, Yongnam has also performed as an underground rock artist.
– As a B.A.P. member, he was the closest to Himchan. He also used to share a room with Himchan in the dorm.
– He trained for 6 years in total.
– Favorite colors: Red and Black.
– Sushi and Steak are his favorite foods.
– Favorite movie: Midnight in Paris.
– Favorite wine: Pinot Noir by Farr.
– His favorite F1 driver is Lando Norris.
– Favorite song: After the Rain by John Coltane.
– He has 6 known tattoos.
– His sister Natasha is a tattoo artist.
– He started talking when he was 5 years old.
– In B.A.P. he was known as the 'dad'.
– Hobbies: Writing lyrics, composing music, playing alone.
– He also sometimes uses the stage name Andrew Baag.
– Yongguk has a quiet and shy personality. He likes to work in a quiet atmosphere so it can be secure for him. (Dazed Korea)
– He has written/produced many B.A.P. songs, including all the tracks from their debut EP 'Warrior'.
– Musical influences: 50 Cent, P Diddy, Pharrell, Supreme Team, Dynamic Duo.
– In 2016, he was absent from B.A.P's  studio album 'Noir' promotion due to anxiety.
– On August 23, 2018, he left TS Entertainment as he decided not to renew his contract.
– On March 15, 2019, he released his debut solo album "BANGYONGGUK" which was ranked No.9 on Billboard's World Albums Chart.
– He released a short film about himself titled "Something To Talk About" on April 19, 2019. Prior to that, he had also uploaded a short film about himself called 여행 (Journey) on February 25, 2019 via his official Youtube channel.
– His MBTI type suggests that he is a person with the Introverted, Intuitive, Thinking, and Judging personality traits.
– Yongguk enlisted in the military on August 1, 2019. He got discharged from the military in May 2021.
– On September 15, 2021, he announced the establishment of his own agency CONSENT.
– On March 30, 2023, he signed under YY Entertainment.
– BANG YONGGUK's Ideal Type: A virtuous woman.
Note: Please don't copy-paste the content of this page to other sites/places on the web. If you use info from our profile, please kindly put a link to this post. Thanks a lot! 
 – Kprofiles.com
made by Min Ailin
(Special thanks to ST1CKYQUI3TT, Rosy, Chillin's short bodyguard)
Do you like Bang Yongguk?
Latest Korean Comeback:
Do you like BANG YONGGUK? Do you know more facts about him? Feel free to comment below.