Understanding ENHYPHEN's Concept: Drunk-Dazed 


ENHYPEN's comeback with Border: Carnival is nothing short of extraordinary. Their music video for title track Drunk-Dazed , continues on with the vampire concept that we first saw in Given-Taken. But this time letting Enhyphen act like rebellious party boys.
Let's get into it!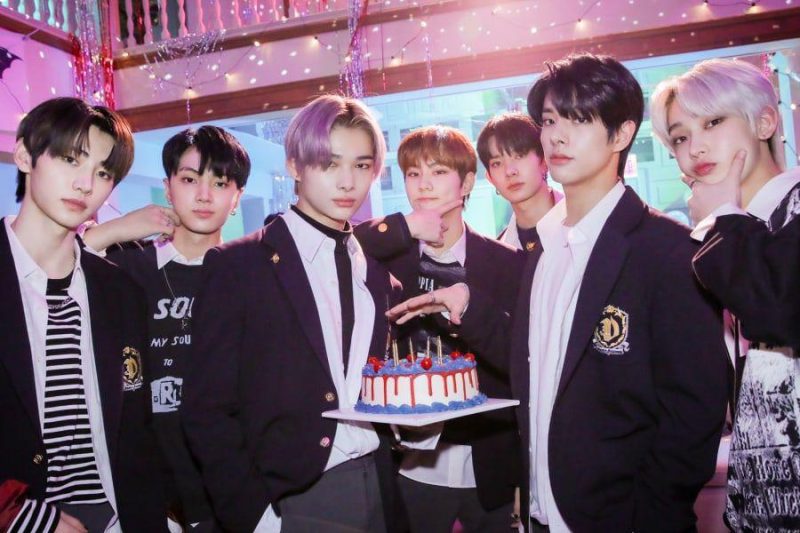 In the intro we see shadow figures, in the shape of monsters. There is a possibility that these "monsters" represent K and EJ, former I-LAND contestants and future members of HYBE Labels Japan's new boy group. K and EJ may be trying to attack or even kill ENHYPEN. One of the most common vampire myths, is that werewolves and vampires hate each other.
Story line
In the music video for Drunk-dazed, all seven Enhyphen members are vampires. And throwing this party is a way to lure in prey so they can get their blood.
The plot
In the opening scene we see a teenage girl opening an invitation to Enhyphen's (or you could say Jay's) party. Which eventually leads us to the crazy, chaotic party scene.
But as you probably guessed it's much more than that. The party is a metaphor for their busy, exciting, party-like lifestyles. The "alcohol" (blood) we see them getting drunk on ,is showing us how at times their careers can be quite intoxicating. But it's still enjoyable and addicting. This makes sense with the lyrics "I'm addicted, I replay, play, play".
The music video also represents the chaos that comes with being an idol . As we see quick flashes of partying and dancing.
We also see Enhyphen looking up to a female figure. This female figure seems to be their leader, who gives them commands.There are many theories concerning who this lady is. Some think this woman is Artemis (A Greek god who has ties to vampires). Others think it might be GFRIEND's Sowon.
The crown Sowon wears in GFRIEND's performances might symbolize her as a goddess in part of a wide HYBE Labels universe.
After this climax we see the scenes get progressively bloodier. We see Sunoo sitting on a fountain and pouring blood into the fountain. It then overflows with ,you guessed it, blood.
This is a fountain of eternal youth. As you probably know vampires drink blood to stay young and immortal. The flashes we see throughout the music video of the Victorian era further solidifies their immortality.
We also see Sunghoon dancing in blood rain until he faints.
We never see anyone getting killed but we can assume the party led to their guests demise. After one more group choreography scene, the music video comes to a close with the same girl we saw in the intro.
Conclusion
Drunk-Dazed delves deeper into the darker side of being an idol. The vampire theme of the music video indicates they are feeding off the energy of their new idol life.
Along with the music video, the topic is actually about the anxiety-inducing chaos of the K-pop life. The exciting and fast-paced nature can be really fun. but it can also be stressful.
Note: Please don't copy-paste the content of this page to other sites/places on the web. Please do respect the time and effort the author put in compiling this profile. If you need/want to use info from our profile, please kindly put a link to this post. Thanks a lot! 🙂 – Kprofiles.com
Made by Haengbok(⁠´⁠⊙⁠ω⁠⊙⁠`⁠)⁠!
Related: Understanding ENHYPEN's Concept: Given-Taken
ENHYPEN Profile
Do you like the Drunk-Dazed's concept? Feel free to comment below! 🙂