Ji Suyeon (Weki Meki) Profile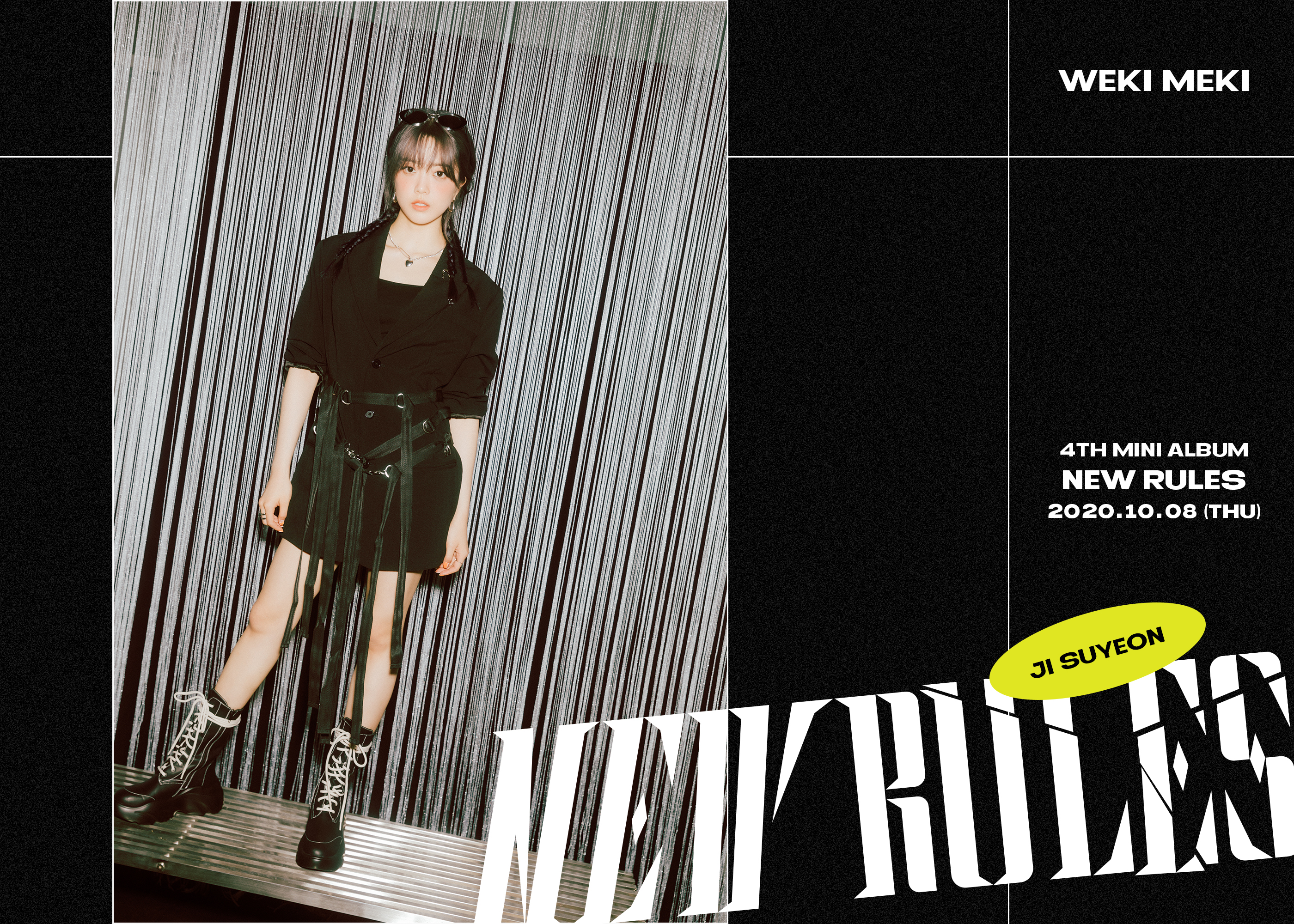 Ji Suyeon is a member of the South Korean girl group Weki Meki under Fantagio Entertainment.
Stage Name/Birth Name: Ji Su Yeon (지수연)
Birthday: April 20, 1997
Zodiac Sign: Aries
Chinese Zodiac Sign: Ox
Height: 165 cm (5'5″)
Weight: 44 kg (97 lbs)
Shoe Size: 230mm
Blood Type: O
MBTI Type: ISTJ (Her previous result was ISFJ)
Representative Emoji: ☁️
Instagram: suye.on2di
Soundcloud: SUYEON2Di_
Ji Suyeon Facts:
– Her hometown is Goyang, Gyeonggi province, South Korea.
– Education: Bansong Middle School, Hanlim Multi Arts School, Baekseok Arts University.
– Nickname: Initiative Suyeon, Hyung, Unnie Leader, Jishu.
– She's friend with Secret Number's Lea.
Suyeon starring as Eo Hye Ju on musical "Bungee Jumping of their own" (For detail you can check Ji suyeon profile on playdb website)
– She was a former trainee under CJ E&M and WM Entertainment.
– In 2014 she appeared in a Korean Pizza Hut commercial.
– She is able to play the piano.
– She has briefly performed in China.
– She takes care of other members well as the leader.
– She was the last member to be officially introduced.
– Members said that Suyeon sleeps the most.
– She is really good at math. She can even make the sum of large numbers mentally.
– She sweats a lot during dance practices.
– She's a fan of f(x).
– Suyeon was on Episode 190 of King Of Masked Singer, as "bell".
– She used to play basketball.
– She wants to make music with live session like PENTAGON or SEVENTEEN (Source: Never Stop Being A Fan Ep. 48)
– Peeling her lips is her habit. (Source: 88s Who Am I)
– She is a fan of the Youtube influencer Pengsoo.
– She reads book every night.
– She updated her MBTI type to ISTJ on vLive – Last Day of 2021. Her previous result was ISFJ.
– Suyeon likes hedgehog and she finds them cute.
– She is friends with Oh My Girl's Yubin and the ex member, Kim Jiho.
– She tends to wear clothes back-to-front and inside-out.
– Favorite movie: Spirited Away.
– She likes ice cream with yoghurt strawberry flavor.
– She prefers seas over mountains.
– She thinks that her eyes are her charming point.
– She likes Kotaro.
– Whenever she wakes up in the morning, she turns off her alarm first.
– She once participated in ALS Ice Bucket Challenge.
– During school days, she liked science the most and found language arts the most difficult subject.
– She was a contestant on V-1 (Eliminated in episode 2)
– Despite both being terrible at cooking, her and Elly have a series on their channel "Cooking SU-LY Magic" (요수리 뚝딱👩‍🍳).
– She with Elly had an OST for drama My ID is Gangnam Beauty, titled "Love Diamond" (2018)
– Suyeon has a song with ASTRO's Moonbin, called "Language" (2018).
– She also has wrote "Sweet Winter" (2021) and composed "Just Us" (2020)
– She was the writer and the composer of their song "The Paradise" (2020) and "One Day" (2021)
– Suyeon is part of the main cast of musical "Bungee Jumping of Their Own". She plays Eo Hye Ju's character.
– Suyeon, Elly, Rina, and Lucy have an OST for web drama "Miracle", called "Between Us Two" (2022).
profile made by Emperor Penguin
Additional information provided by Everet Siv (Steven Surya)
Note: Please don't copy-paste the content of this page to other sites/places on the web. If you use info from our profile, please kindly put a link to this post. Thanks a lot! 🙂 – Kprofiles.com
Her King of Masked Singer performance:
Do you like Ji Suyeon? Do you know more facts about her? Feel free to comment below.