Skzoo (Stray Kids) Info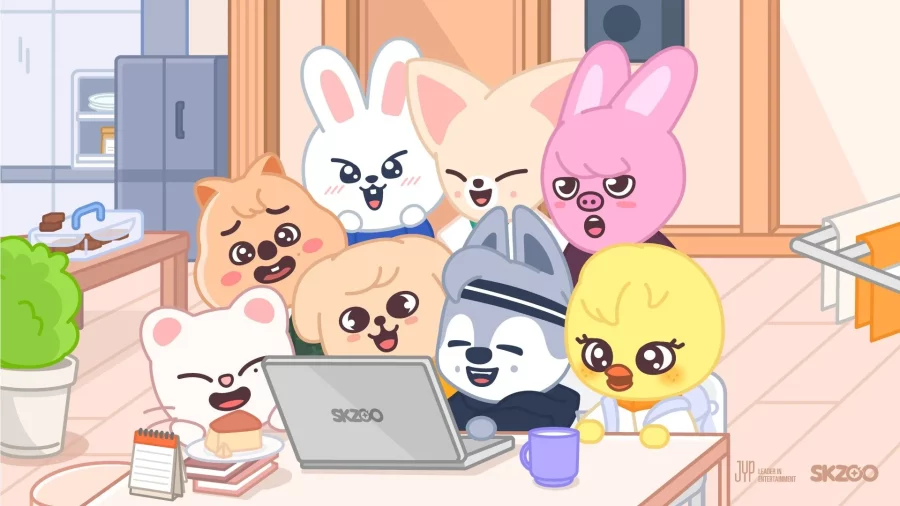 Skzoo is a project by Stray Kids where each member gets a designated character. Skzoo was first introduced on February 2, 2021, with the song "God's Menu".
We have since seen Stray Kids wearing life-sized versions of their characters for their comebacks with Thunderous and Case 143. There are many plush outfits available for Skzoo and for Stray Kids comeback with Maxident, the Heart Characters were released.
WolfChan (Bang Chan)


– Bangchan's character is inspired by Bangchan being the leader and his constant use of the wolf emoji when texting.
Leebit (Lee Know)


– Lee Know's character is a rabbit because he has front teeth similar to a bunny. Leebit's facial expression is inspired by Lee Know's mischievous personality.
Dwaekki (Changbin)


– Dwaekki is inspired by the clay sculpture Changbin once made that looked like a pig-rabbit hybrid.
– Dwaekki is a mix of the Korean words dwaeji (돼지, pig) and tokki (토끼, rabbit).
Jiniret (Hyunjin)


– Hyunjin got a ferret as his representative character due to fact he has the looks, height and fluid dancing of a ferret.
– Jiniret is a combination of his nickname "Jinnie" and the word "ferret".
HANQOUKKA (Han)


– Han got the character HANQOUKKA due to his resemblance to a quokka.
Bbokkari (Felix)


– BbokAri is inspired by Felix's cute and bright personality.
– BbokAri is a combination of "Bok" from Yongbok (용복, Felix' Korean name) and "byeongari" (병아리, chick).
PuppyM  (Seungmin)


– Seungmin has the character PuppyM because he is always being compared to a puppy.
FoxI.NY (I.N)


– Jeongin's character is a fox because of he is always being compared to fox due to his eyes.
Note: Please don't copy-paste the content of this page to other sites/places on the web. Please do respect the time and effort the author put in compiling this profile. If you need/want to use info from our profile, please kindly put a link to this post. Thanks a lot! 🙂 – Kprofiles.com
Made by Haengbok (⁠´⁠⊙⁠ω⁠⊙⁠`⁠)⁠!
Who is your favorite Skzoo character?
Related: Stray Kids Profile
Who is your favourite Skzoo character? Feel free to comment below!🙂