NUBOYZ Profile and Facts; NUBOYZ Ideal Type


NUBOYZ is an unit of StarShip Entertainment trainees consisting of Jooheon, Wonho, Shownu & #GUN. Later, the members went through the survival show NO.MERCY. Jooheon, Wonho & Shownu all debuted as members as MONSTA X  while #GUN debuted as a soloist.
NUBOYZ Fandom Name: N/A
NUBOYZ Official Fan Colors: N/A
NUBOYZ Official Accounts:
YouTube: starshipTV
Instagram: nuboyzofficial
Shownu


Stage Name: Shownu (셔누)
Birth Name: Sohn Hyun-woo (손현우)
Position: Leader, Main Dancer, Lead Vocalist
Birthday: June 18, 1992
Zodiac Sign: Gemini
Height: 181 cm (5'11")
Weight: 74 kg (162 lbs)
Blood Type: O
Shownu Facts:
– His hometown is Changdong, Donbonggu, Seoul, South Korea.
– He is an only child.
– He was a JYP trainee for about 2 years (he trained along GOT7).
– He likes meat and to exercise.
– He's still friends with GOT7.
– He was Lee Hyori's back-up dancer and performed with her ("Bad Girls," "Going Crazy" "U-Go-Girl")
– He starred in "High-end Crush" (2015), "Dae Jang Geum is Watching" (ep. 9-10)
– Shownu's ideal type: A pure woman like the actress Gong Hyojin.
Show more Shownu fun facts…
Wonho


Stage Name: Wonho (원호)
Birth Name: Lee Ho-seok (이호석), but he's known as Shin Ho-seok (신호석) since his ulzzang days
Position: Lead Vocalist, Lead Dancer, Visual *
Birthday: March 1, 1993
Zodiac Sign: Pisces
Height: 178 cm (5'10")
Weight: 77 kg (170 lbs)
Blood Type: B
Wonho Facts:
– His hometown is Sanbon-dong, Gunpo, South Korea.
– He has a younger brother (married)
– He is a former ulzzang.
– He appeared in "Ulzzang Shidae Season 3" TV show (2010/2011)
– He loves working out, buying electronics, studying song production.
– He starred in "High-end Crush" (2015)
– Wonho has acrophobia (fear of heights).
– He admires Kanye West a lot.
– On April 9th, 2020 Wonho signed with Highline Entertainment (A subsidary of Starship Entertainment) as a soloist and as a producer.
– Wonho's ideal type: Someone who makes ramyun well. When asked about marrying he said he isn't interested in marriage. "I'm not interested in marrying. My younger brother will marry someone, so there is no problem for my family."
Show more Wonho fun facts…
#GUN


 Stage Name: #GUN (샵건)
Birth Name:  Song Gunhee (송건희)
Birthday: June 26, 1994
Zodiac Sign: Cancer
Height: 174 cm ( 5ft 8 in)
Weight: 64 kg (141 Ibs)
Blood Type: A
Instagram: @sharp_gun_94
#GUN Facts:
– He had his solo debut in 2016, under the stage name #GUN.
– He participated in "Show Me The Money 5" where he was eliminated an episode before the finals.
– He has released several digital singles such as: "Beep", "Red Light", "Aquarium", "Park", "Lord".
– He is under StarShip Entertainment.
Jooheon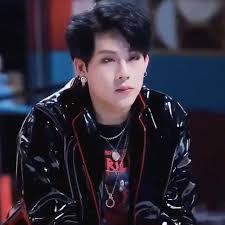 Stage Name: Jooheon (주헌))
Birth Name: Lee Ho-joon (이호준), but he changed his name to Lee Joo-heon (이주헌)
Position: Main Rapper, Sub Vocalist
Birthday: October 6, 1994
Zodiac Sign: Libra
Height: 177 cm (5'10″)
Weight: 67 kg (147 lbs)
Blood Type: O
Jooheon Facts:
– He was born in Seoul but he grew up in Daegu.
– He has a younger brother.
– He was the best rapper among the trainees.
– He admires Michael Jackson a lot.
– In addition to writing lyrics and song production, he also wants to take part in creating the album jacket and music video.
– Featured in MadClown's single even though he was still a trainee
– On August 31, 2018 he released the "Red Carpet" MV.
– Jooheon's ideal type: "A woman who suits well with jeans. All those people are my ideal type."
Show more Jooheon fun facts…
Note 1: Please don't copy-paste the content of this page to other sites/places on the web. If you use info from our profile, please kindly give us credits. Thanks a lot! 🙂 – Kprofiles.com
Note 2: Their positions are biased on the current profiles and group.
Note 3*: Although Wonho isn't part of MONSTA X, his position is still kept unless further info on his solo debut.
Credit: IZ*ONE
Who is your NUBOYZ bias? Do you know more facts about them? Feel free to comment below. 🙂