Minnie Profile and Facts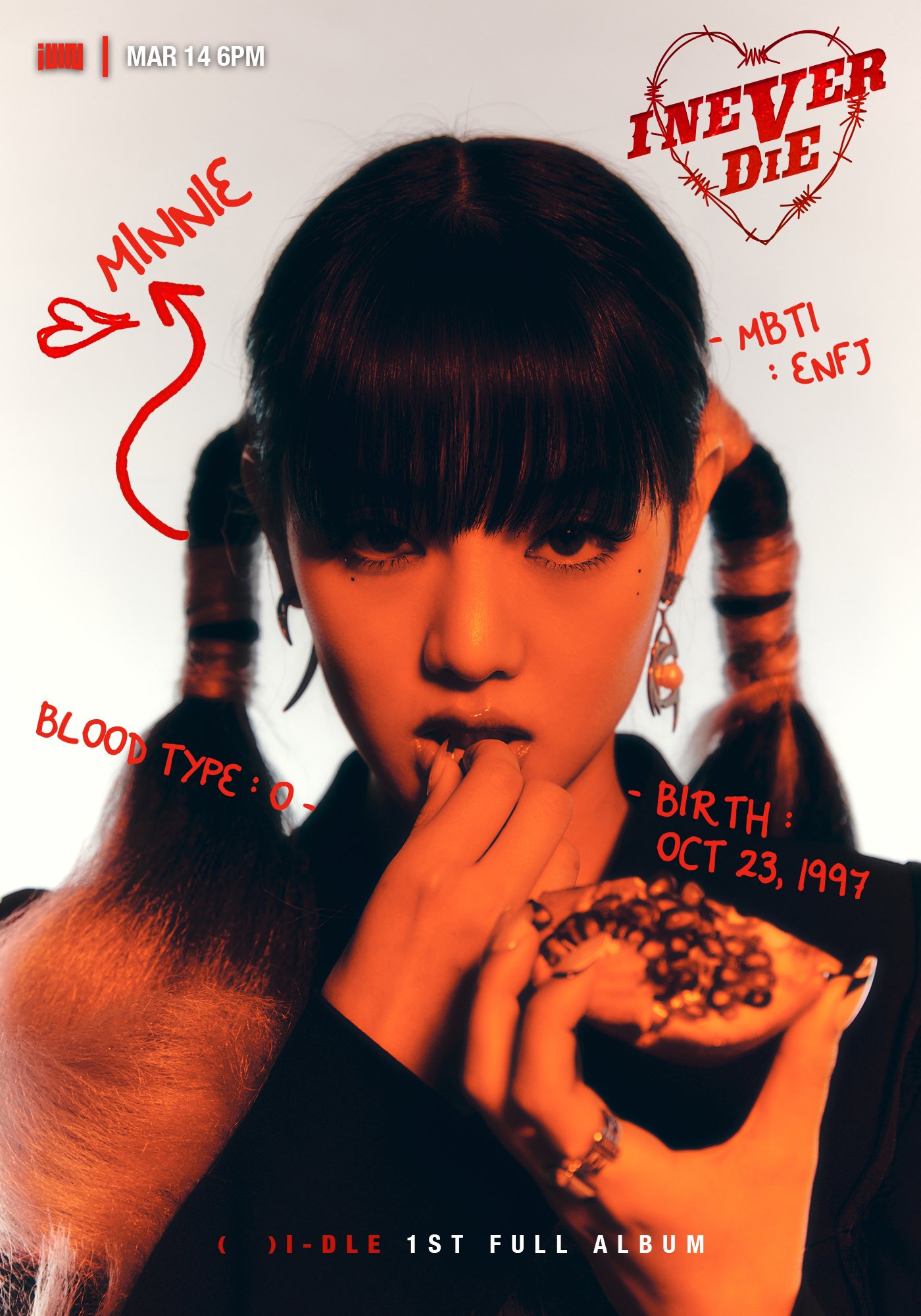 Minnie (민니/มินนี่) is an actress and member of the South Korean girl group (G)I-DLE under Cube Entertainment.
Stage Name: Minnie (민니/มินนี่)
Birth Name: Nicha Yontararak (ณิชา ยนตรรักษ์)
Korean Name: Kim Min Hee (김민희)
Birthday: October 23, 1997
Chinese Zodiac Sign: Ox
Thai Zodiac Sign: Libra
Westen Zodiac Sign: Scorpio
Height: 167 cm (5'6″)
Weight: 45 kg (99 lbs)
Blood Type: O
MBTI Type: ENFJ
Nationality: Thai
Instagram: @min.nicha
Minnie Facts:
– She's a Rising Star Cosmetics Model.
– Minnie has older twin brothers Mic and Mac, that's why her parents named her with a name that starts with 'M'.
– Education: Wattana Wittaya Academy.
– She can speak Thai, Korean, and English.
– Minnie came to Korea in 2015 after passing Cube's audition in Thailand.
– She's friends with CLC's Sorn and BlackPink's Lisa.
– She loves green tea.
– Minnie's hobby is shopping.
– Minnie appeared in Pentagon's 'Maker' MV.
– Minnie participated in the Line Friends Dance Party.
– What do you want to become in the future? "I want to be known worldwide as a representative of Thailand".
– Hard times as a trainee: "When I first came to Korea, I didn't know what the people were saying."
– She's left-handed.
– She was introduced in CUBE TREE on March 23, 2016.
– Her favorite color is pink.
– She has been in Korea for about 4 years.
– She has 4 dogs.
– She admires Troye Sivan.
– Audition piece: Sweater Weather by The Neighborhood.
– Minnie introduce herself as (G)I-dles's attractive voice.
– She shares a room with Yuqi.
– She came to Korea in the beginning of 2015, It was when CLC were preparing for their debut.
– She was taking singing and piano classes at a school called 'G-Vocal Studio' by GRAMMY, The same school that Sorn from CLC attended.
– She started taking piano lessons when she was 4.
– She started taking vocal classes in kindergarten.
– She took the Cube audition because her teacher told her to.
– Minnie and Yuqi were ELFs (Super Junior fans)  when they were young, When they first met each other, They kept talking about Super Junior.
– She's a fan of SCRUBB and STAMP.
– Before coming to Korea, She was listening to Lomosonic.
– She watched 'The Voice Thailand', That's why she's a fan of V Violette.
– She's a big fan of Troye Sivan, She liked him since he was a Youtuber.
– She said that if she would do a collaboration with another artist, It would be Troye Sivan.
– She has two brothers who are twins, Their names are Mac and Mic.
– She used to travel a lot.
– She has a brother who's currently studying in England.
– She once went to a trip to Thailand with Shuhua.
– She's known for having a unique and soothing voice.
– She's (G)I-DLE's meme queen.
– Minnie learned singing and playing piano at a school in Thailand called "G-Vocal", the same school that Sorn went to.
– Minnie is a fan of Super Junior.
– Minnie started learning piano in kindergarten because many of her family members play piano.
– Minnie makes songs on piano and is taking MIDI classes to become better at composing.
– Minnie was a good student and a class leader in middle school, but started getting lazy in high school.
– Minnie loves Japanese food.
– Minnie likes photography and was in photography club in school.
– Minnie wanted to study Communication Art in university and work in film production.
– Minnie is good at whistling.
– She is in a Thai group chat with Bambam (GOT7), Nichkhun (2PM), Sorn (CLC), Lisa (Blackpink) and Ten (NCT).
– She used to share a room with former CLC's Elkie , they used to talk to each other in english back then.
(Special thanks to jeon fam)
Note: Please don't copy-paste the content of this page to other sites/places on the web. If you use info from our profile, please kindly put a link to this post. Thanks a lot! 🙂 – Kprofiles.com
Post By YoonTaeKyung
(Special thanks to: karpis)
Back to: (G)I-DLE Profile
How much do you like Minnie?
Do you like Minnie? Do you know more facts about her? Feel free to comment below. 🙂