Minhyuk (Monsta X) Facts and Profile; Minhyuk's Ideal Type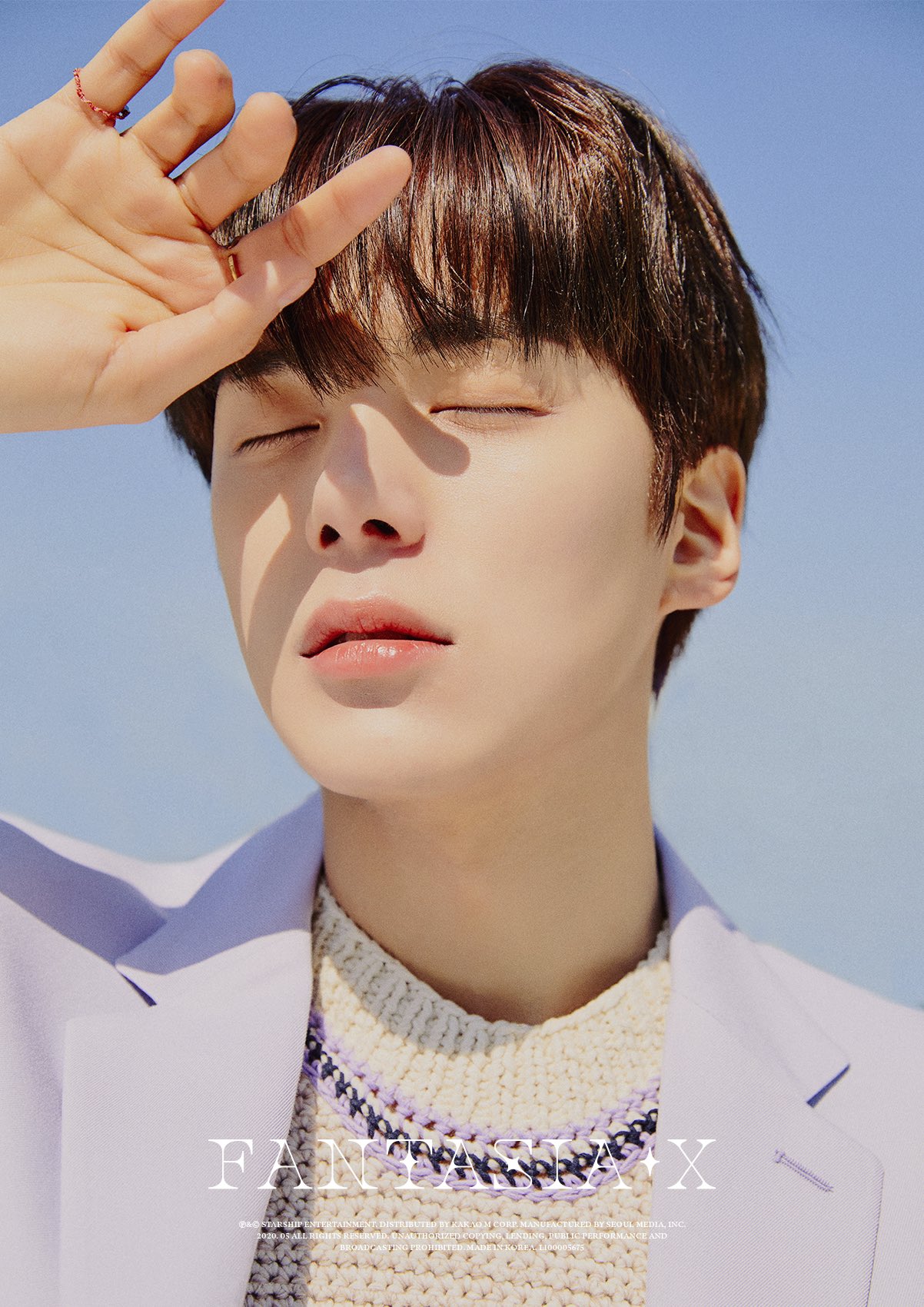 Minhyuk is a member of the South Korean boy group MONSTA X.
Full name: Lee Min-hyuk (이민혁)
Birthday: November 3rd, 1993
Zodiac sign: Scorpio
Height: 179 cm (5'10.5")
Weight: 65 kg (143 lbs)
Blood Type: A
MBTI Type: ENTP-T, his previous result was ENFJ
Representative Emoji: 🐶
Instagram: @go5rae
Minhyuk facts:
– He was the last member to be confirmed for Monsta X (After survival TV show No Mercy).
– He was born in Gwangju, South Korea.
– He lived in Seoul but he learned to speak satori from his parents.
– Minhyuk has a younger brother that already served in military.
– Minhyuk's mother is a former volleyball player. He said that she is very tall and that he took after her. (Deokspatch X – Ep. 7 Idol Beef World)
– He's the mood-maker of the group, lightening up the atmosphere with his jokes and funny personality.
– Specialty: Joking
– When the TV show NO.MERCY started, he was an outsider, and many of the viewers said that he would not make it to the final line-up of the group.
– Anyway, he proved everyone wrong, as he is a vital member of the group.
– His group members said he's the soul of the group, the one who keeps the atmosphere bright with his jokes.
– He has a strong desire to appear on variety shows and to MC on musical shows.
– He wears corrective lenses.
– Minhyuk always wears an iPad around.
– He cannot swim.
– He's difficult to wake up.
– He's the member who is the most difficult to convince to take a shower.
– He doesn't like hearing that he's cute, but he prefers hearing that he's sexy.
– He said he admires Soyou (Sister).
– He is close with UNIQ's Sungjoo, GOT7's Mark, Seventeen's Jeonghan, N.Flying's Kwangjin and actor Park Bo Gum.
– He always liked curvy girls with fair skin.
– If he'd be left on an isolated island with one of the members, he choose Shownu ("Because Shownu will cook and we'll eat together") or I.M ("I'll make him run errands!")
– If he'd have the chance he'd like to go to a cafe in Garosu-Gil with Kihyun and Hyungwon.
– He chose Shownu as the member he'd present to his sister if he'd had one.
– According to Minhyuk, himself and Shownu complement each other well. ("His personality is exactly opposite of mine. If I go out and do things, he would take a step back. If I talk a lot he doesn't talk at all. As a human I get attracted to him".)
– Minhyuk said he wants to try red hair color, just like Jooheon's hair in 'Hero'. (10Asia November Issue Monsta X Interview)
– He's most confident in his lips.
– He starred in "High-end Crush" (2015)
– Minhyuk participated on "Law of the Jungle" in Chile, replacing Kangnam (he got ill).
– He would like to learn acoustic guitar, because he thinks it would go well with his husky voice.
– He can hold his alcohol up to 2 cups of soju.
– His favorite drink is cola.
– He also likes cafe latte.
– His favorite ice cream flavors are yogurt, green tea and mango.
– His favorite food are sweet potato and pizza.
– His less favorite food are cucumbers.
– His favorite color is Red.
– His favorite number is 1.
– Minhyuk cries easily.
– He prefers sweet oranges over sour ones
– If he had to change his stage name, he'd choose Yeha (예하)
– He thought Shownu was the dance instructor when he first met him
– He thinks Wonho takes (his) pictures the best
– He can eat 3 servings of meat by himself
– He likes the song "Trivial Things" by Lee Sora. A lyric he likes a lot is 잠깐 일어나봐, 거기 어디니
– He prefers slippers over sneakers
– He talks a lot in MX' group chat
– He always fully charges his phone, no matter what
– Minhyuk worked on his abs for a week for their promotions on "Hero" as a gift for Monbebes.
– In the old dorm he shared a room with Kihyun, Jooheon and I.M.
– Many fans thought that Minhyuk was the maknae because of his cheerful personality and maknae-like attitude.
– Minhyuk said that the back of his head is really flat.
– Minhyuk has 2 tattoos: the whale on his knee (that was used to cover up his surgery scar), and a rose in a mirror on his back, that is meant to show self love.
– Minhyuk's the only one to have an air conditioner in his room because he won rock-paper-scissors against I.M and Kihyun. (Source: Kihyun's vLive on 210712)
– During 170421 KBSWORLD K-Rush FB Live, he said if he were a girl he would date Wonho.
– During NO.MERCY, Minhyuk picked SISTAR's Soyou as his ideal type.
– During NO.MERCY, Wonho picked Minhyuk as the most handsome trainee because he said he is so charming and always smiles a lot.
– Minhyuk was an MC for "Inkygayo". (October 20, 2019 – February 28, 2021)
– Minhyuk's ideal type: "A chubby girl. It'll be nice if it's someone who's the opposite of me. "
Note: Please don't copy-paste the content of this page to other sites/places on the web. If you use info from our profile, please kindly put a link to this post. Thanks a lot! 🙂 – Kprofiles.com
You may also like: Quiz: Who's your MONSTA X boyfriend?
(Special thanks to leeminhyuk.net, MBX, chxngkyunism, KaeMin22, Woiseu_MinMin, MXMH, klovesminhyuk, HyukMin22, FaceOfTheGroup, Aida Nabilah, Gabby Mesina, Rose, LeeSuh_JunDaeSoo, Martin Junior, Sky, rob)
How much do you like Minhyuk?
Latest Korean Comeback:
Do you like Minhyuk? Do you know more facts about him? Feel free to comment below.