Mashiho (TREASURE) Profile and Facts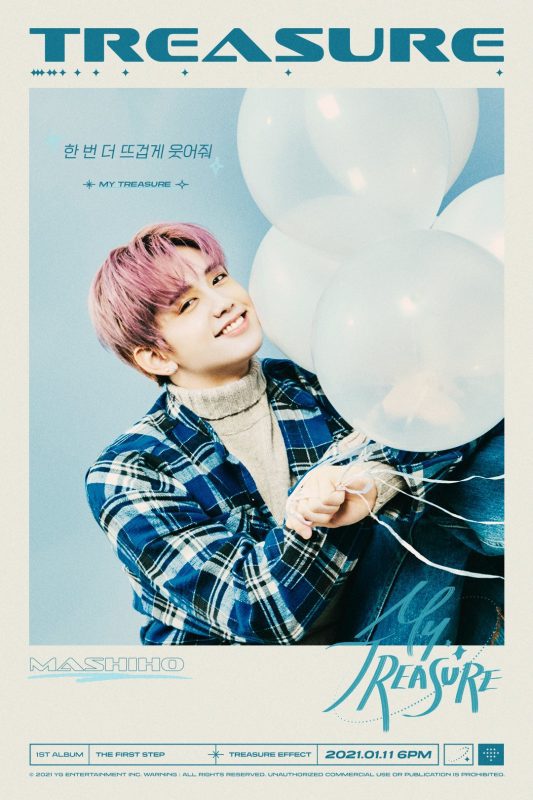 Mashiho (마시호) is a member of TREASURE under YG Entertainment.
Stage Name: Mashiho (마시호)
Birth Name: Takata Mashiho (高田ましほ)
Birthday: March 25, 2001
Zodiac Sign: Aries
Height: 169 cm (5'7″)
Weight: 60 kg (132 lbs)
Blood Type: AB
MBTI Type: ENFP-T
Nationality: Japanese
Former Unit: Magnum
Mashiho Facts:
– His hometown is Mie Prefecture, Japan.
– He thinks that his face is cute.
– Mashiho is left handed.
– He doesn't have any siblings.
– He has a dog named Kotesu in Japan.
– His favourite colour: Purple.
– Mashiho trained for 7 years (as of July 2020).
– The 3 words he'd use to describe himself are sexy, modest, and confident.
– Mashiho wants to become a singer that helps people have fun and enjoy themselves.
– He performed "Want To Want Me" in his introduction video.
– Mashiho's motto is "Giving joy to others is the greatest gift to oneself."
– Mashiho appeared as a cafe waiter in AKMU's short film.
– His Korean name is Jin Saebom.
– He got into YG Entertainment. in 2013 as a trainee.
— Mashiho has the most aegyo. (Superlatives with Seventeen)
– His English name is Mama.
– Hobbies: Golf, playing drums, decorating a room, fashion and cooking.
– Specialties: basketball, acrobatics, cleaning and workout.
– Mashiho got voted as the most handsome by the other Treasure Box trainees.
– He was the 2nd member to be announced for Magnum.
– Mashiho and Keita (YG trainee) are the first YG Japan trainees (YGTB ep 2).
– His childhood dream was to become a singer.
– Mashiho does not sweat on his face.
– He often produces music with fellow member, asahi
– His nicknames are Shiho, Mamoming and Mashi.
– Mashiho's favourite foods are sushi and meat.
– Fall and winter are his favourite seasons of the year.
– His favourite word is "healing".
– Mashiho's fans are knows as "Mashmellows".
– Line character: Matetsu.
– His favourite movie is "Your Name" (2016).
– Mashiho is the best at cooking among TREASURE members.
Note: Please don't copy-paste the content of this page to other sites/places on the web. Please do respect the time and effort the author put in compiling this profile. If you need/want to use info from our profile, please kindly put a link to this post. Thank you. – Kprofiles.com
————☆ Credits ☆————
»»Saythename17««
(Special Thanks To: Chengx425)
Do you like Mashiho? Do you know more facts about him? Feel free to comment down below.