Hyunsuk (TREASURE) Profile and Facts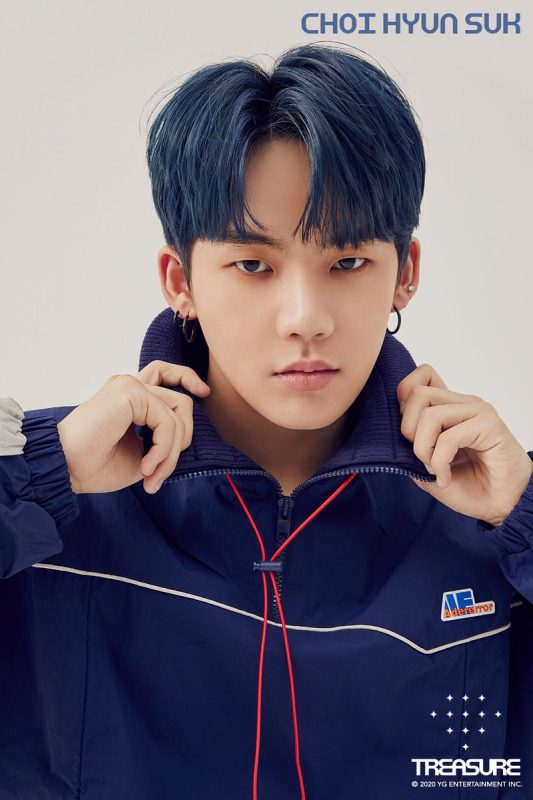 Hyunsuk is a member of TREASURE under YG Entertainment.
Stage Name: Hyunsuk (현석)
Birth Name: Choi Hyun Suk (최현석)
English Name: Daniel Choi
Birthday: April 21, 1999
Zodiac Sign: Taurus
Height: 171 cm (5'7″)
Weight: 58 kg (128 lbs)
Blood Type: A
MBTI Type: ENFP
Nationality: Korean
Former Unit: Treasure
Hyunsuk Facts:
– Is from Daegu, South Korea.
– Hyunsuk trained for 5 years (as of July 2020).
– He has a younger sister and brother.
– He loves to collects lip balms.
– He passed the audition for YG with V-Spec Academy.
– Favourite colour: Purple.
– Inspirations: Zico, Suga, Bobby, GD, B.I, Mino.
– He is a fan of Seo Yeji (Star Road Interview)
– His favorite football team is Real Madrid (Treasure PR Video)
– He likes Black Panther, Spider-man, Nova, and Deadpool (Treasure PR Video)
– He collects football jerseys.
– He doesn't care about name brands.
– Hyunsuk was voted as the most fashionable among the Treasure Box trainees.
– He also likes to eat burgers, nickname: Choi Burger (Treasure TMI EP2)
– When he was still young he was told he would grow up to 187 cm (Newsade Interview Profile)
– His trademark 7Chill has a meaning behind it. 7 in Korean pronounces "chil", birthday April 21st (4/21) 2+1+4=7, 7 was the first number he got when he first played football and also he was the 7th member. (VLIVE Birthday)
– Hyunsuk compose songs.
– His dream was always to debut under YG because he thinks it's a place where he can fulfill his dreams.
– English Name: Danny
– He used to be a MIXNINE trainee but ranked 5th since the debut got canceled.
– He dislikes black bean sauce
– Hyunsuk started rapping while he watched Big Bang and became fascinated by it.
– Trained for 5 years (July 2020)
– Describes himself as "Big Appetite", "Fashionista",  and "Newbie"
– In his introduction video he had performed "Humble"
– Last member announced for Treasure
– He knows how to write songs and compose them
– He is not confident because of his visual and body proportion
Note: Please don't copy-paste the content of this page to other sites/places on the web. Please do respect the time and effort the author put in compiling this profile. If you need/want to use info from our profile, please kindly put a link to this post. Thank you.
Made by: Chengx425 / wish_8_00_wish
(Special Thanks To: sas //🦖💙)
Do you like Choi Hyunsuk?
Do you like Hyunsuk? Do you know more facts about him? Feel free to comment down below.