Jeon Soyeon Profile; Jeon Soyeon Facts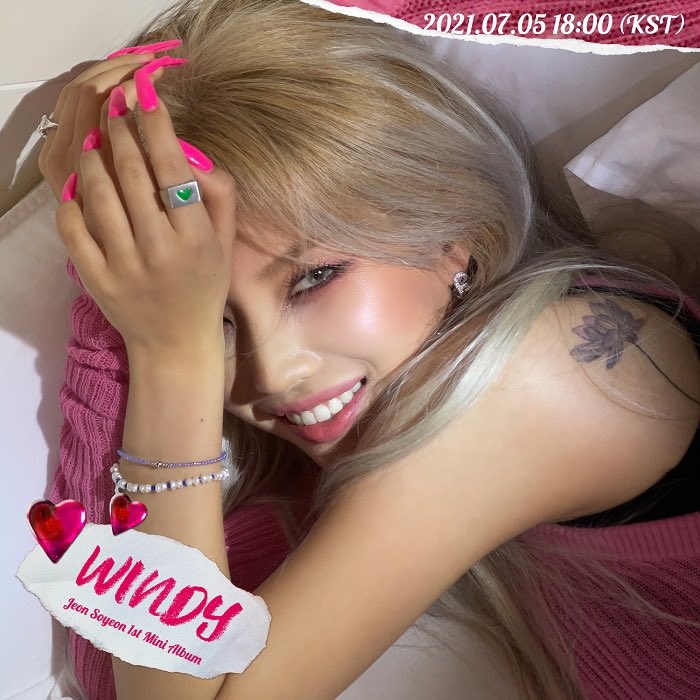 Jeon Soyeon (전소연) is a solo artist under Cube Entertainment and the leader/member of (G)I-DLE. She is known for joining PRODUCE 101 (placed 20th) and UNPRETTY RAPSTAR 3 (placed 3rd). She debuted solo on November 5, 2017, with her single "Jelly".
Birth Name: Jeon Soyeon (전소연)
Birthday: August 26, 1998
Zodiac Sign: Virgo
Height: 157 cm (5'2″)
Weight: 44 kg (97 lbs)
Blood Type: B
Nationality: Korean
Specialty: Rap, Dance
Instagram: tiny.pretty.j
Jeon Soyeon Facts:
– She was a participant on Produce 101 and placed 20th in the last episode.
– She joined Unpretty Rapstar 3 and placed 3rd.
– Her hobby is watching cartoons.
– She is known for her rapping skills.
– She is also a good singer. She was praised for her singing while recording for a mission in PD101.
– She was ranked Class A in the Company evaluation and A in the Pick Me Up Re-evaluation in PD101.
– Fans know her for being a short unnie because of her height difference with the other younger Cube trainees.
– She trained for 1 year and 6 months before joining PD101.
– Soyeon signed a contract with CUBE around December 2016.
– She gave some advice to Wanna One's Lai Guanlin and Yoo Seonho before going to Produce 101.
– Cheetah was impressed by her on Produce 101, especially when she wrote her own raps for songs.
– CUBE confirmed that she will re-debut in their new girl group which will debut in 2018.
– She vaguely introduced CUBE's new girl group (where she is to debut) in "IDLE SONG" MV
– Soyeon was homeschooled as a child.
– Soyeon used to dream of being a ninja.
– Soyeon used to do ballet.
– She said that during childhood she wanted to become a pirate, and after watching "Naruto" she wanted to become a ninja. XD
– She is very close with CLC's Eunbin.
– Specialty: Rap, Dance
– Favorite color is Yellow
– She is a picky eater and she dosen't like to eat vegetables.
– Loves Mint Chocolate
– Audition piece: G-Dragon's This Love
– Likes tangerines & corn but hates vegetables
– Big Bang inspired her to be an artist
– On May 2, 2018 she re-debuted with (G)I-dle.
– She introduced herself as (G)-Idle's CHARISMA LEADER
– Participated in composing the songs in (G)I-DLE's debut album 'I AM'
– She is part of SM Station X girl group project: Seulgi x SinB x Chungha x Soyeon.
– She's currently in League of Legends 'group' called K/DA.
– MBTI: INTP.
– Soyeon and Miyeon are roommates.
– Her ideal type would be Zoro from "One Piece".
Post by: Piggy22Woiseu
(Special thanks to legitpotato, Lizzie V, diggi)
Note: Please don't copy-paste the content of this page to other sites/places on the web. If you use info from our profile, please kindly put a link to this post. Thanks a lot! 🙂 – Kprofiles.com
How much do you like Jeon Soyeon?
You may also like: Jeon Soyeon Discography
Songs Soyeon Has Produced

Latest Korean Comeback:
Do you like Jeon Soyeon? Do you know more facts about her? Feel free to comment below. 🙂