Interview with Blackswan


We talked with Blackswan about future plans, their musical inspirations and more! [Date: April 10, 2022]
You can view Blackswan's profile here.
Before starting, would you like to say something to the people who support and wait for you?
Youngheun: To our Luminas who have been waiting for us and supporting us so far, we will surely repay you as much as we can. So please look forward to it in the future. I love you so much and thank you.
Fatou: Thank you so much for your support and patience. We'll work hard to repay you guys, see you soon! I can't wait to meet you guys again with new music and style!
Judy: Thank you for always waiting by my side and supporting me until the end.
Leia: There are so many people who support me, first my family, specially my dad and mom, all the fans who are always there for me.
Is it hard being a group with international members? Are there problems in communication? How do you solve it?
Youngheun: There is no problem with communication anymore, but we all live in different cultures, so when we deal with certain situations, we bump into each other a little bit.
Fatou: There are some difficulties sometimes with communications. But I'm blessed with the most understanding and patient members so we solve it always as quick as possible and have long conversations to clear out any misunderstandings.
Judy: I'd be lying if I said it wasn't hard. There are many misunderstandings in communication. However, because we have different nationalities, environments, and cultures, we understand and communicate a lot.
Leia: Yes is not that easy, we have some misunderstandings sometimes, but to solve them, we talk more calmly.
Do you have any plans to release new vocal or dance covers?
Youngheun: Absolutely. I rested too much. In the meantime… a vocal cover… Please look forward to it.
Fatou: I have 2 original songs I'm working on to share with you guys on YouTube! These 2 songs will show you in what direction I would like to go later on with my music.
Judy: Yes, we are preparing a video cover for YouTube content.
Leia: I want to do some Brazilian song covers!
What's the charms of each member?
Youngheun: Freedom?? It's a common charm point. There are a lot of charms that our fans find that we don't even know, so it's hard to define. We seem cold sometimes, but that's another charm.
Fatou: We have cute, charismatic, edgy, cool, sexy, hip, whatever you could ever want in every single one of us.
Judy: We have a pleasant, non-pretentious and candid personality.
Leia: I think Youngheun is the one who sees details that the others miss out. Fatou is the strongest one (literally). And Judy is the fashionista.
Every members, please recommend a song for your fans' playlists.
Youngheun: Doja Cat – "Candy" / Seori – "Can't Stop This Party "/ Cosmic Boy – "Can I Love?"
Fatou: These days I listen to Kendrick Lamar's "Rigamortis" and Drake's "What's Next and Fair Trade!"
Judy: Blackswan – "Close to Me"
Leia: For me now it's "Penhasco" from Luisa Sonza, this is just my favorite song.
Do you have any official positions? They haven't been officially revealed yet.
Youngheun: I'm the Leader and Main Vocalist.
Fatou: Mine is Rapping, but I give you a bit of everything.
Judy: I am in charge of the Dance position.
Leia: I'm the Maknae.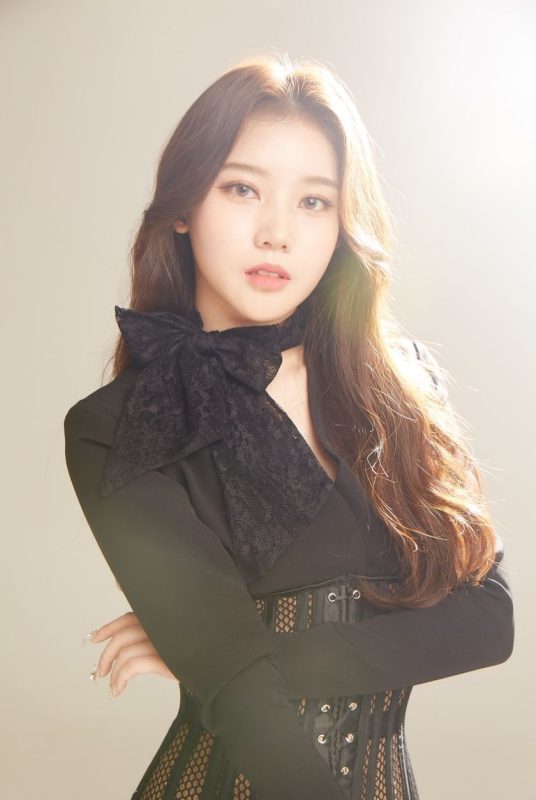 Can you speak any other language? If yes, where did you learn it?
Youngheun: A little bit of English and Japanese. I was there (Japan) for a few weeks because of a performance in the past, so I learned about everyday terms while listening to people, and I've been  learning  English by asking Fatou a lot.
Fatou: I speak Korean, English, French and Dutch. I've learnt Korean from my members and watching a lot of dramas and variety shows. I've learned French and English in school and I read tons of books in these languages while I was in school, to really get a good grip of it. Dutch too.
Judy: I am still learning other languages. I was exposed to Japanese, but I learned it when I was in school.
Leia: I can speak a little bit of English, I used to watch a lot of American programs, which helped me understanding the language more.
Do you have any plans to release ballads or slower songs?
Youngheun: I really want to. Of course, there are plans to make an announcement.
Fatou: A slower melodic rap, totally.
Judy: I don't know yet.
Leia: This is a secret.
All of you have good chemistry, is there anything else you want to do as a group besides making music?
Youngheun: Blackswan Off the Record.. I want to show our realistic, really raw appearances in the practice room, offstage, in the form of content, but I think the company will stop it. ㅋㅋ
Fatou: Maybe appearing in a drama or movie together would be a nice challenge.
Judy: I want to appear on variety shows with the members.
Leia: I want to do more tv shows, really.
If you have a chance to perform overseas, which country you would choose?
Youngheun: I really want to visit the US, and I really want to go to Belgium again, because I have so many memories of Belgium. In fact, I love performing abroad in any country. The atmosphere is different from doing music in Korea, so I really want to have overseas concerts. It's so good.
Fatou: Belgium!
Judy: Belgium, USA, Brazil.
Leia: Every country. Literally I want to see all the Luminas.
Would you like to act in the future?
Youngheun: I want to do it, if the opportunity arises. I also have a dream to do musicals, so I definitely want to try it at least once… Above all, I think all of our members would do well…
Fatou: I would love to act, something intense maybe.
Judy: I've always been interested in acting. I watch a lot of dramas and think about my emotions a lot…
Leia: Yes!! I really love movies. If I get to have this opportunity, I would take it with my two hands!!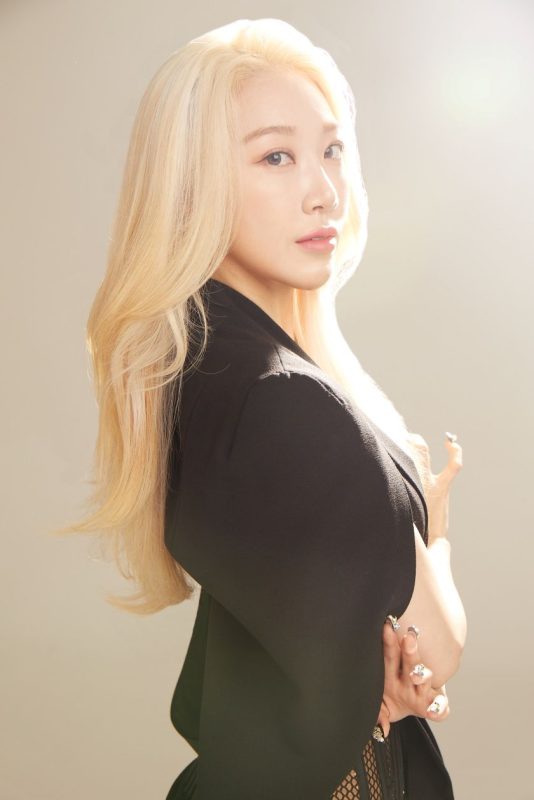 What's your specialty? (dance, vocal, rap, composing etc.)
Youngheun: I'm working hard to gain more confidence in vocals. Probably because I am more greedy for vocals.
Fatou: Rap, rap making!
Judy: Dance.
Leia: Vocal, I think.
Can you tell us your special ability?
Youngheun: Eloquence… I'm the one who speaks best in the team. I have a good memory. I don't know if this is a special ability, but I memorize melodies and lyrics quickly.
Fatou: My fingers are really flexible so I can make weird shapes with them. It's weird, I know.
Judy: I can't speak well, but I have the ability to make anyone understand. 🙂
Leia: I'm good at being playful.
Do you have a model? If so, who is it?
Youngheun: Ariana Grande and Doja Cat. They are really great. They're so, so, so, so great.
Fatou: Beyoncé, Rihanna, Nicki Minaj, SHINee and SNSD.
Judy: Korea's #1 artist, IU senior.
Leia: My models are Audrey Hepburn and Marilyn Monroe.
What is the strength of each member?
Youngheun: Each time I see something new… It's hard to say what each one of them is. As I see the whole team, when their strengths come together to create good synergy, it's too complicated to say individually. First of all, the common advantage is that each of us have our own charms.
Fatou: I think we share the most important one, being loyal. We're all loyal to each other.
Judy: Youngheun unnie always accomplishes the given task quickly and acts responsibly. Fatou is passionate about music and works hard in rap. Leia is the youngest, so she has a lot of aegyo, jokes a lot, and has a good affinity.
Leia: Like I said before, I feel Youngheun is the one who sees more details, Fatou is the strongest and Judy is the one who wears clothes better.
Describe Blackswan with 3 words.
Youngheun: Unique! Be unique in our greetings! This one. Blackswan is the only K-pop group that is unique in many ways.
Fatou: Strong, fun, chameleon.
Judy: Unique.
Leia: Uniqueness, variety, love.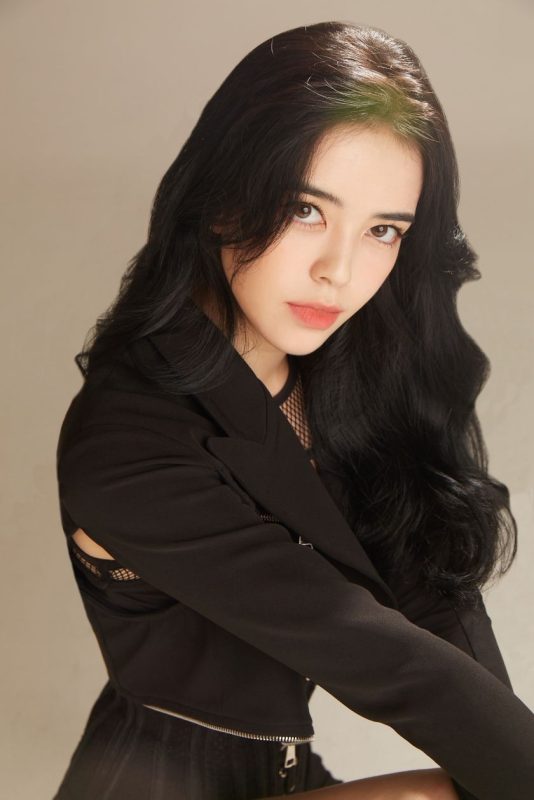 Which member cooks best? And who cooks worse?
Youngheun: First of all, I know Judy cooks, but I've never actually eaten Judy's homemade food. I want to try it. I have eaten grilled meat (made by Judy) many times. Judy's meat is good…
Fatou: I'm pretty confident in my cooking if you know what I'm saying, so I choose me!
Judy: We don't cook each other's meals, but mainly eat cooked food.
Leia: Judy cooks best.
How to describe your style?
Youngheun: I enjoy feminine and casual, sometimes chic style.
Fatou: I dress how I feel that day, but mostly it's dark, edgy and sensual.
Judy: Cool style without decorating.
Leia: I am really simple, but also don't have a specific style. I sometimes like a dark style and sometimes sparkly things.
What style of singing / rap and dancing do you have?
Youngheun: These days, I'm into hip-hop, R&B, and city pop genres, so I'm trying to capture my color in those areas. And I think my voice color suits it well. So I'm trying to find my own groove in me…
Fatou: I think my rapping style is rather clean, which I'm working on to get it to be more flexible.
Judy: I like the psycho-like music and concept style of Red Velvet seniors.
Leia: I don't really know how to explain. For dancing, I like songs with Latin beats.
How did you react when your debut single came out?
Youngheun: I thought I'd cry or be overjoyed, but I didn't feel anything. I was excited until the music video was released, but when I saw it came out, I couldn't feel it, so it was just like someone else's debut. This is the end.
Fatou: I was scared to be honest haha, mostly about the reaction. But I was really happy.
Judy: Everyone was so surprised and curious. It cheered me up because it was so cool.
Leia: It was like a shock, I didn't realize that it had really happened.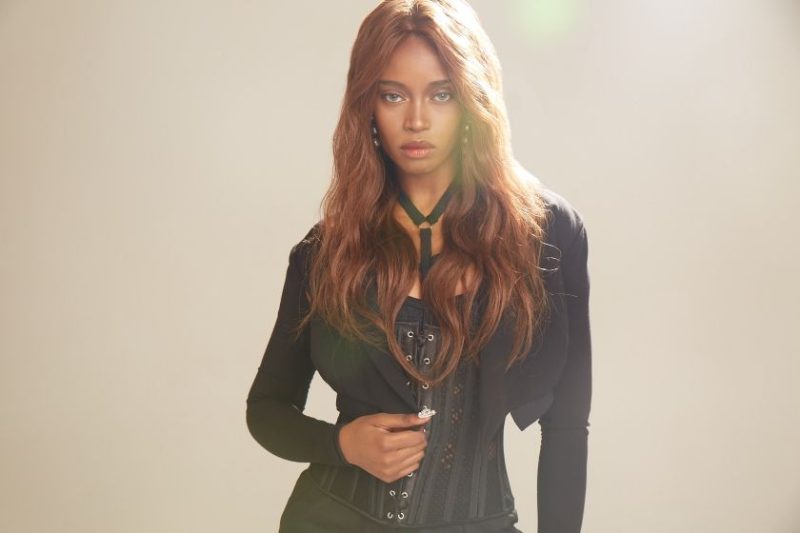 What is the best memory from when you were a trainee?
Youngheun: I was a trainee before Corona, so as Rania, I went to concerts in China and Romania and held events. I think that was the best time. After Fatou and Judy joined, we finished practicing and enjoyed a small party together at the dorm… That was the most fun and good time.
Fatou: When the members would get together and eat, play and just relax together.
Judy: When we talked with the members over a delicious meal after practice, when we lied down after taking a shower after practice.
Leia: I can remember when we used to go eat after the practice, that was a really good time.
What is your biggest dream both as a person and as a member of Blackswan?
Youngheun: Once I succeed as a Blackswan, I want to succeed as a solo vocalist as well. I want to challenge various genres.
Fatou: As a person I strive for happiness, as for Blackswan I want to be an artist with its own color and own style, and make music that inspires others.
Judy: It is my biggest dream to do a world tour concert with the members.
Leia: I hope Blackswan can be bigger, and show to everyone that making your dream come true is not impossible.
Related: Blackswan Profile
(by irem)
Are there any other people you'd like us to interview? Feel free to comment down below! 🙂