So Junghwan (TREASURE) Profile and Facts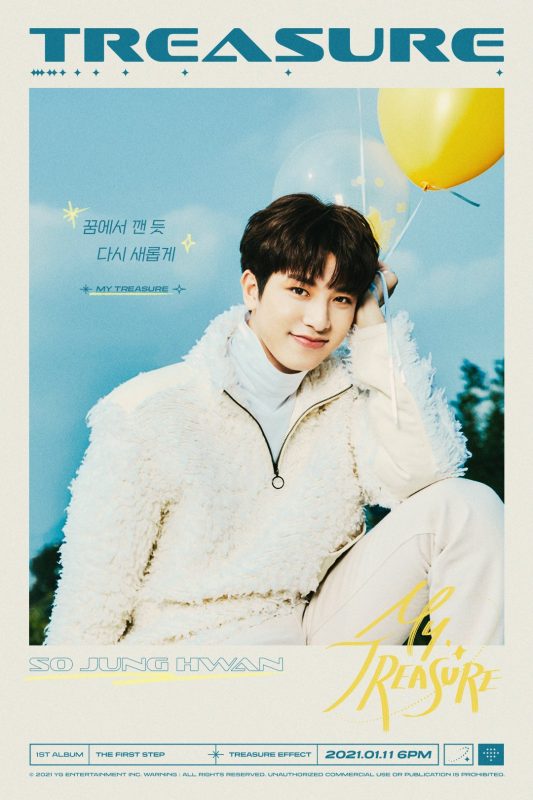 Junghwan (정환) is a member of TREASURE under YG Entertainment.
Stage Name: So Junghwan (정환)
Birth Name: So Jung Hwan (소정환)
Birthday: February 18, 2005
Zodiac Sign: Aquarius
Height: 179.1 cm (5'10.5″)
Weight: 67 kg (147 lbs)
Blood Type: B
MBTI Type: ENFP-T (He updated his result on March 2, 2021 via Twitter)
Nationality: Korean
Former Unit: Treasure
Junghwan Facts:
– His hometown is Iksan, Jeollabuk-do, South Korea.
– Junghwan was in K tigers and is really good at acrobatics.
– When he was nine, Junghwan was in Yeongdong peaches ad.
– Junghwan says Inhong is his best friend.
– His nicknames are sloth (Junkyu gave him this nickname) and Super King Cow Baby (Jeongwoo gave his this name).
– Junghwan and Jeongwoo are schoolmates.
— Junghwan smells like a baby. (Superlatives with Seventeen)
– His English name is John.
– Hobby: Playing games.
– Junghwan was a child model and appeared in many CF's.
– Junghwan and Jeongwoo know each other before YG TREASURE BOX. They're both from Iksan City, Jeollabuk-do (North Jeolla Province), South Korea and came from the same dance academy called IB Music Academy.
– If Junghwan is a girl, he will fall for Yedam because his voice will melt him.[SURVEY CAM].
– Three things describing himself are "sparkling eyes", "Persistent", and "attractive side".
– Junghwan's motto is "Don't make efforts go in vain."
– His specialties are Taekwondo and dancing.
– He achieved the 4th dan (degree) in Taekwondo.
– He says that he has a bright and cheerful personality.
— Junghwan and Yoshi eat the most. (Superlatives with Seventeen)
– His attraction points that his sharp jawline and hooked nose are attractive.
– His dream is to become a hard-earned singer.
– He performed Supermarket Flowers in his introduction video.
– Junghwan was the 3rd member to be announced for Treasure.
– Junghwan trained for almost 3 years (as of July 2020).
– His most important thing in life is his family.
– He likes watching movies, , playing games and eating sweets.
– His favourite colours are light blue and pink.
– His favourite film is Harry Potter.
– Glazed donuts is his favourite food.
– Winter is Junghwan's favourite season of the year.
– His favourite word is 보물 (Treasure).
Note: Please don't copy-paste the content of this page to other sites/places on the web. Please do respect the time and effort the author put in compiling this profile. If you need/want to use info from our profile, please kindly put a link to this post. Thank you. – Kprofiles.com
・‥…━━━━━━━☆ Credits: ☆━━━━━━━━━━━━━━・‥…
»»——Saythename17——««
(Special Thanks To: Chengx425)
Do you like Junghwan? Do you know more facts about him? Feel free to comment down below.