HONEST BOYZ® Members Profile


HONEST BOYZ® (also known as HBZ) is a 5-member male hip-hop unit managed by LDH JAPAN and signed to LDH MUSIC. The group's name is a homage to the Japanese Hip-Hop group TERIYAKI BOYZ that members NIGO and VERBAL were part of in the past.
HONEST BOYZ® Fandom Name: –
HONEST BOYZ® Fandom Color: –
HONEST BOYZ® Official Accounts:
Official website: Page on LDH mobile
HONEST BOYZ® Members Profile:
NAOTO


Stage Name: NAOTO (ナオト)
Birth Name: Kataoka Naoto (片岡直人)
Position: Leader & Rapper
Birthday: August 30, 1983
Zodiac Sign: Virgo
Height: –
Weight: –
Blood Type: AB
Nationality: Japanese
Group: J SOUL BROTHERS from EXILE TRIBE & EXILE
Instagram: @exile_naoto_
Twitter: @Naoto_EX_3JSB_
NAOTO Facts:
– Has a very close friendship with Japanese choreographer RIEHATA; they consider each other best friends and she calls him "big brother". They have known each other since the early 2000s when they were students of American choreographer Free Boogie (alongside ELLY).
– His brand STUDIO SEVEN uses the images of a "smiley face" and "lips" as standard symbols, representing "HAPPINESS" and "LOVE" respectively and paying homage to LDH's principles "LOVE, DREAM, and HAPPINESS".
VERBAL


Stage Name: VERBAL (バーバル)
Birth Name: Ryu Yeong-gi (류영기)
Position: Rapper
Birthday: August 21, 1975
Zodiac Sign: Leo
Height: –
Weight: –
Blood Type: B
Nationality: Zainichi Korean
Group: m-flo
Instagram: @verbal_ambush
Twitter: @VERBAL_AMBUSH
VERBAL Facts:
– Ethnicity: Korean
– Religion: Christianity
– Marital Status: Married to wife Yoon since September 2004
– Musical Influences: Gang Starr, Company Flow, Ras Kass, RUN D.M.C., A Tribe Called Quest, Leaders of the New Skool, De La Soul, Stetsa Sonic.
– He thought his blood type was O for a long time.
– VERBAL attended Boston University. It was during his college years that his interest in rap deepened.
– VERBAL also became interested in Christianity during his college years, and became a bible study teacher and majored in theology. He is very outspoken on his Christian faith, often making references to it in his lyrics. In interviews, he has expressed interest in working in the field of urban ministry once he's finished with music.
NIGO


Stage Name: Nigo (ニゴー)
Birth Name: Tomoaki Nagao (長尾 智明)
Position: Rapper & DJ
Birthday: December 23, 1970
Zodiac Sign: Capricorn
Height: –
Weight: –
Blood Type: –
Nationality: Japanese
Group: Teriyaki Boyz
Instagram: @nigo
NIGO Facts:
– In 2010, he launched his new brand Human Made.
– In 2014, Nigo became the creative director for Uniqlo's UT brand.
– In 2020, Nigo partnered with Luxury brand Louis Vuitton alongside Virgil Abloh to create a capsule collection.
– In September 2021, Kenzo appointed Nigo as its new artistic director.
– Nigo speaks little or no English and uses a translator whenever he does interviews.
– Nigo has a cameo appearance in the Takashi Murakami short film Akihabara Majokko Princess shown at the "Pop Life" exhibition at Tate Modern in London.
MANDY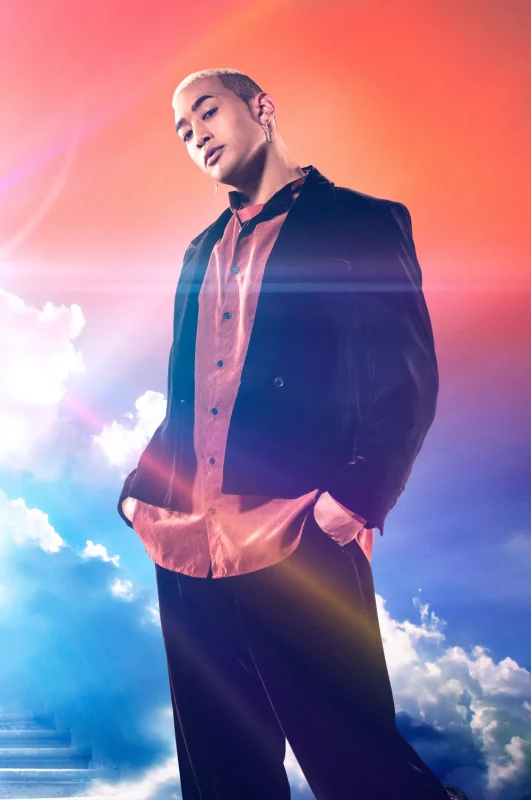 Stage Name: MANDY (マンヂ)
Birth Name: Sekiguchi Mandy (関口メンディー)
Position: Rapper
Birthday: January 25, 1991
Zodiac Sign: Aquarius
Height: –
Weight: –
Blood Type: O
Nationality: Japanese-American-Nigerian
Group: GENERATIONS from EXILE TRIBE & EXILE
Instagram: @mandy_sekiguchi_official
Twitter: @mandy_s_mandy
MANDY Facts:
– Emoji: 🥔 (Potato)
– He is from New Jersey, USA.
– His mother is Japanese and his father is Nigerian.
– Described as an extremely kind person, especially by the younger members of EXILE TRIBE and the former support members of GENERATIONS.
– Fujiwara Itsuki mentioned: "We've known each other for a long time, and he has always been kind to me, giving me clothes, taking me out to dinner, etc."
– Despite being born in the US, his current English skills are limited to everyday conversation since he grew up in Japan.
SWAY


Stage Name: SWAY
Birth Name: Nogae Shuhei (野替愁平)
Position: Rapper
Birthday: June 9, 1986
Zodiac Sign: Gemini
Height: 180 cm (5'11″)
Weight: –
Blood Type: AB
Nationality: Japanese
Group: DOBERMAN INFINITY
Instagram: @sway_ldh
Twitter: @sway_official
SWAY Facts:
– On August 29, 2018, he released his first major-label studio album UNCHAINED.
– On November 6, 2021, SWAY announced his marriage to his long-term girlfriend, a non-celebrity. At the same time, he revealed that his new wife would be expecting their first child.
– On August 2, 2020, it was reported that SWAY had been diagnosed with COVID-19. He confirmed a fever on the morning of July 30 and was examined on the following day, on July 31, and was refraining from his activities, but only found out he was indeed infected on August 2. He expressed that he's currently not feeling any symptoms but he's carefully following the instructions of the public health center and experts for a healthy recovery. Due to this, the events he was scheduled to appear with Gekidan EXILE and DOBERMAN INFINITY with the opening week of LDH's new video platform CL were postponed.
– On August 17, he announced on his social media accounts that he had recovered and resumed his activities.
Note: Please don't copy-paste the content of this page to other sites/places on the web. If you use info from our profile, please kindly put a link to this post. Thanks a lot! 🙂 – Kprofiles.com
Profile made by swolulumoo
Who's your HONEST BOYZ® bias?
Latest Japanese release:
Who is your HONEST BOYZ® bias? Do you know more facts about them? Feel free to comment below. 🙂