E:U Profile; E:U's Facts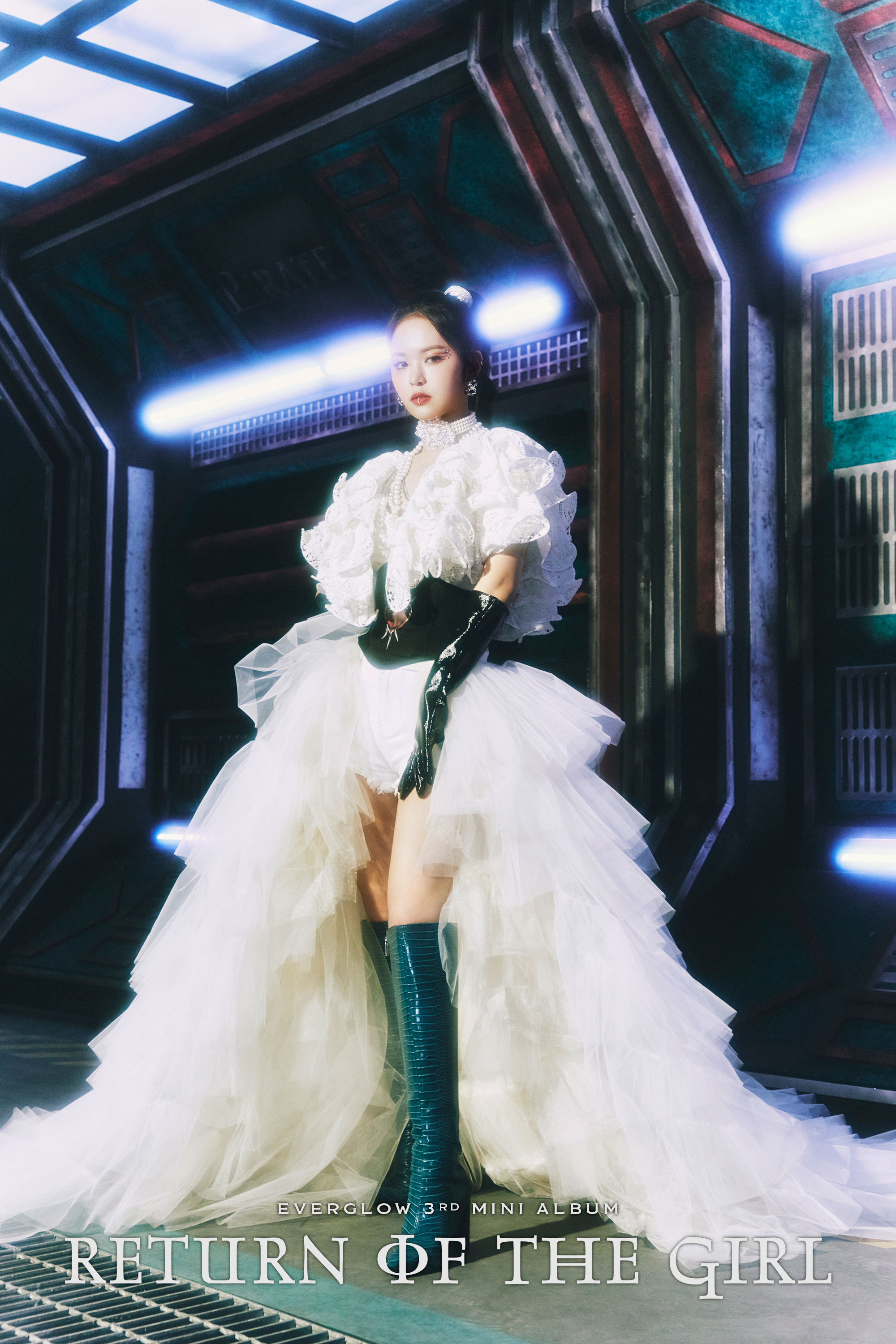 E:U (이유) is a South Korean member of girl group Everglow under Yuehua Entertainment.
Stage Name: E:U (이유)
Birth Name: Park Jiwon (박지원)
Birthday: May 19, 1998
Zodiac Sign: Taurus
Chinese Zodiac Sign: Tiger
Height: 161 cm (5'3″)
Weight: 43 kg (94 lbs)
Blood Type: O
E:U Facts:
– Birthplace: Hanam, Gyeonggi-do, South Korea.
– Family: Parents, older sister (2 years older than E:U)
– She used to be a cheerleader.
– Her representative color is Purple.
– She debuted as a member of Everglow on March 18, 2019.
– She was the leader of EVERGLOW, but it was announced at their Comeback Showcase
for "Last Melody" that member Sihyeon would be the leader henceforth.
– She was the fifth member to be revealed.
– She like Americanos and black noodles.
– Her unique points are her small hands, her passion and her husky voice.
– She has the same name as Jiwon of fromis_9.
– Her role model is Lee Hyori.
– Nicknames: Protractor and Sweet Unnie.
– She dislikes peppers and raisins.
– Her Chinese zodiac sign is Tiger.
– She likes fried food.
– In her free time, she likes watching mukbang videos, Running Man and Law of The Jungle.
– She watches American TV Shows. Her favourite is '13 Reasons Why'.
– Her stage name means 'Especially for U'.
– She posted some vlogs on Yuehua's YouTube Channel predebut.
– Fans say she looks like a mix of CLC's Elkie and Sorn.
– She and Sihyeon have matching flower earrings.
– She and Sihyeon often joke about dating each other.
– She has a dog named Kongsam. Her sister named it because his eyes look like beans.
– She has a Peppa Pig stuffed toy.
– She has Mia as 미아⭐은지 on her phone.
– She likes taking the subway.
– She likes mangos and melons.
– She's close friends with Kang Yaebin (ex-PRISTIN/HINAPIA).
– She likes hamburgers and frenchfries.
– She is the oldest member of Everglow.
– She helps writing lyrics.
– She was a model for the brand STARE Shoes.
– She was the EVERGLOW 1st leader since their debut until May 25, 2021.
– In the new dorm arrangement she's roommates with Aisha.
made by Min Ailin
Note: Please don't copy-paste the content of this page to other sites/places on the web. If you use info from our profile, please kindly put a link to this post. Thanks a lot! 🙂 – Kprofiles.com
Related: Everglow Profile
(Special thanks to jason, Clara Lindström, Kpopislife44, ttantta_ra)
How much do you like E:U?
Do you like E:U? Do you know more facts about her? Feel free to comment below. Let's complete this profile together time by time. 😊