Dongwoo (Infinite) Profile, Facts, and Ideal Type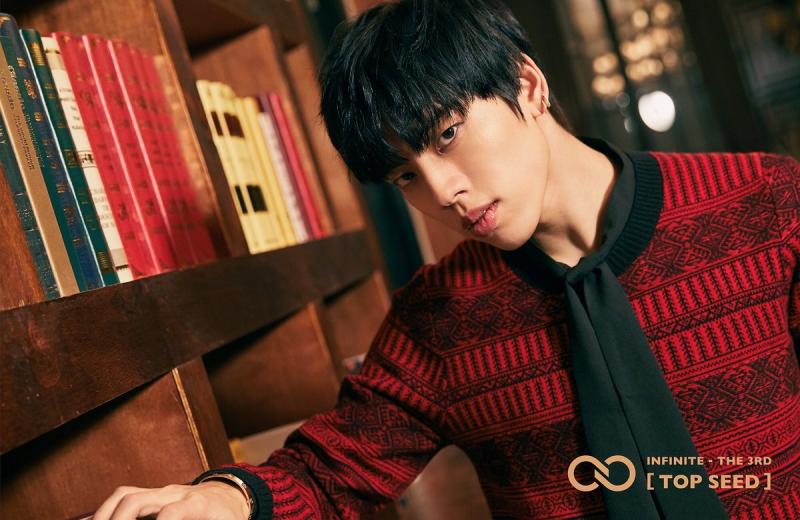 Dongwoo (동우) is a solo artist and a member of the South Korean boy group Infinite.
Stage Name: Dongwoo (동우)
Birth Name: Jang Dong Woo (장동우)
Nicknames: Dinosaur, Monkey Boy, Mother of Infinite, Smile Man
Birthday: November 22nd, 1990
Zodiac Sign: Sagittarius
Height: 172 cm (5'8″)
Blood Type: A
MBTI Type: ENFP
Sub-unit: Infinite H (H stands for Hiphop) – Dongwoo & Hoya
Instagram: @ddong_gg0
Twitter: @ddww1122
Dongwoo Facts:
– His hometown is Gyeonggi, South Korea.
– Dongwoo has two older sisters. One is named Jang Kkotip and is 6 years older, and the other one is 3 years older.
– Dongwoo learned how to dance from his sister, who used to be a dancer.
-His position in Infinite is as Main Dancer, Main Rapper, and Vocalist.
-He was a backup dancer with Hoya for Epik High's promotions for "Run".
-He learned how to rap from Epik High.
– Dongwoo's family owns an octopus restaurant.
-He is under Woollim Entertainment.
– He was a JYPE trainee for several years.
– Xiumin of EXO was a classmate of his.
– He is the shortest member of Infinite.
– Sungjong is jealous of how optimistic Dongwoo is.
– He thinks the best part of his body are his eyes and lips.
– He loves lemons and could eat one whole with no problem.
– He has a fear of bleeding.
-He is the peacemaker and mediator of the group.
– He has a journal to write stories and his daily tasks in.
– Dongwoo graduated from Daekyung University's Practical Music Program on February 15th, 2013.
– Along with L, it is very difficult to wake him up, no matter how much you shake him.
– Yoseob of Highlight/Beast as the idol he most wants to have a duet with.
– Within the Korean Music Copyright Association he is an officially registered songwriter.
– If Dongwoo wasn't an idol, he would want to be a Chinese herbal medicine doctor.
– He often brings useless items with him because he thinks it would be useful at some point.
– Dongwoo's favorite colors are gold, green, and white.
-He has participated in the production of over a dozen songs.
-He has collaborated with: Baby Soul and Jiae of Lovelyz, Tasty, Nicole Jung, Baro of B1A4, and Yoon So-yoon
– In 2014, he was a member of the cast of "Law of the Jungle in Costa Rica".
– He has acted in the musicals: "In The Heights" (2015), "Altar Boyz" (2018), and "Iron Mask" (2018).
– Dongwoo was a contestant on "King of Mask Singer" as 'A Knight of the Razor'. (Episode 145-146)
– On September 2nd, 2016, Dongwoo's father sadly died due to a chronic illness.
– He sang the OST "Embedded in Mind" for the webtoon "Lookism".
– Dongwoo debuted as a solo artist on March 4th, 2019 with the album "Bye".
– He enlisted on April 15, 2019 and was discharged on November 15, 2020.
– On March 31, 2021 Woollim announced that Dongwoo's contract expired and he won't renew.
– Dongwoo is currently managed by BigBoss Entertainment.
– Dongwoo's Ideal Type: A girl full of cute charm and is pretty when she smiles. Lee Minjung is the celebrity closest to Dongwoo's ideal type.
Note: Please don't copy-paste the content of this page to other sites/places on the web. Please do respect the time and effort the author put in compiling this profile. If you need/want to use info from our profile, please kindly put a link to this post. Thank you.
Profile Made By ♥LostInTheDream♥
How Much Do You Like Dongwoo?
Latest Korean Comeback
How much do you like Dongwoo? Do you know more facts about him? Feel free to comment below.