Asahi (TREASURE) Profile and Facts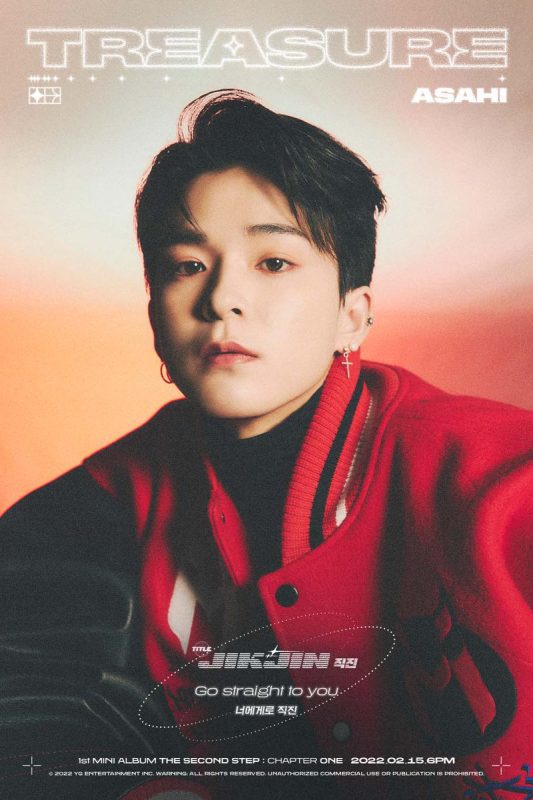 Asahi (아사히) is a member of TREASURE under YG Entertainment.
Stage Name: Asahi (아사히)
Birth Name: Hamada Asahi (浜田朝光)
Birthday: August 20, 2001
Zodiac Sign: Leo
Height: 172 cm (5'7.5″)
Weight: 53 kg (117 lbs)
Blood Type: AB
MBTI Type: INFP
Nationality: Japanese
Former Unit: Magnum
Asahi Facts:
– Has a younger sister and an older sister.
– Hobbies: Drawing, Composing and football.
– He performed 'Lay Me Down' for his introduction Video.
– Asahi can kick a ball continuously.
– Asahi's motto is "Good attitude, good mood, good music".
– He taught himself how to self compose when he was in middle school.
– His English name is Arthur.
– His Korean name is Asahi's Korean name is Jo Kwang.
– Asahi has natural brown eyes.
– His childhood dream was to be a hero.
— Asahi is most likely to embarrass himself. (Superlatives with Seventeen)
– Asahi can continuously kick a soccer ball, his highest record is 1000.
– His three phrases are "Music is Everything", "R&B", and "Sweat Robot"
– Asahi performed "Lay Me Down" for his introduction video.
– He was the last member to be announced for Magnum.
– Asahi trained for almost 3 years (as of July 2020).
-His training period is the shortest among TREASURE members.
– His specialty: Taking a quick shower.
– His nickname: Sahi.
– His favourite season of the year is winter.
– He doesn't have a favourite colour. He likes all colours.
– Asahi likes fried chicken, pizza and instant noodles.
– His favourite Korean word is 예술작품 (artwork).
– He isn't scared of ghosts.
– In an episode of 'Treasure Map' horror special, he entered a haunted house and finished the mission faster than anyone else.
– Line character: Hikun
– Asahi's favourite actor is Leonardo DiCaprio.
– He shares a dorm with Jaehyuk, Junghwan and Haruto. In their dorm, he has his own room.
– Asahi can continuously kick a soccer ball. His highest record is 1000.
– He loves to keep quiet down but not behind the camera.
– He is one of the funniest members in TREASURE.
– Things that must be in Asahi's bag are his cellphone & earphone.
– He has outstanding drawing skills.
– Asahi says that he doesn't sleep much.
– Asahi has bad eyesight with prescription -5.5, so he often wears contact lenses and glasses.
Note: Please don't copy-paste the content of this page to other sites/places on the web. Please do respect the time and effort the author put in compiling this profile. If you need/want to use info from our profile, please kindly put a link to this post. Thank you. – Kprofiles.com
————☆ Credits ☆————
»»Saythename17««
(Special Thanks To: Chengx425)
Do you like Asahi? Do you know more facts about him? Feel free to comment down below.