Woojoo Jjokkomi Members Profile: Woojoo Jjokkomi Facts and Ideal Type.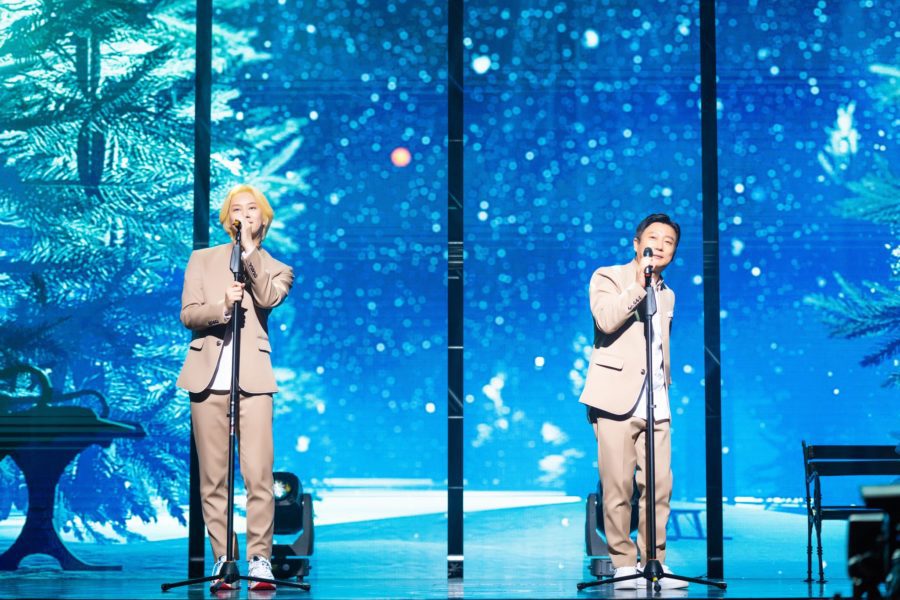 Woojoo Jjokkomi (우주 쪼꼬미) also known as "Universe Shorties" is a sub-unit consisting of Super Junior's Kim Heechul & Comedian Lee Soogeun. They were formed by SM Station & debuted on December 19th 2019 with their digital single "White Winter" which is a remake of a 90's Korean song.
Woojoo Jjokkomi fandom name –
Woojoo Jjokkomi fan colour –
Woojoo Jjokkomi Profile:
Lee SooGeun


Birth Name: Lee Soo Geun (이수근)
Position: Vocalist, Eldest
Birthday: February 10, 1975
Zodiac Sign: Aquarius
Height: 1.65m (5'4)
Weight: N/A
Blood Type: N/A
YouTube: 이수근 채널
Lee SooGeun Facts:
– He was born in Gyeonggi-do, South Korea.
– He is a cast member on the JTBC Variety Show "Knowing Brothers/Ask Us Anything".
– He was a member of KBS Gag Concert from 1993 to 2013.
– He got married to his wife, Park Ji Yeon in 2008.
– He has two sons, Lee Tae-Soo and Lee Tae-Seo.
– His mother is a shaman.
– He has released other music such as: "SWAG" (ft. Chin Chilla & Jiselle) (2020), "Huk" (ft. Eun Jiwon) (2010) and "Happy Song" (ft. Ez-Life) (2009).
– In 2013, he was investigated for online illegal gambling along with Tony An, Tak JaeHoon, Andy Lee & Boom. Lee SooGeun from December 2008 to June 2011 gambled using (US$) 370,000. In the morning of December 6, 2013 the first public trial, Judge Shin MyungHee of the Seoul Central Prosecutor's Office, charged Lee SooGeun with eight months in prison and two years of probation. Lee SooGeun, who appeared in the first public trial with his lawyer, repeatedly acknowledged his crime and begged for mercy.
– Until 2012, he was signed with Castle J Entertainment, on September 19, it was announced that he had signed exclusive contracts with SM C&C, a subsidiary of SM Entertainment.

Kim HeeChul


Birth Name: Kim Heechul (김희철)
Position: Vocalist, Visual, Maknae
Birthday: July 10, 1983
Zodiac Sign: Cancer
Height: 176 cm (5'9″)
Weight: 60kg (132 lbs)
Blood Type: AB
Instagram: kimheenim
Twitter: heezzinpang
YouTube: 김희철 KimHeeChul
Weibo: Heechul
Kim Heechul Facts:
– He was born in Gangwon-do, South Korea.
– He is a member of the boy group the group Super Junior.
– He is a cast member of the JTBC Variety Show "Knowing Brothers/Ask Us Anything".
– He is also in a sub-unit with BUZZ' Min Kyunghoon called "Universe Cowards".
– His nickname is the Universe's Star.
– He has an older sister, Kim Heejin.
– He can play both the piano & drums.
– He has a pet dog called Bok & a pet cat called Heebum.
– He was a co-host for "Weekly Idol" alongside with EXID's Hani & rapper Defconn, in 2016 (when the other main host of "Weekly Idol" comedian Jeong Hyeongdon was sick).
– In January 2020, it was announced that he is dating Momo of Twice.
– Heechul's ideal type: Girls who wear skirts and has nice legs, can cook well, single eyelids, likes younger women, always have her hair tied to show her neck.
Show more Heechul fun facts…
Note: Please don't copy-paste the content of this page to other sites/places on the web. Please do respect the time and effort the author put in compiling this profile. If you need/want to use info from our profile, please kindly put a link to this post. Thanks a lot! 🙂 – Kprofiles.com
Made by: jieunsdior
Who is your Woojoo Jjokkomi bias?
Latest Korean Comeback:
Who is your Woojoo Jjokkomi bias? Do you know more facts about them? Feel free to comment below. 🙂