Uni5 Members Profile: Uni5 Facts


Uni5 is a Vietnamese pop group, currently consists of 5 members, Toof.P, Cody, K.O., Lục Huy, and Tùng Maru. They debuted on September 3, 2016, under 6th Sense Entertainment, as a duo consisting of K.O. and a former member, Toki, with the song C' mon.
Fandom Name: Uni
Official Color: N/A
Official Accounts:
Instagram: @uni5.6se.official
Facebook: Uni5
VLive: Uni5
Members Profiles:
Toof.P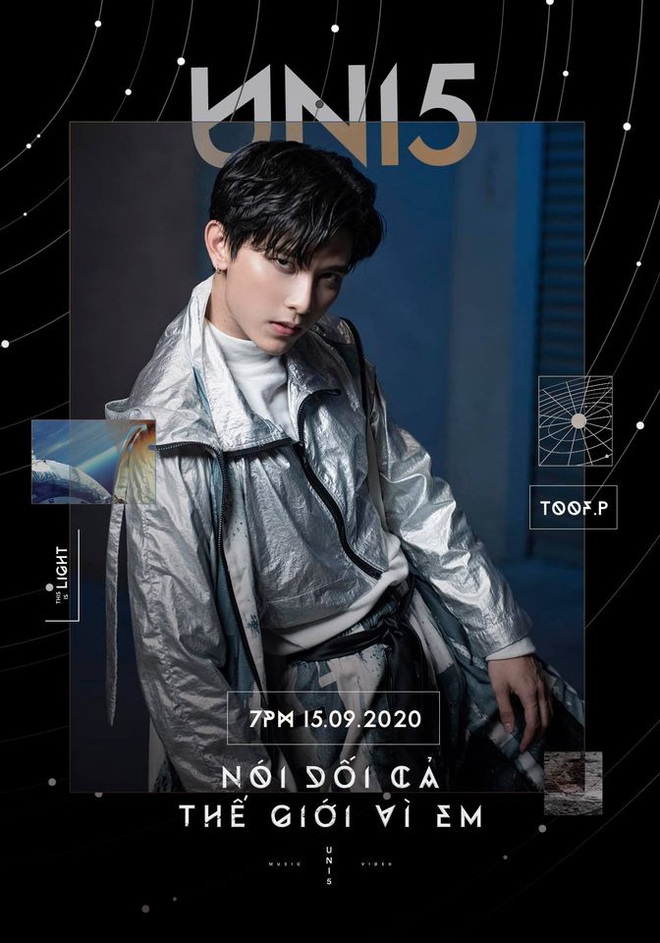 Stage Name: Toof.P
Birth Name: Nguyễn Lâm Hoàng Phúc
Position: Main Vocalist
Birthday: October 14, 1993
Zodiac Sign: Libra
Height: 177 cm (5'10″)
Weight: N/A
Instagram: @tooftoof.p
Facebook: TooF.P – Uni5 – Nguyen Lam Hoang Phuc
Toof.P Facts:
-He was added to the group in November 2017 with members Tùng Maru, Cody, and Lục Huy
-In 2013 he joined the Voice
-Toof.P was a member of the Quốc Trung music group
-He started to compose in 2016
-Phuc was on the show "Sing My Song", he made a song on the show about a 4-year affair, in about 30 minutes
-Phuc's talents are composing, sound production, and, cooking
-His net worth is estimated to be about $1 million to $10 million
-He's good at English, literature, and biology, but sucks at PE
-He can be pretty stubborn
-He used to cry when he dreamt of his mom
-Toof.P described himself as mature, moody, and outgoing
-His favorite foods are the food his mom cooks
-He was often hit when he was younger by his friends
-Him and fellow group members, Tùng Maru, Toof.P stars in a web drama called "Đừng Làm Bạn Nữa"
Cody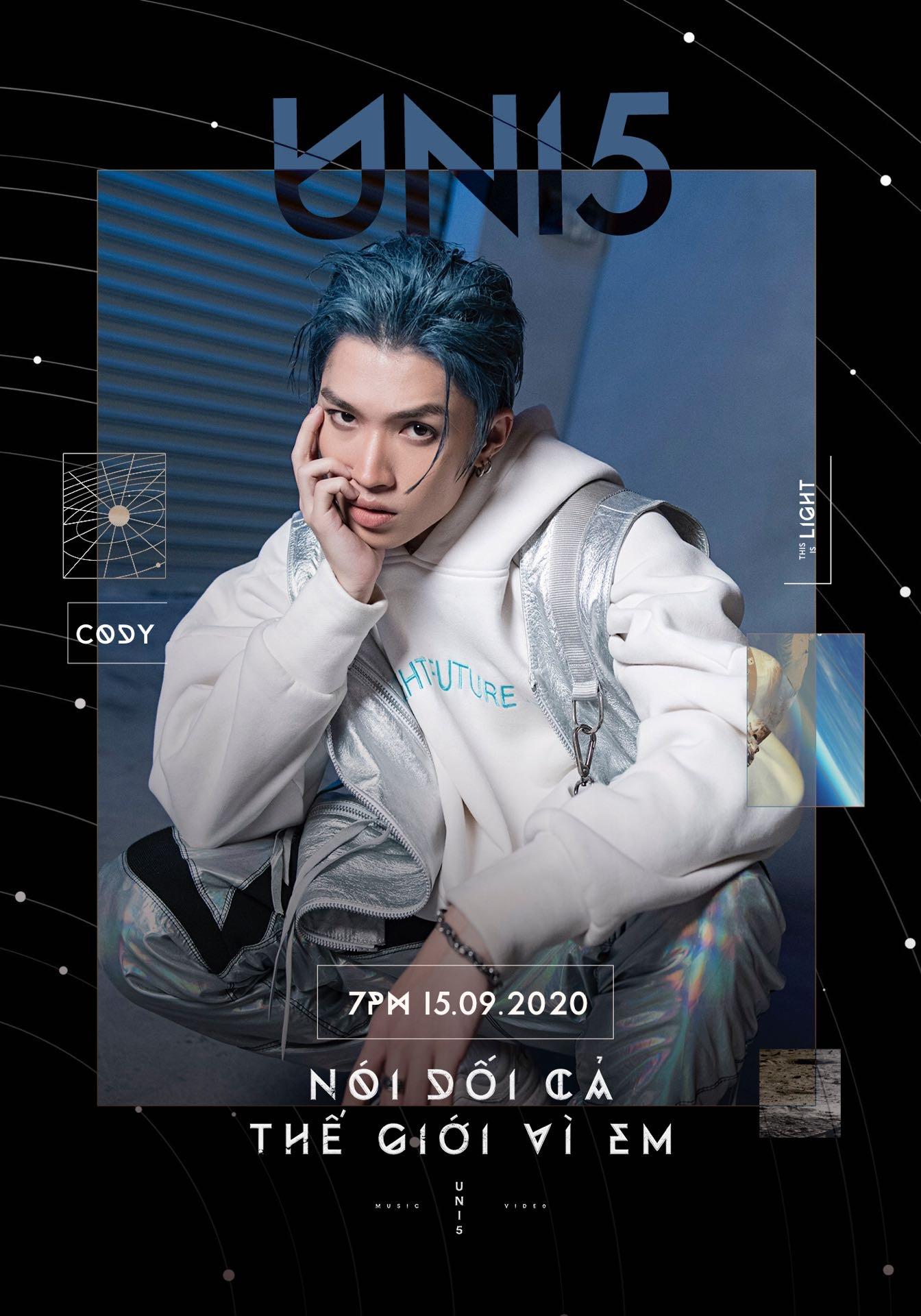 Stage Name: Cody
Birth Name: Võ Đình Nam
Position: Lead Dancer, Vocalist, Rapper
Birthday: December 13, 1996
Zodiac Sign: Sagittarius
Height: 170.5 cm (5'7″)
Weight: N/A
Instagram: @codynamvo.uni5
Facebook: Nam Dinh Vo(Cody)
Cody Facts:
-He was added to the group in November 2017 with members Túng Maru, Cody, and Lục Huy
-Cody follows popular Kpop artists like Jay Park, Zion.T, T.O.P on Instagram
-He's a fan of G-Dragon
-He plays the guitar
-His hobbies are dancing to hip hop and beatboxing
-He brushes his hair back a lot while he's dancing
-Cody's favorite class is PE and his least favorite class is history
-Cody used to cry a lot because he was always alone
-According to himself the most charming part of him is his craziness
-He goes shopping one or two times a month
-He doesn't like tomatoes and onions
-Sometimes he talks to himself
-He often stays up late thinking about life
-Sometimes he spends his money shopping until his wallet is empty
K.O.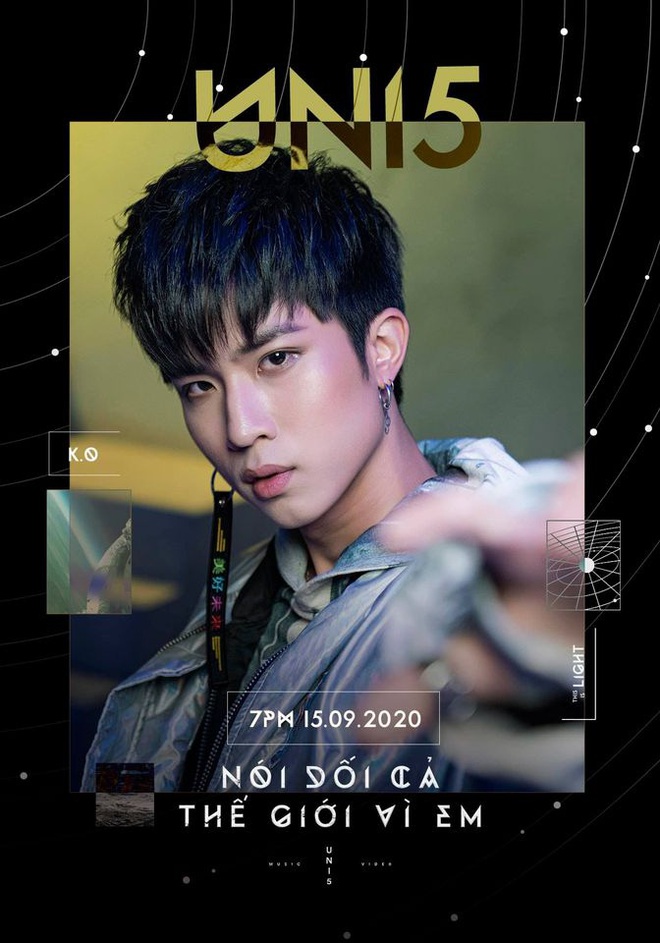 Stage Name: K.O.
Birth Name: Nguyễn Thái Sơn
Position: Lead Vocalist, Lead Rapper
Birthday: September 10, 1995
Zodiac Sign: Virgo
Height: 171 cm (5'7″)
Weight: N/A
Instagram: @ko.nts.uni5
Facebook: Son Thai Nguyen 
K.O. Facts
-K.O. is an original member of Uni5 along with, former member, Toki
-K.O. means to knock out
-He cried the most when his grandpa suddenly passed when he was in class
-When doing high notes he usually tilts his head back
-He rubs his eyes a lot and roughly
-K.O.'s favorite subject is math
-His least favorite subject is literature
-Perfectionist, friendly and picky were words he chose to describe himself
-He has a weird habit of smelling old socks
-Usually, he stays up late looking at Facebook and playing games
-He talks to his brother a lot because they're around the same age and they understand each other
-He had his first love in 10th grade
-He's emotional
-K.O. spends a lot of money on food
-He hates rice noodles or any type of white round noodles
-Him and fellow group members, Tùng Maru, Toof.P stars in a web drama called "Đừng làm bạn nữa"
Lục Huy
Stage Name: Lục Huy
Birth Name: Lục Quang Huy
Position: Main Vocalist, Lead Dancer
Birthday: June 21, 1997
Zodiac Sign: Gemini
Height: 176 cm (5'9″)
Weight: N/A
Instagram: @luchuy.uni5
Facebook: LUC HUY – UNI5
Lục Huy Facts:
-He was added to the group in November 2017 with members Tùng Maru, Cody, and Toof.P
-When he thinks hard he pouts
-He likes English and literature
-He dislikes physics
-He forgets a lot and always leaves stuff everywhere because of it
-Fierce and gentle are words he uses to describe himself
-He never dated anyone
-He likes tofu noodle soup
-Lục Huy used to fight with his cousin a lot over games
-He loves doing kpop cover dances
-He knows how to speak Vietnamese, Korean, and English
Tùng Maru


Stage Name: Tùng Maru
Birth Name: Ho Lê Thanh Tùng
Position: Main Dancer, Lead Rapper, Maknae
Birthday December 21, 1999
Zodiac Sign: Sagittarius
Height: 174 cm (5'9″)
Weight: N/A
Instagram: @callme.maru
Facebook: Tùng Maru Uni5
Tùng Maru Facts:
-He was introduced to the group in November 2017
-Maru is the name of one of his favorite cartoon character
-He used to be a troublemaker at school
-He's good at literature and bad at math, physics, and chemistry
-He's super lazy
-He's a fan of Blackpink and BTS
-3 words to describe him is clumsy, hasty, and confident
-Once he lost his money he was saving for 3 to 4 months, he cried a lot
-He had his first love in 3rd grade
-He stays up late to compose
-His worst fear is lack of money
-He cries a lot especially when he watches movies
-His favorite foods are sashimi, tofu noodle soup
-Maru hates bitter melon soup
-He doesn't like to share his problems with others and solves them himself
-He starred in the movie "Thạch Thảo"
-Maru starred in Han Sara's Music Video "Tớ Thích Cậu" before his debut in Uni5
-He and Han Sara were featured in an episode of 24H Love
-Him and fellow group members, K.O, Toof.P stars in a web drama called "Đừng làm bạn nữa"
Former Member:
Toki


Stage Name: Toki
Birth Name: Vũ Đức Thành
Position: Leader, Main Rapper, Visual, Vocalist
Date of birth: November 20, 1993
Zodiac Sign: Scorpion
Height: 170 cm (5'7″)
Weight: N/A
Facebook: TOKI
Instagram: @toki.uni5
Toki Facts:
-His nickname is Rabbit because Toki means rabbit in Korean
-He was an original member along with K.O.
-He left the group in 2019 for personal reasons
-Toki looks at the mirror whenever he can
-He's good at math but bad at English
-Sometimes when he drools when he sleeps
-He had his first love in 10th grade
-He gets advice from his mom
-Playful, lazy, and naughty are words he uses to describe himself
-He gets emotional easily when watching Kdramas
-He loves pho
Note: Please don't copy-paste the content of this page to other sites/places on the web. Please do respect the time and effort the author put in compiling this profile. If you need/want to use info from our profile, please kindly put a link to this post. Thanks a lot! 🙂 – Kprofiles.com
Made by: Leah
Latest comeback:
https://www.youtube.com/watch?v=SI36aS0cYK8
Who is your Uni5 bias? Do you know more facts about them? Feel free to comment below. 🙂