Sungkyu Profile: Sungkyu Facts and Ideal Type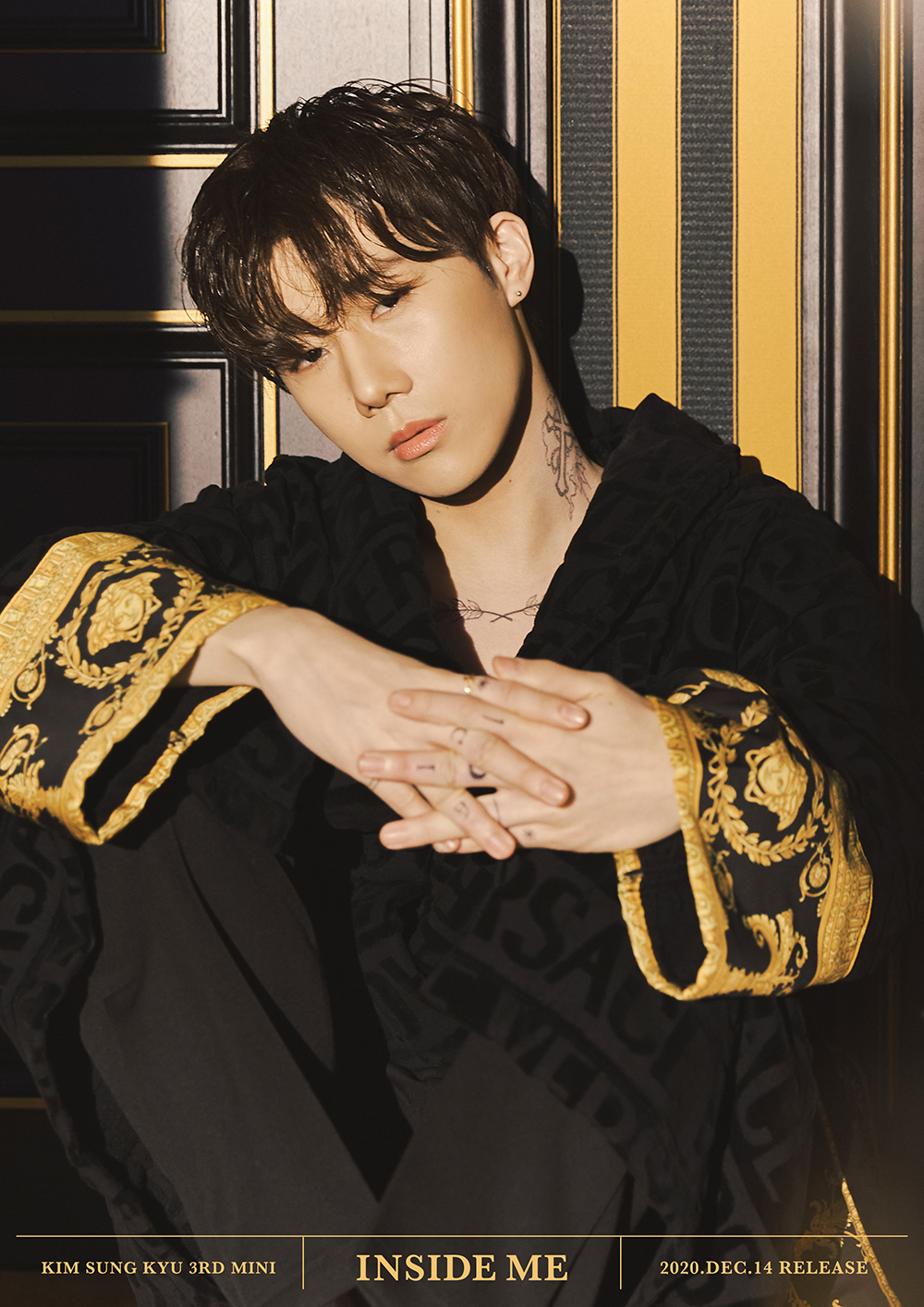 Sungkyu (성규) is a South Korean singer, actor and member of the group Infinite. He debuted as a soloist on November 19, 2012 with an EP Single "Another Me".
Stage Name: Sungkyu (성규)
Birth Name: Kim Sung Kyu (김성규)
Birthday: April 28, 1989
Zodiac Sign: Taurus
Chinese Zodiac Sign: Snake
Height: 176 cm (5'9″)
Weight: 60 kg (132 lbs)
Blood Type: A
MBTI Type: ISTP
Religion: Protestantism
Nationality: Korean
Instagram: @gyu357 / @sungkyu.official
Twitter: @kyuzizi / @KSK_official
Facebook: kimsungkyu.official
Youtube: 성규특별시 [KimSungKyu Official]
vLive: KIM SUNG KYU
Sunggyu facts:
– He was born in Jeonju, North Jeolla Province, South Korea.
– Family: Kim Jieun (older sister, born 1984), Parents.
– Education: Daekyung University (Major in Applied Music).
– Nicknames: Grandpa, Leader, Hamster, Kkulgyu (loser Gyu), Gyujiji.
– His famous nickname is " Hamster Gyu " & " Grandpa Gyu " because of his small eyes & always tired .
– Sunggyu was in the school band named Comabeat when he was in Senior High School.
– When they were still trainees He, Sungjong, and Hoya used to live in the CEO's house.
– On February 15, 2013, He graduated majoring in Applied Music along with Hoya, L, and Sungyeol.
– His biggest reason why he join INFINITE is because of Nell.
– He is the "father" of the Infinite.
– When the 1st time came to Seoul, Sunggyu stayed in the Hongik University. areas with the determination to do rock music.
– He was the fastest member who learnt the scorpion dance.
– He is generous because he even handed 50000 Won to his fans when the fans jokingly ask his money for taxi fares.
– He has a "S" lisp.
– Sunggyu has attentive personality.
– He doesn't snores when he sleeps.He eventually doesn't have any sleeping habits.
–Sunggyu has never thought of anything else but being a singer because his parents rejected his dream as an Idol, he practiced in secret and didn't stay at home.
– He will feel mad when the boys keep playing around during practice time.
– He chose Dongwoo who most likely be the best at love/relationships, because when first he is see Dongwoo, Dongwoo seems clumsy but he has a pure charm.
– When asked to choose between 4Minute's Hyuna or f(x)'s Krystal, he chose Krystal.
– Favorite Japanese celebrity is Aoi Yu.
– He picked Sungjong as the cutest member and L as the most handsome.
– He can't wear certain product because of his sensitive skin.
– He became the first Idol Guest MC on "Weekly Idol".
– If he had any supernatural power it would be teleportation.
– Sunggyu has two golden tooth in the right and left of his under mouth.
– Sungyeol, L, Sung Jong, and him picked Sunggyu as the one with highest I.Q among the members.
– His feeling will hurt if the member leave him alone.
– He can't be mad for long because he has a weak heart.
– He had audited 2 times for SM Entertainment but he was rejected.
– INFINITE said he is the most good listener.
– Has a nephew named Yunhu.
– In 2015 Sunggyu participated in KBS's show "Exciting India".
– He release his second solo EP album called "27" on May 11, 2015.
– Sunggyu appeared alongside rapper Defconn as an MC in the popular show "Weekly Idol".
– In February 2017, he became a MC for "Singderella". He made his first appearance as the program's newest MC on February 24 2017 episode.
– Sunggyu is friends with Highlight's Junhyung, actor Kim Min-Suk and Leo from VIXX. (Weekly Idol Ep 227)
– Sunggyu released his first ever full album "10 Stories" with a title track "True Love" on Feb. 26 2018.
– On May 14, 2018, around 1:15 p.m. KST, he entered the training center of the 22nd Infantry Division to begin his mandatory military service.
– He was discharged from the military on January 8, 2020 in Gosung, Gangwon Province, South Korea.
– He held his first brief press conference for reporters and fans at the Gosung General Gymnasium. It was originally scheduled for a nearby elementary school, but was moved due to inclement weather.
– On February 9,2020 he concluded his first solo concert "SHINE ENCORE" that was held over 3 days at the SK Handball Stadium.
– Sunggyu contact expired on March 6, 2021 and he decided to leave Woollim Ent., however he's still a member of Infinite.
– Sunggyu is currently managed by Double H TNE.
– Sungkyu's ideal type: A cute girl that can be sexy.
Drama Series:
The Thousandth Man (천번째 남자) | MBC/2012 – Himself (cameo)
Pure Love (일말의 순정) | KBS / 2013  – Young Lee Hoon (cameo)
Beautiful Woman (女人花似梦) | Hunan TV / 2020 – Jin Cheng Kui
Theater Musical Series:
Gwanghwamun Sonata ( 광화문 연가) | February 8 -March 10, 2012 – Jiyoung
VAMPIRE (드라큘라 – 사랑과 증오의 끝) | August 21 – August 27, 2014 – Count Dracula
In The Heights (인 더 하이츠) | September 8 – November 22, 2015 – Benny
All Shook Up (올슉업) | June 18 – August 28, 2016 – Elvis
In The Heights (인 더 하이츠) | January 10 – February 11, 2017 – Benny
Gwanghwamun Sonata ( 광화문 연가) | December 19, 2017 -February 10, 2018 – Young Myungwoo 
Amadeus (아마데우스) | February 27 – April 24, 2018 – Wolfgang Amadeus Mozart
Shinheung Military School (신흥무관학교) | September 9, 2018 – January 6, 2019 – Ji Chung-chun
Shinheung Military School (신흥무관학교) | February 27 – April 21, 2019 – Ji Chung-chun
Return to INFINITE 
Made by Country Ball
Note: Please don't copy-paste the content of this page to other sites/places on the web. If you use info from our profile, please kindly put a link to this post. Thanks a lot! 🙂 – Kprofiles.com
(Special thanks to MyDramalist, Wikipedia, Namuwiki, )
How much do you like Sungkyu?
You may also like: Sungkyu (Infinite) Tattoos & Meanings
Latest Korean Comeback:
Do you like Sungkyu? Do you know more facts about him? Feel free to comment below.😊