Lee Yeeun Profile & Facts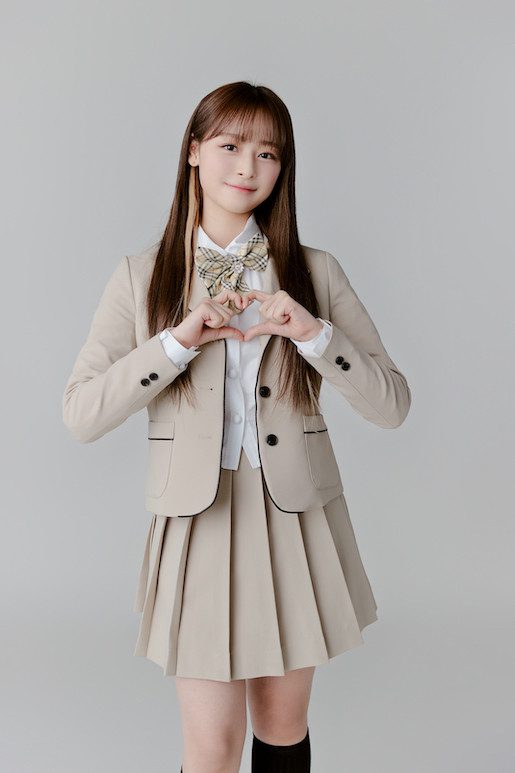 Lee Yeeun (이영채) is a South Korean trainee. She was apart of the pre-debut girl group LILAI. She participated in the survival show Stars Awakening.
Stage Name: Yeeun (예은)
Birth Name: Lee Yeeun (이예은)
Birthday: March 15, 2006
Zodiac Sign: Pisces
Height: 161 cm (5'3″)
Weight: 45 kg (99 lbs)
Blood Type: A
MBTI Type: INFP
Nationality: Korean
Asked: @leeye1528
Instagram: @dinxenn_ (Personal) / @yesing_n (Singing)
Naver Cafe: @leeyeeun06315
Naver Blog: @예은
SoundCLoud: @Eu&
TikTok: @yx_exx_06
YouTube: @이예은YEEUN
Lee Yeeun Facts:
– She was born in Gyeongju, South Korea.
– Her hobbies are watching movies, listening to music, drawing, and reading books.
– Yeeun went to Gyeongju Girl's High School, and currently goes to School of Performing Arts Seoul (SOPA) in the Department of Applied Music.
– Her life song is "Greetings" by MeloMance.
– Yeeun's favorite youtubers are Yondu's Marvel (용두의마블), B Man (삐맨), and Shinbak Science (신박과학)
– Her favorite food is tteokbokki and cake.
– She was on Hello Trot and Miss Trot 2.
– Her goal is SingSongLa
– Yeeun's favorite side dish is seaweed.
– These days she often listens to Jonghans "Sandbag"
– Yeeun's favorite animals are jaguars and sharks.
– Her nicknames are Yenkong, Kite Yeeun, and 32D
– Her special skills are speaking, her observation skills, and listening to your concerns.
– She says the scariest things in the world are bugs.
– Yeeun says the most expensive thing she has is probably a macbook.
– When she can't sleep, she watches movies.
– Yeeun's life motto is "Shut up Malfoy"
– Her foot size is 235mm.
– Her favorite color is the blue thats briefly seen before sunrise.
– Yeeun's favorite space is her room with her lights off and the mood lights on.
– She describes her personality as "What?!"
– She says the funniest thing right now is Aladdin.
– Yeeun dislikes eggplants and bell peppers.
– Her favorite seasons are all of them except summer.
– These days she wants a Jumanji 1 poster.
– Her life movie is The Greatest Showman.
– She would like to visit Liancourt Rocks and Australia.
– Her favorite flower is a tulip.
– Yeeun's habit is spacing out, clapping hands when counting beats, and wearing AirPods even when she's not listening to anything.
– Her favorite clothing brand is Cider.
– To relieve stress, she recommends listening to Flea.
– Her favorite foods are bizarre, mysterious, and dreamy.
– Three things she would take on a deserted island are food, a watch, and one person.
– She spends most of her money on food.
– The thing she cherishes the most is her phone.
– Two of her game usernames is 예은2331 and 옌콩.
– Superpowers she wants is something like Quicksilver's and Mantis'.
– Words that she would like to leave as a will when she dies is "2006 ~ 2@@@ I was the main character of this movie which is quite interesting"
– Words she uses oftens are "Oh really?" and "Congratulations"
– Her favorite fruits are all fruits except oriental melons and melons.
– During karaoke she often sings 10cm's "Phonecert"
– When she's bored at home, she watches movies.
– Yeeun prefers calling over texting.
– Something that brings back memories that she has is her Marvel 10th anniversary poster and her Captain America shield.
– Her favorite Baskin Robbins flavors are the Yogurt, Cherries Jubilee, Black Sorbet, and the New York Cheesecake.
– She wants to become like trot singer Jeong Dongwon.
– Yeeun says the oldest thing she has is a ring.
– Her most used camera app is either the Instagram camera or the normal camera app.
– Her favorite ramen is Paldo Nenemthin (네넴띤), and Jin Ramen (진순)
– Yeeun is most active at dawn.
– Her favorite singers are Sandeul, Kwon Jungyeol, Kim Minseok of MeloMance, Queen, and Green Day.
– Yeeun's favorite actors are Jung Hoyeon, Lee Dohyun, and Kwon Hwawoon.
– Recently, she is interested in Marvel.
– One of her Netflix recommendations is My Octopus Teacher.
– These days she wants to rest all day at home.
– Yeeun's Ideal Type: "The person I like is my ideal type. The basic condition is a person who is polite, well-mannered, sensible, and good at taking care of themself.
Stars Awakening Information:
– Dream: To be a universal entertainer
– Nickname: Bean Yeeun
– Favorite Things: Movies, People
– What I dislike: Insects, rudeness
– Special skill: Listening to someone's problems
– 5 self-introduction keywords: Center face / Clear voice / From children's song contest / Trot / Attention seeker
– First Performance: "Eleven" by IVE with Baek Narin and Kim Gayeong (Team Name: Eleven) (STAR PASS) (Video Link)
– First Round: "빨간 맛 (Red Flavor)" by Red Velvet with Jeong Nara, Jo Yiyeon, Kim Gayeong, and Park Yuri (Genre: Fresh and Lively) (116 votes) (Opponents: "피어나 (Bloom)" team and "U R" team: 3rd) (Video Link)
– Second Round: "미스터 (Mister)" by Kara with Jo Yiyeon, Hwang Soojung, Kim Gawon, and Park Yuri (Role: Vocalist) (Team Name: Energizer) (Opponents: "바람의 노래 (Song Of The Wind)" team and "안아줘 (Hug Me)" team: 3rd) (Video Link)
– Ranking(s): B (1R) -> #16 (2R)
Made by: brightliliz
Note: Please don't copy-paste the content of this page to other sites/places on the web. Please do respect the time and effort the author put in compiling this profile. If you need/want to use info from our profile, please kindly put a link to this post. Thanks a lot! 
 – Kprofiles.com
Related: LILAI Profile
Stars Awakening Profile
Do you like Yeeun? Do you know more facts about her? Feel free to comment below. 🙂