Hong Kyungmin Profile & Facts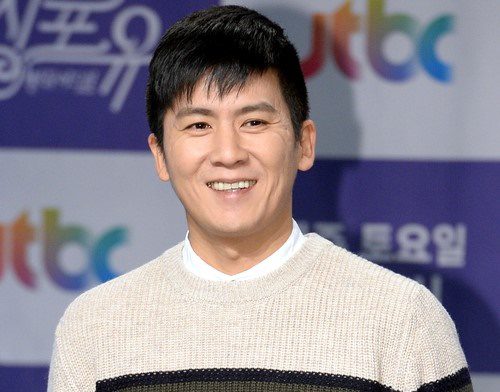 Hong Kyungmin (홍경민) is a South Korean singer and actor who debuted as a singer on July 1, 1997 with the album Dedicate. His first credited apparition as an actor was in 2002, in the movie Emergency Act 19.
Stage Name: Hong Kyungmin (홍경민)
Birth Name: Hong Sungmin (홍성민)
Birthday: February 9, 1976
Zodiac Sign: Aquarius
Height: 175 cm (5'9″ ft)
Weight: 62 kg (136 lbs)
Blood Type: AB
Nationality: Korean
Website: hongkyungmin.co.kr
Instagram: lawonpapa (Inactive)
YouTube: 홍경민TV
Hong Kyungmin Facts:
— He was born in Seongdong-gu, Seoul, South Korea
— His older brother is the actor Hong Geunha
— Education: Seoul Yongma Elementary School, Gwangjang Middle School, Daewon High School (withdrew), Chungbuk University
— He took his GED exam after quitting high school
— He's a Pagan
— He served in the Public Relations Agency in the Army during his mandatory military service. He enlisted on October 14, 2002 and was discharged on November 4, 2004
— In 2014, he married a woman named Kim Yuna (born 1986). Together, they have two daughters, Hong Rawon (born April 21, 2016) and Hong Raim (born January 1, 2019)
— In 2019, he took part in The Return of Superman with his daughters
— He was in the shows Immortal Songs and King of Masked Singer
— In 2020, he won the Best Variety Show Entertainer Award at the 27th KBS Entertainment Awards for his appearances in The Return of Superman and Trot National Sports Festival
Hong Kyungmin Movies:
Emergency Act 19 (긴급조치 19호) | 2002 — Hong Kyung-min
Anata o wasurenai (너를 잊지 않을 거야) | 2008 (2007 in Japan) — Hong Kyung-min
Scandal Makers (과속스캔들) | 2008 — Kim Jun-young
Because I Love You (사랑하기 때문에) | 2017
Hong Kyungmin Movies:
Argon | MBC / 2003 — Han Jun-young
Can Love Be Refilled? (사랑도 리필이 되나요?) | KBS2 / 2005 — Hong Kyung-min (special appearance)
Love Can't Wait (사랑은 아무도 못말려) | MBC / 2006 — Kim Tae-gyung
Fugitive Lee Doo-yong (도망자 이두용) | KBS2 / 2006 — Lee Doo-yong
The Person I Love (사랑하는 사람아) | SBS / 2007 — Yun Tae-joo
Behind the White Tower (하얀거탑) | MBC / 2007 — Hong Kyungmin (special appearance)
New Heart (뉴하트) | MBC / 2007-08 — Lee Dong-gwon's manager (special appearance)
K-Pop: Extreme Survival (K-팝 최강 서바이벌) | Channel A / 2012 — CEO Jang
I Do I Do (아이두 아이두) | MBC / 2012 — Hwang Ji-an's ex boyfriend (ep. 11)
A Better Tomorrow (최고의 미래) | Naver TV / 2014 — No Do-jeon
Lovers of Music (트로트의 연인) | KBS2 / 2014 — MC (ep. 5)
날라리 시리즈 | Naver TV / 2016 — Na Dae-gang
Hit the Top (최고의 한방) | KBS2 / 2017 — Park Young-jae
The Golden Garden (황금정원) | MBC / 2019 — Hong Kyung-min (special appearance, ep. 4)
Note: Please don't copy-paste the content of this page to other sites/places on the web. Please do respect the time and effort the author put in compiling this profile. If you need/want to use info from our profile, please kindly put a link to this post. Thanks a lot! 
 – Kprofiles.com
profile made by midgehitsthrice
Do you like Hong Kyungmin?
Latest comeback:
Do you like Hong Kyungmin? Do you know any more facts about him? Feel free to comment down below. 🙂