GIRLKIND Members Profile: GIRLKIND Facts


GIRLKIND (걸카인드) was a South Korean girl group that consisted of 4 members: JK, Medic Jin, Xeheun, and Ellyn. The group debuted January 17, 2018, under Next Level Entertainment with the song "FANCI". The group disbanded on August 13, 2022.
GIRLKIND Official Accounts:
Twitter: _girlkind
Facebook: GirlkindProject
Instagram: girlkind_nextlevel
Fancafe: girlkind
Youtube: GIRLKIND
Vlive: 걸카인드(GIRLKIND)
GIRLKIND Official Fanclub: Fanforce
GIRLKIND Official Colors: Mint Green
GIRLKIND Members Profile:
Xeheun


Stage Name: Xeheun (세흔)
Birth Name: Lee Se-heun (이세흔)
Position: Leader, Lead Vocalist, Main Dancer
Birthday: July 11, 1999
Zodiac Sign: Cancer
Height: 162 cm (5'3")
Weight: 48 kg (106 lbs)
Blood Type: O
TikTok: xeheun_girlkind
Sub-unit: GIRLKIND XJR
Xeheun Facts:
– Xeheun was in an orchestra and played the violin.
– She has 12 years of dance experience and knows various dance types including street dance, hip-hop, and ballet.
– She has a mole above her lip. The company wanted to remove it, but she said no.
– Xeheun thinks her most attractive point is her lips.
– Her special talent is moving her ears and copying the sound of echos in karaoke rooms.
– Xeheun loves guns.
– Xeheun was on Produce 101. (Eliminated Ep.5)
– Xeheun and Weki Meki's Doyeon are friends.
– NCT's Mark, GUGUDAN's Mina, & OH MY GIRL's Arin were Xeheun's classmates.
– She made her solo debut with "Vibe On" on October 19, 2018.
– Xeheun changed her stage name to Kanni on April 1, 2023.
Medic Jin


Stage Name: Medic Jin (메딕진)
Birth Name: Bae Yu-jin (배유진)
Position: Main Vocalist
Birthday: August 25, 1996
Zodiac Sign: Virgo
Height: 167 cm (5'6")
Weight: –
Blood Type: AB
Medic Jin Facts:
– Medic Jin likes looking at the stars.
– She can make a sound like she's cleaning a window.
– She can do a singing impersonation of Suran.
JK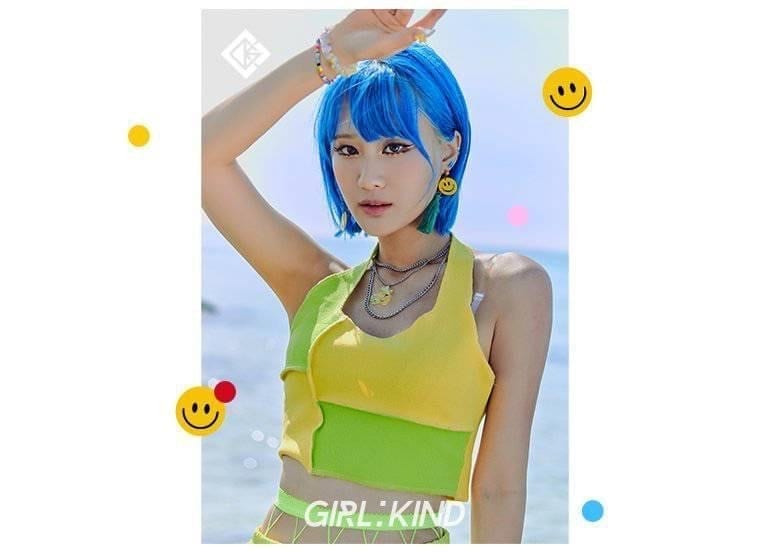 Stage Name: JK (지강)
Birth Name: Kim Ji-kang (김지강)
Position: Main Rapper, Lead Dancer
Birthday: March 17, 1998
Zodiac Sign: Pisces
Height: 161 cm (5'3")
Weight: –
Blood Type: O
Sub-unit: GIRLKIND XJR
JK Facts:
– JK is the cleanest member. She likes everything to be neat and organized.
– If she's in the dressing room and sees all the clothes scattered around, she gets the urge to organize it.
– She does her makeup and focuses on the perfect angles. She cares a lot about symmetry with her eyeliner, if it's not even, she won't go out until it's perfect.
– She's the shortest member of the group.
– JK's dad was a Taekwondo instructor so she began Taekwondo Sparring and started to compete in it. She is really good at doing Taekwondo kicks.
-She made her solo debut with "Split" on March 21, 2019.
Ellyn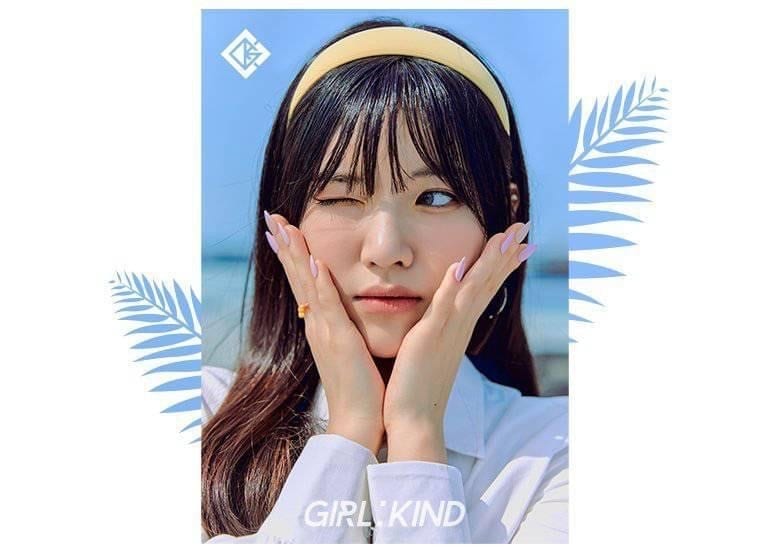 Stage Name: Ellyn (엘린)
Birth Name: Bang Sun-hee (방선희)
Position: Vocalist, Visual, Maknae
Birthday: October 19, 2002
Zodiac Sign: Libra
Height: 172 cm (5'8")
Weight: 47 kg (103 lbs)
Blood Type: B
TikTok: girlkind_ellyn
Ellyn Facts:
– Ellyn is really good at giving people massages and gives her family massages all the time.
– People tell her she looks like a deer and has doe eyes.
– Her hair is so straight that it's hard to tuck behind her ear. Also her hair is really dense so it takes time to wash it.
– She can imitate the sound of Mario jumping in Super Mario.
– Ellyn can also imitate the sound of a cap on a bottle being opened.
– She is a contestant on the MBC survival show My Teenage Girl.
Show more Ellyn fun facts…
Former Member:
Sun J


Stage Name: Sun J (썬제이)
Birth Name: Jeon Hee-sun (전희선)
Position: Lead Rapper, Main Dancer
Birthday: February 13, 2001
Zodiac Sign: Aquarius
Height: 165 cm (5'5")
Weight: –
Blood Type: A
Sun J Facts:
– Sun J has been acting since she was young. She's appeared in "Truck" and "Father" when she was 8 years old.
– She was also in "Mirror Princess".
– She has very soft skin. The other members say it feels like jelly.
– Sun J likes to smile often.
– She says she has a lot of look-a-likes and can look like anyone and anything (Thomas the Train, Tweety, Annabelle, etc)
– She can do a voice impression of Doraemon.
– Sun J is good at doing laundry.
– On March 22, 2020, Nextlevel Entertainment announced that Sun J will be taking a hiatus from the group in order to focus on her studies at Gimpo University.
– Unfortunately, in April 2020, Sun J left the group to focus on her studies.
Profile made by Sam (thughaotrash)
(Special thanks to 💗mint💗, Junie, Angel Christine Medina, Sofia, Putavelas, Maia The Frenchie, Stefan, Maia The Frenchie, Issac Clarke, netfelixYT, Lex, Annie, SAAY, Midge, Sam, Soyura Why, realeye)
Note: Please don't copy-paste the content of this page to other sites/places on the web. If you use info from our profile, please kindly put a link to this post. Thanks a lot! 🙂 – Kprofiles.com
Who is your GIRLKIND bias?
Related: GIRLKIND Discography
Latest Korean Comeback:
https://www.youtube.com/watch?v=HzbDjFqrYXI
Who is your GIRLKIND bias? Do you know more facts about them? Feel free to comment below. 🙂