beabadoobee Profile & Facts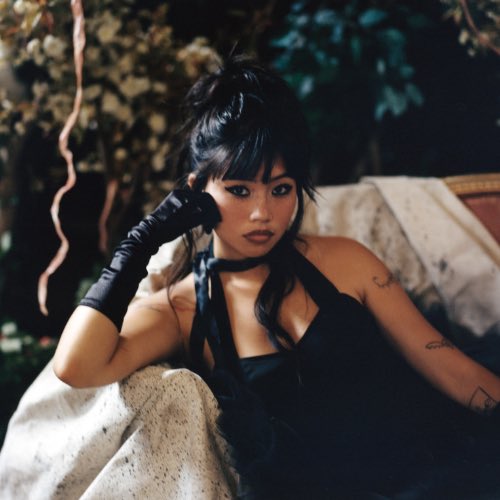 beabadoobee is a Filipina soloist under Dirty Hit. She debuted on November 4, 2017, with the single "Coffee".
Official Accounts:
Official Website: @www.beabadoobee.com
Facebook: @beabadoobee
Instagram: @radvxz
TikTok: @gnocchi500
SoundCloud: @beabadoobee
Spotify: @beabadoobee
Twitter: @beabad00bee
YouTube: @Beabadoobee
Stage Name: beabadoobee
Birth Name: Beatrice Kristi Ilejay Laus
Birthday: June 3, 2000
Zodiac Sign: Gemini
Height: 163 cm (5'4″)
Weight: –
Blood Type: –
MBTI Type: –
Nationality: Filipina-British
beabadoobee Facts:
– She was born in Iloilo City, Philippines. Bea moved to Camden Town, London, England when she was 3.
– Her stage name comes from a fictitious name she came up with using her real name.
– Bea can speak a bit of Tagalog; she understands it more than being able to speak it.
– Some of her favorite Disney soundtracks are the ones from Tarzan and The Lion King.
– Bea is pronounced bay-ah.
– One of her favorite restaurants in London is Tonkotsu.
– Bea got into music more with film soundtracks, such as Wes Anderson films and the Juno soundtrack.
– Her comfort food is fried food.
– She originally wanted to be a nursery school teacher or nun. Dreaming about being a nursery school teacher would lead her into creating music, since she liked writing stories.
– A couple of artists she listens to are The Smiths, Frank Ocean, Alex G, The Cure, Norah Jones, Weezer, Mark Rydens, and Alanis Morissette.
– When she was 6, she was obsessed with Maroon 5's Songs About Jane.
– Her favorite gnocchi recipe is pumpkin and sage.
– Some of her musical infleunces are The Moldy Peaches, Elliott Smith, Pavement, The Beatles, Galaxie 500, Mazzy Star, and Daniel Johnston.
– Bea's current boyfriend is Jacob Erland.
– Her favorite Tom Hanks film is Sleepless in Seattle.
– If she was stuck on a deserted island and could only bring one makeup product, it would be eyeliner.
– She played the violin for 7 years and stopped at age 12.
– Bea bought her first guitar when she was 17.
– Some of her favorite Filipino foods are ube halaya, halo-halo, and pancit.
– Her ex-boyfriend is Soren Harrison.
– Three of her favorite films are But I'm a Cheerleader, Harold and Maude, and When Harry Met Sally.
– She has a younger brother named Elijah.
– Two of her favorite soups are tomato soup and barley soup.
– Bea attended Sacred Heart High School Hammersmith and Hammersmith Academy. She got kicked out of Sacred Heart during year 13 because she was charged with school misconduct, which made made her mental health take a toll. Later, she started learning guitar, and was able to finish school at Hammersmith Academy.
– She was in her school's swimming club.
– Her favorite snack is olives.
– One of Bea's favorite books is If Cats Disappeared from the World.
– She doesn't eat the middle parts of the meat.
– Bea used to have a crush on people like Duckie Dale from Pretty in Pink, Timothée Chalamet, Adrien Brody, Milo from Atlantis: The Lost Empire, Victor from Corpse Bride, the Beast from Beauty and the Beast.
– She loves red pandas.
– Her favorite One Direction member is Zayn.
– Bea has 11 or more tattoos (X), (X).
– She's a Pisces rising.
– The first CD she ever bought was a Green Day CD.
Beatopia:
– Beatopia was created when she was about 7.
– It smells like pancakes and mushrooms.
– Beatopia has its own alphabet (symbols).
– It is more of a feeling than visual to Bea.
– The official language is called Beatopian.
– Bea's world was mocked by her classmates and teacher at school, so she drifted away from it for some time.
– It was a way to escape things going on in her life.
– Beatopia contains a lush utopia of ferns and spring flowers.
made by: brightliliz
Latest Release:
Do you like beabadoobee? Do you know any more facts about her? Feel free to comment down below. 🙂