Angel World (Girls Planet 999)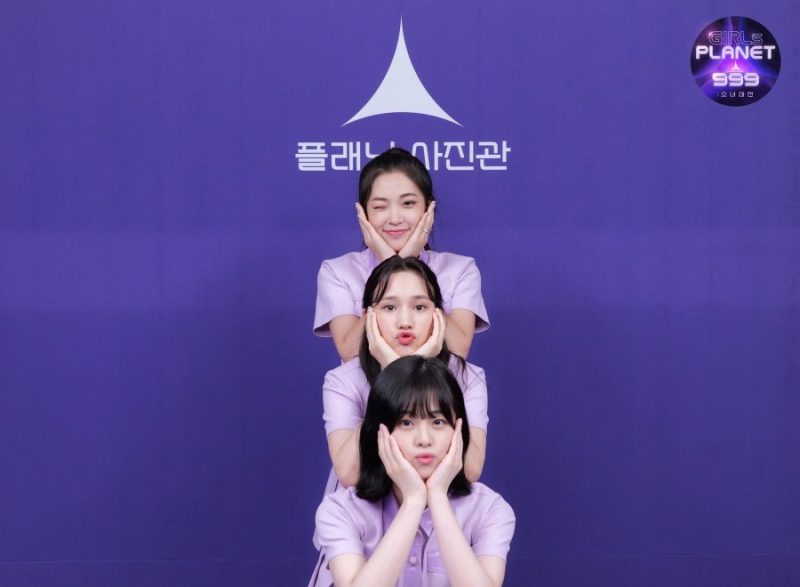 Angel World was a temporary cell trio for the show Girls Planet 999 during the 2nd cell formation. The members consist of Huening Bahiyyih, Sakamoto Shihona and Hsu Nien Tzu. They made their first appearance near the end of episode 2 and finished with their last appearance on episode 5 on Girls Planet 999. Only Huening Bahiyyih has made it to the final line-up.
Angel World Members Profile:
Sakamoto Shihona (Eliminated Episode 5)


Birth Name: Sakamoto Shihona
Birth Date: September 26, 2001
Birth Place: Japan
Zodiac Sign: Libra
Chinese Zodiac Sign: Snake
Height: 160 cm (5'3″)
MBTI: ENFJ
Nationality: Japanese
Company: JellyFish Entertainment
Hsu Nientzu (Eliminated Episode 8)


Birth Name: Hsu Nien Tzu
Stage Name: Nancy
Birth Date: January 9, 2003
Birth Place: Taiwan
Zodiac Sign: Gemini
Chinese Zodiac Sign: Rat
Height: 166 cm (5'5″)
MBTI: ENTJ
Nationality: Taiwanese
Company: FNC Entertainment
More information about Hsu Nientsu…
Huening Bahiyyih (Kep1er)


Birth Name: Huening Bahiyyih
Birth Date: July 27, 2004 
Birth Place: Beijing, China
Zodiac Sign: Libra
Chinese Zodiac Sign: Monkey
Height: 166 cm (5'5″)
MBTI: ESFJ
Nationality: South Korean
Company: Wake One Entertainment
More information about Huening Bahiyyih…
Note: Please don't copy-paste the content of this page to other sites/places on the web. If you use from our profile, please kindly put a link to this post. Thanks a lot! 
 – Kprofiles.com
Related: Girls Planet 999
Made by ukiiycc
Who is your favorite Angel World Member?
Who is your Angel World (Girls Planet 999) bias? Do you know more facts about them? Feel free to comment below.