Sehun (EXO) Profile and Facts; Sehun's Ideal Type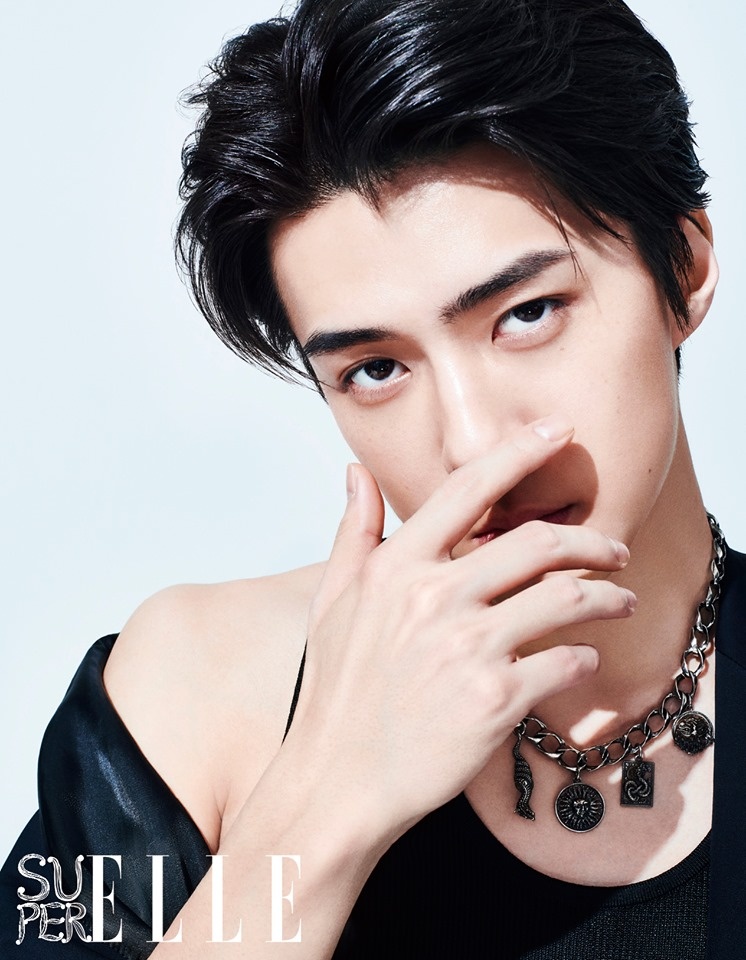 Stage Name: Sehun (세훈)
Birth Name: Oh Se Hun (오세훈)
Position: Lead Dancer, Rapper, Sub-Vocalist, Visual, Maknae
Birthday: April 12, 1994
Zodiac sign: Aries
Nationality: Korean
Height: 183 cm (6'0″)
Blood Type: O
Hometown: Seoul, South Korea
Specialties: Dancing, acting
Instagram: @oohsehun
Subunit: EXO-K, EXO-SC
Super Power (Badge): Wind
Sehun facts:
– He was born in Seoul, South Korea.
– Family: Father, mother, older brother (3 years older)
– Education: Seoul Arts High School
– MBTI type: INTP
– He was scouted on the streets when he was only 12 years old.
– He's a former ulzzang.
– He joined S.M. Entertainment in 2008 after going through 4 auditions in 2 years.
– He was officially introduced as an EXO member on January 10th, 2012.
– His nicknames are: "Senshine", "White Skin"
– Personality: Shy, mischievous, sincere, considerate, becomes more lively as you get to know him.
– He cares and thinks deeply for each EXO member. He prays every night for them.
– Sehun is well known for his milky smooth skin.
– Sehun used to wear braces, after the braces were released, Sehun still keeps wearing retainers.
– He has a habit of sticking out his tongue.
– He's not really good in pronouncing the letter S.
– He is a big Miranda Kerr (Victoria Secret model) fanboy.
– He followed Miranda Kerr immediately after creating his Instagram account. He was super happy when she followed him back.
– His hobbies are: listening to music, acting, dancing.
– His favorite type of music is Hip Hop.
– His favorite type of movie: Action movies
– His favorite foods are meat and sushi.
– He loved bubble tea.
– His favorite colors are white and black.
– His favorite numbers are 3, 5, 7.
– He's really close to Suho. They know each other for 9 years (as of 2016).
– He used to share a room with Suho. Sehun and Suho recently revealed that they are no longer roommates as Sehun kicked Suho out. So they have separate rooms now.
– He is close to Super Junior's Donghae (because Donghae was one of the first people to talk to him at SM Entertainment and continued to be protective with him since he was a trainee).
– Sehun is high school friends with Daeun from the girl group 2Eyes.
– He says he is close with Seungri, they both like Soju so he visits Seungri's studio whenever they're both free. (Happy Together)
– Sehun is part of BYH48 circle of friends along with Suho, WINNER's Mino, BLOCK B's P.O, actors Ryu Junyeol, Lee Donghwi, Byun Yohan, Freiknock Designer, and many others.
– His role model is BoA.
– When EXO was in London, Sehun purchased a "Deer" necklace for Luhan.
– He says that Suho is the most perfect older brother to him. Suho's always taking care of him.
– He says the members play games to see who will do chores.
– Back when he was still a trainee, the f(x) girls would make him secretly buy them food when they were hungry. They were on a strict diet, so they couldn't go buy the food themselves.
– He says that if he could, he would steal Baekhyun's sense of humor, Chanyeol's happy personality, D.O's smile, Suho's assertiveness, but not Suhos' stiff body XD.
– He says that while dancing, he focuses more on the emotions of the dance moves rather than the techniques.
– He says that because his blood type is "O", he'll be very hurt when he receives criticism from too many people at once.
– He says his biggest frustration is worrying about the other EXO members.
– He has the lead role in the Korean web film "Dokgo Rewind" (2018).
– F(x)'s Amber says that Sehun is her ideal type because he has matured from a young boy into a very mature, manly man.
– He is close with Wanna One's Kuanlin, according to Kuanlin, Sehun never lets him pay when they eat together. ("Knowing Brothers")
– He says that he probably wouldn't make the first move on a girl, but depending if it's true love, he might have the courage to.
– Sehun says he doesn't plan on getting married until he's over 30. He wants a wife who will treat his parents well and do housework.
– He acted in the Korean dramas: "To The Beautiful You" (2012-ep 2 cameo), "Royal Villa" (2013-ep 2 cameo), "Exo Next Door" (2015, web drama), "Secret Queen Makers" (2018)
– Sehun is a regular cast of variety show "Busted".
– Sehun is ranked 15th on TC Candler "The 100 Most Handsome Faces of 2018".
– Sehun's ideal type is a kind woman, who is clean, neat, and has a bubbly personality.
Note: Please don't copy-paste the content of this page to other sites/places on the web. If you use info from our profile, please kindly give credits to this page. Thanks a lot! 🙂 – Kprofiles.com
(Special thanks to exo-love.com, woozisshi, INSYIRAH ALIAH BINTI SHAHRUL N, Boo, Junie, Katrina Pham, Kim Jinwoo's neoljoahae, LeeSuh_JunDaeSoo)
Go back to EXO Profile
How much do you like Sehun?
Do you like Sehun? Do you know more facts about him? Feel free to comment below.