Pamilya Nunal Members Profile and Facts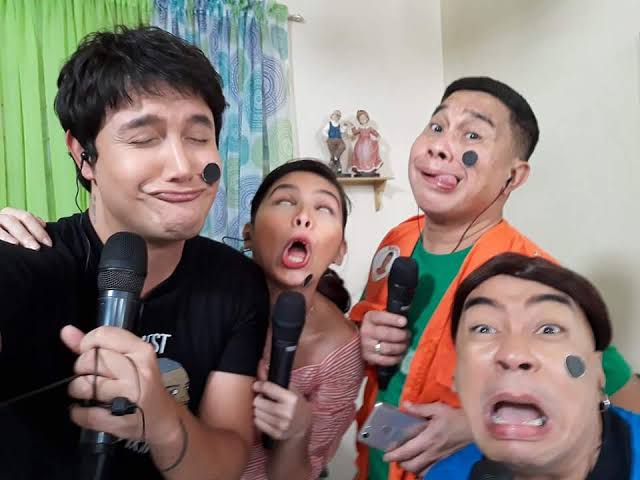 Pamilya Nunal are the fictional family comprised of Kap Jose, Nanay Nunal, Paolito and Menggay who are one of the characters from The Barangay Jokers, a subsegment of Juan For All, All For Juan which is one of the current segments of Philippines' longest running noontime show Eat Bulaga!. They have their own film made for TV named Pamana which was released back in July 28th of 2018 and they marked their return on June 23rd of 2020 because lots of viewers missed these said characters.
Pamilya Nunal Fandom Name: Dabarkads
Pamilya Nunal Fandom Color: N/A
Pamilya Nunal Official Sites
Instagram: @eatbulaga1979
Twitter: @eatbulaga
Facebook: Eat Bulaga!
Official Website: Eat Bulaga!
YouTube: Eat Bulaga!
Pamilya Nunal Members Profile:
Kap Jose


Character Name: Kapitan Joselito Nunal
Real Name: Jose Manalo
Birth Name: Jose Ariel Pagtalonia Manalo
Nationality: Filipino
Birthday: February 12, 1966
Zodiac Sign: Aquarius (Western) / Horse (Chinese)
Height: 171 cm (5'7.3″)
Weight: 76 kg (168 lbs)
Blood Type: N/A
Kap Jose Facts:
– Famous for his hosting work on the Philippine variety program Eat Bulaga!, Manalo is also notable as the presenter of Celebrity Bluff and H3O: Ha Ha Ha Over.
– He was born Ariel Pagtalonia Manalo; he began his entertainment career by making a guest star appearance on the soap opera Valiente.
– From 2010 until 2011, he co-hosted the TV5 show Laugh Or Lose.
– He was previously married to Anna Lyn; they had five children. He also has two other children from a previous marriage. His sons, Benji and Nicco, are both in show business.
– He and fellow GMA Network entertainment personality Vic Sotto appeared together in both Ful Haus, Daddy Di Do Du, Hay Bahay and Bossing & Ai.
Nanay Nunal


Character Name: Nanay Nunal
Real Name: Wally Bayola
Birth Name: Walter James Bayola
Nationality: Filipino
Birthday: May 3, 1972
Zodiac Sign: Taurus (Western) / Rat (Chinese)
Height: 167 cm (5'5.7″)
Weight: 66 kg (145.5 lbs)
Blood Type: N/A
Nanay Nunal Facts:
– He's a Filipino actor and television host most famous for his time as the co-host of the variety show Eat Bulaga!
– He joined the comedy show The Jose & Wally Show Starring Vic Sotto in 2011 on TV5 (to be One TV by around July 2020).
– He was born in Naga City and first appeared as an actor in the 1997 film Daniel Eskultor.
– He is also a respected comedic actor, winning the Best Supporting Actor award at the Dabarkads Awards in 2014.
– He has three daughters named Rian, Marianne and Lyza and two sons with ex-wife Riza Bayola.
– He has worked with Vic Sotto on the film Enteng Ng Ina Mo as well as their TV5 comedy show.
Paolito


Character Name: Paolito Nunal
Real Name: Paolo Ballesteros
Birth Name: Paolo Elito Macapagal Ballesteros IV
Nationality: Filipino
Birthday: November 29, 1982
Zodiac Sign: Ophiuchus (Western) / Dog (Chinese)
Height: 175 cm (5'8.9″)
Weight: N/A
Blood Type: N/A
Paolito Facts:
– He's a TV host, actor, and model who won a 2002 Star Award for hosting the Filipino variety show Eat Bulaga.
– He gained further fame in 2015 after using his makeup expertise to transform his appearance to resemble such celebrities as Angelina Jolie, Sofia Vergara and Beyonce Knowles as seen on his pochoy_29 Instagram account, which has amassed over 2.3 million followers.
– He received a degree in communications from Saint Louis University in Baguio, Philippines.
– His great grandfather, Fernando Amorsolo, was, at one time, the National Artist of the Philippines.
– He had a daughter named Keira with his former girlfriend, Kaye Nevada.
– He appeared with popular Filipino actor, Dingdong Dantes, in the GMA network show I Heart You, Pare!
Menggay


Character Name: Mengganita Nunal
Real Name: Maine Mendoza
Birth Name: Nicomaine Dei Capili Mendoza
Nationality: Filipino
Birthday: March 3, 1995
Zodiac Sign: Pisces (Western) / Pig (Chinese)
Height: 163 cm (5'4.2″)
Weight: 50 kg (110.2 lbs)
Blood Type: N/A
Menggay Facts:
– For more about facts about her, you can check out on her individual profile page here.
Note: Please don't copy-paste the content of this page to other sites/places on the web. If you use info from our profile, please kindly put a link to this post. Thanks a lot! 🙂 – Kprofiles.com
Profile posted by shiningtwicexo
Do you like Pamilya Nunal? Do you know more facts about them?Feel free to comment down below.