Jinsol (April) Profile and Facts;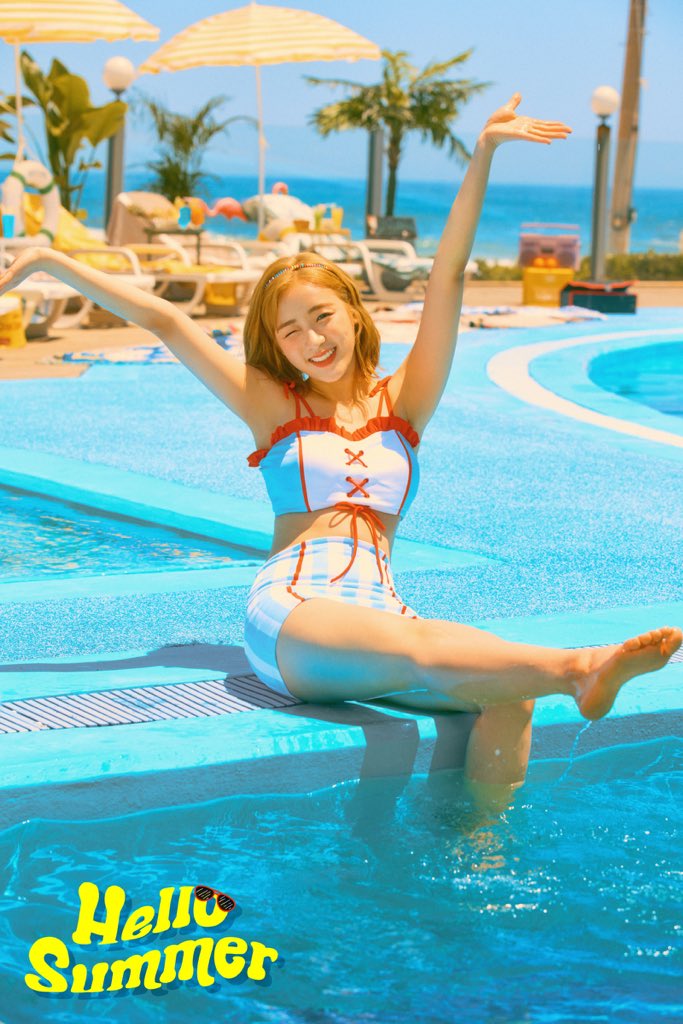 Jinsol (진솔) is a South Korean singer, actress, MC and member of the group April under DSP Media.
Stage Name: Jinsol (진솔)
Birth Name: Lee Jin Sol (이진솔)
Birthday: December 4, 2001
Zodiac Sign: Sagittarius
Chinese Zodiac Sign: Snake
Nationality: Korean
Height: 170 cm (5'7″)
Weight: 46 kg (101 lbs)
Blood Type: O
Religion: Protestantism
Sub-Unit: Naeun & Jinsol
Instagram: @truesol__0824
Twitter: @truesol__
Jinsol Facts:
– She was born in Andong, North Gyeongsang Province, South Korea but she was raised in Yongin, Gyeonggi Province.
– Family: Parents, Lee Da Sol (older sister)
– Shoe Size: 230mm.
– Education: Yongin Seowon Middle School (drop-out), Seoul Performing Arts High School (Department of Practical Music/Graduation)
– Training Period: 6 months (at DSP Media).
– Jinsol is from vocal academy. Jinsol's father didn't allow her to become a singer so she went to vocal academy for 8 months secretly without telling her father by persuading her mother by dancing on her restaurant's rooftop.
– She good at impersonating people because she can identify their trademark characteristics. (Pops in Seoul)
– She good at imitating people on Gyro Drop (A drop tower that gives the riders a free-fall experiences). (Pops in Seoul)
– -She made debut as an Radio MC on SBS LoveFM in November 2015 with Chaewon.
– In mid-2016, Jinsol participated in survival show "Girls Spirit". The shows was aired on July 19 to September 27, 2016.
– In September 2016, She became a new MC for "Tok! Tok! Boni Hani." show. Jinsol was appeared as "Hani" alongside Shin Dong Woo starting from the September 5, 2016. Both stepped down as a MC on 1 September 2017.
– In January 2017, She had been selected as the ambassador for animation tv series 'Kikoriki: The Secret of the Golden Hat'
– On February 7 2018, She and Naeun made official as a duo (Naeun & Jinsol) with a digital single called "My Story".
– On the March 18 2018 episode of MBC's "King of Masked Singer," Jinsol introduced herself with the mask 'Harley Quinn' and sang with 'La La Land'. The final showdown in Round 1 was between "La La Land" and "Harlequin," both worked together to give their cover of S#arp's "Sweety."However, La La Land eventually took the win with 58 votes to Harlequin's who only get 41 votes. Harley Quinn/Jinsol' had to unmask herself.
– On 13 February 2019, She and Yena released a Special Stage by covering Good Boy (GD x Taeyang) and 1,2,3! (Seungri) on April Youtube Channel.
– She made a debut as an actress in The Guilty Secret as Ha Da Som in September 2019.
– She was a former contestant on the vocal reality survival show V-1/Vocal No.1. She was eliminated in the first episode, after losing to Dakyung from Venus. The show was aired from September 13 to September 15, 2019 for 3 episode.
– On January 30 2020, APRIL Jinsol and SF9 Inseong have special stage at Mnet M!Countdown by covering Sung Sikyung & IU – First Winter
– In February 2020, She is officially graduate from Seoul Performing Arts High School (SOPA).
Drama Series:
The Guilty Secret (다시 만난 너) | Naver TV Cast, V Live/2019 – Ha Da Som
Return to April
Made by Country Ball
Note: Please don't copy-paste the content of this page to other sites/places on the web. If you use info from our profile, please kindly put a link to this post. Thanks a lot! 🙂 – Kprofiles.com
(Special thanks to namuwiki, Kpop Wiki, MyDramaList, Pops in Seoul, Soompi, Allkpop)
How Much Do You Like Jinsol?
Do you like Jinsol? Do you know more facts about her? Feel free to comment below. 🙂